WPP Combining MEC & Maxus; AudienceScience Closes Business
by Diane Harding on 6th Jun 2017 in News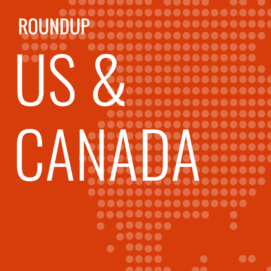 ExchangeWire round up some of the biggest stories in the US/North American digital advertising space. In this week's edition: WPP combine MEC and Maxus; Audience Science close business; xAd partner with DoubleVerify, Integral Ad Science (IAS), Pixalate, and Moat; Mediaocean and VideoAmp partner; TabMo expands to the US; BounceX raises funding; and Valtech acquires Non-Linear Creations.
WPP are combining MEC & Maxus
In order to cut costs and invest in growth, GroupM's WPP are combining MEC and Maxus into a soon-to-be newly named division, alongside of their other two ad-buying firms, Mindshare and Mediacom. The new firm will be led by Tim Castree, CEO of MEC. This consolidation move will also free up funds to continue building out the ad-buying agency, Essence, bought in 2015, and help the agency expand into six new markets around the world, planned for the next year.
"We operate in a very competitive sector in a very competitive marketplace, and we do have to find efficiencies so we can invest in areas that will give us longer-term growth. My job is to allocate resources in areas that give us growth in a challenging environment", said Kelly Clark, Global CEO, GroupM.
This move also shows GroupM's commitment to a focus on the digital and data side of the house, while being able to keep on obvious eye on declining agency margins over the years.
AudienceScience close business after big client loss
After P&G chose Neustar as their new programmatic partner earlier this year, CEO Bill Gossman confirmed to AdExchanger late last week that AudienceScience will be closing their business worldwide.
AudienceScience, an early innovator in the programmatic space, was in a partnership with P&G to support their data management and infrastructure since about 2010. P&G, being one of the first brands to bring media expertise in-house, ended up being both a huge advantage and disadvantage for the company. An advantage, by supporting AudienceScience with millions of dollars of tech fees over the years, and a disadvantage, by keeping a muzzle on their ability to talk publicly about any success with P&G, and preventing them from growth with other CPG companies. With the structure of the partnership, and the amount of resources and attention needed to support P&G, this outcome should be a warning to other ad tech companies to avoid putting all their eggs in one basket in the future by focusing too much on one client.
Despite this news for AudienceScience, there are now about 200 talented ad tech professionals who may be available for the always-growing market of ad tech jobs within the industry.
Mediaocean & VideoAmp partner
The partnership between Mediaocean and VideoAmp will create a fully integrated linear TV planning and optimisation solution for the upfront and scatter markets for agencies and brands. This partnership will allow Mediaocean clients using VideoAmp to automatically pull/push optimised linear TV plans from Spectra – Mediaocean's traditional media management platform used by all major holding company agencies, allowing brands and agencies the ability to manage premium upfront television buys programmatically with data and software.
"For the first time, agencies and brands are able to take their massive commitments made in the upfront and allow for programmatic optimisation and targeting across brands using Mediaocean's and VideoAmp's software", said Ramsey McGrory, chief revenue officer, Mediaocean.
"VideoAmp accelerates our strategy to provide software solutions that unify TV and video. Being able to partner with Mediaocean and have the ability to seamlessly apply data to TV upfront commitments is truly a big leap in the market." Jay Prasad, chief strategy officer, VideoAmp, tells ExchangeWire.
xAd partner with DoubleVerify, Integral Ad Science (IAS), Pixalate, and Moat
xAd, a location-based mobile advertising technology company, are stepping up their commitment to brand safety by partnering with DoubleVerify, Integral Ad Science (IAS), Pixalate, and Moat. These Media Rating Council (MRC) accredited companies will also give xAd a leg up in the battle against ad fraud and viewability concerns across mobile advertising.
With these partnerships, xAd will be able to monitor their entire network and identify both general and sophisticated invalid traffic with Pixalate, bring clients mobile viewability metrics with DoubleVerify and IAS, and mobile viewability and attention metrics with Moat. Along with continued work on in-app measurement, xAd promise that campaigns run with any of these additional partners will have viewability rates of 70% or more.
"Nothing is more important to us than the complete trust of our clients", says D Sharma, founder and chief executive officer, xAd. "We will always put their safety and concerns ahead of our business and revenue goals. This rule is imposed into everything we do, like our stance on third-party measurement, and always making sure that checks and balances are in place. Our belief is that a client should be able to only focus on what matters to their business, while we make sure the pipes are kept clean for them."
TabMo expand to the US
TabMo, a Paris-based mobile creative DSP for video, display and native advertising, are launching their buying platform, Hawk, for advertisers and their agencies in North America to take advantage of the growing mobile market.
Leroy Holland, managing director, US, tells ExchangeWire, "TabMo have been a huge success across Europe, including France, Germany and the UK. There is clearly a market for high-impact creative mobile units, as well as an ad buying platform built specifically with mobile in mind. To date, there simply hasn't been anything to fill that need within the US market, and that's where TabMo comes in. We're eager to work with some of the biggest agencies and brands to help them achieve a high-performing combination of creative and mobile programmatic."
BounceX raise USD$31m in funding
BounceX, a provider of cloud-based behavioural marketing solutions, has raised USD$31m (£24m) in growth capital in order to make strategic acquisitions, significantly expand the company's engineering resources, and invest in their proprietary database and device graph to support their growing list of clients.
"We're planning to use the funds to make strategic eight-figure acquisitions and significantly expand our engineering resources. Because client performance is consistently a number one priority for us, we will be leveraging the funds to continue investing in technologies that enhance the efficacy of our consumer data and increase the precision of our identification capabilities", Ryan Urban, CEO, BounceX tells ExchangeWire.
Valtech acquire Non-Linear Creations
Valtech, a global digital agency headquartered in London, have acquired Toronto-based Non-Linear Creations, a digital services company, to continue their operational growth in North America and expansion worldwide.
"The Nonlinear acquisition is part of a much larger picture for Valtech. As the world transitions from an 'industrial economy' to an 'economy of experience', companies need to transform their operating model to find new, significant, and sustainable sources of revenue and profit. This next era of the digital revolution requires business leaders to shift their focus from 'efficient production' to 'efficient consumption,' in order to increase the economic value of their goods and services", Olivier Padiou, global chief operating officer, Valtech, tells ExchangeWire. "The addition of the Nonlinear team further extends our ability to orchestrate seamless consumer-centric experiences at a global scale in an agile way. Our passion is in addressing transformational business challenges for our clients and the Nonlinear team presents great skills in this area."
"It was important for us that the company we joined shared our deep customer focus. Valtech's leadership and approach for creating outstanding customer experiences echoed perfectly Nonlinear's long standing vision of using digital technology to drive ROI for our clients. Additionally, it was important to join a company with similar values and an entrepreneurial outlook. Valtech's executive team, and their unique and global culture, immediately resonated with our team," says Shannon Ryan, CEO, Nonlinear.
TagsNorth AmericaUS