Online Ad Spend to Hit £29.4bn in Key Asian Markets; APAC Sees Highest Growth in Mobile Ad Spend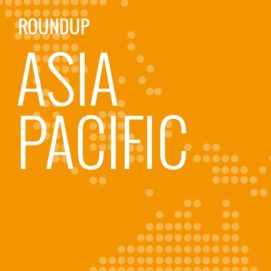 In this weekly segment, ExchangeWire sums up key industry updates on ad tech from around the Asia-Pacific region – and in this edition: Online ad spend to hit £29.4bn in key Asian markets; APAC sees highest growth in mobile ad spend; Dentsu Aegis buy Singapore content marketing firm; X marks Dentsu's media rebrand; WPP launch Hogarth Australia; and NYT bring brand content to Asia.
Online ad spend to hit £29.42bn in key Asian markets
Online display ad spend in China, India, Japan, South Korea, and Australia will climb at a compound annual growth rate (CAGR) of 13% from USD$20.7bn (£15.98bn) last year to USD$38.1bn (£29.42bn) in 2021.
Although the country was seeing declining growth in online media time per user, China would emerge the main growth driver in the region, according to a Forrester report. The market researcher added that ad prices would increase as the country's user base matured and ad sellers turned to new technology to improve targeting and measurement.
The Chinese market would see online time per user see slowing growth in 2018, to be on par with those of other developed nations.
Cost per ad, though, would see a rebound as the country's maturing market would drive efforts to improve ad monetisation, the report stated. The use of DMPs and interactive attribution, for instance, currently was low, presenting an opportunity for ad sellers to adopt such technologies to improve targeting and measurement in order to push up ad prices.
China accounted for 67.6% of the Asia-Pacific display ad market last year and remained the dominant driver of display spend.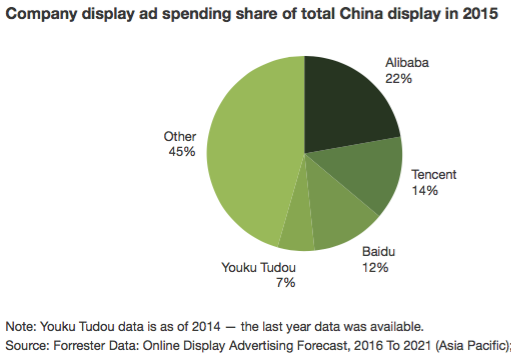 Mobile, too, continued to be a major growth driver for the region's display ad spend, with the segment projected to grow at a CAGR of 5.9% from USD$9.1bn (£7.03bn) last year to USD$28.8bn (£22.24bn) in 2021. In comparison, desktop and laptop display spend would dip 4.3% from USD$11.6bn (£8.96bn) last year to USD$9.4bn (£7.26bn) in 2021.
"However, mobile ad blocker usage is widespread in India and China and could become a drag on mobile ad spend, even as mobile media consumption expands", Forrester said.
And while India would clock the fastest mobile display growth rate, its impact would be minor as the country accounted for just 2.5% of the region's overall display spend last year.
According to Forrester, the Indian market lagged China across various metrics, including an online population that was 52% smaller than the Chinese and an eCPA (effective cost per action) that was 74% lower than China's. This was the result of a lower GDP per capita, lower average internet speed, and lower online buying population, compared to China.
India, though, had the highest amount of social spend relative to display in the region, noted the research firm, adding that this "constrains display spend" in the country. Its larger social spend was due primarily to Facebook's prominence in the Indian market, compared to China, Japan, and South Korea, where social apps (which were predominantly messengers) were less skilled at monetising their users via ads.
APAC sees highest growth in mobile ad spend
Mobile ad spend in Asia-Pacific grew 14% year-on-year in the first quarter, with China leading the way at a 90% growth rate.
The Chinese market also boasted a growth figure that was more than twice that of the next fastest-growth market, Australia, which clocked an uptick of 37%, according to Smaato's latest mobile advertising report. The study analysed data from 300 billion mobile ad impressions served on the vendor's exchange.
With the Chinese Lunar New Year falling in January this year, the festivities helped push up ad revenue by 18% on average in the countries that celebrated the holiday, compared to others that did not.
The Asia-Pacific region also saw a hefty 139% increase in mobile eCPM (effective cost per mile) for the quarter, which fuelled the global figure of 49%. EMEA saw a growth rate of 28%, while the Americas clocked a 22% increase in mobile eCPM.
Worldwide, in-app accounted for more than 90% of all mobile ad spend, climbing more than 40% year-on-year. In China, in-app advertising accounted for 89% of overall spend, compared to 11% on mobile web. In Japan, in-app drove 85% of overall mobile ad spend, while this figure was 94% in Australia.
Smaato's co-founder and CEO Ragnar Kruse said: "The data across our global platform indicates that advertisers are catching on to how consumers increasingly spend their time in apps. When advertisers understand the value of the long-term tracking capabilities of in-app advertising, combined with rich audience data, we expect to see the eCPMs of in-app advertising to increase by 50% to 100% by 2019."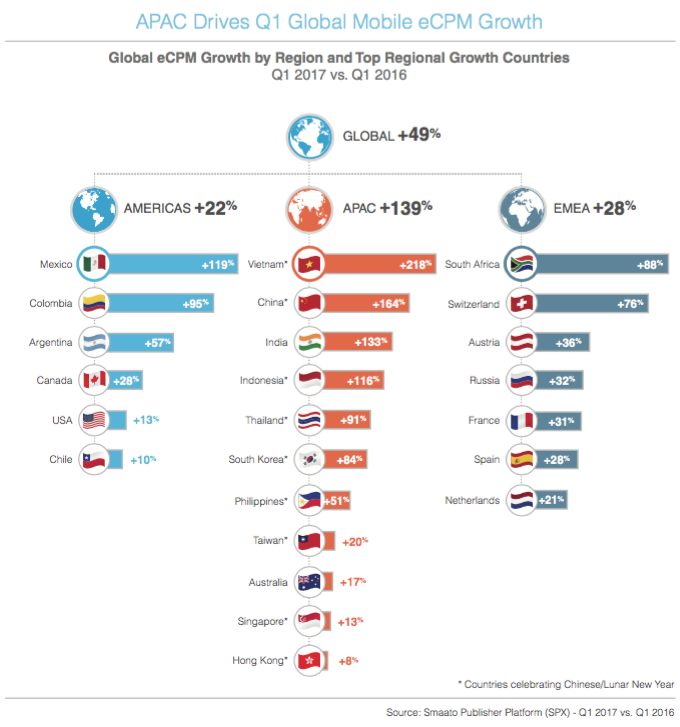 Dentsu Aegis buy Singapore content marketing firm
Dentsu Aegis Network have acquired Singapore-based Novus Group for an undisclosed sum, folding the content marketing firm into their John Brown Media brand.
To be renamed 'John Brown Novus', the merged entity would work with the agency group's digital performance brand iProspect "to scale and accelerate" Dentsu Aegis Network's content marketing portfolio in Asia-Pacific.
Novus was founded in 2009 and supported by a team of some 30 employees across editorial, design, and digital.
Dentsu Aegis Network Asia-Pacific CEO Nick Waters said: "Content marketing is a fast-growing segment and moving towards the centre of the marketing services spectrum. As consumers have increasing means of avoiding advertising, content is becoming an increasingly differentiating segment of marketing services and is vital in enabling marketers to get their messages to consumers."
Novus' CEO Simon Cholmeley, as well as COO and CFO Marie Lyte, would move over to the merged entity, with the former assuming the CEO role of John Brown Novus while Lyte would be COO. Both executives would report to Dentsu Aegis Network North Asia CEO Rob Hughes.
Cholmeley said Novus needed to tap a global network that could offer the infrastructure, expertise, and resources to expand their footprint in the region.
X marks Dentsu's media rebrand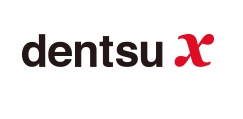 In a separate announcement, Dentsu Aegis Network say they have rebranded their media business to form an agency network that encompass communication and media planning services, content creation, and data and behavioural analytics.
Named 'Dentsu X', the rebranded Dentsu Media unit would focus on offering "integrated and personalised" marketing services, the group said, adding that the rebrand was necessary to reflect the changing media landscape.
Takaki Hibino, Dentsu X's global brand president, said: "When Dentsu media was first launched in 1999, the use of the word 'media' had a very limited meaning. For close to two decades, Dentsu Media – alongside its sister creative agencies – have expanded to offer much more to our clients than that original definition could describe.
"This is why we evolved its identity to reflect the potential of our brand", Hibino said. "By integrating data, technology, creativity, and distribution in the Dentsu X offering, we can develop unique experiences for clients that are truly focused on digital solutions."
The media unit currently has presence in 13 Asian markets, as well as in Canada and Russia, and would set up shop in some key markets in EMEA by year end. They then would look to expand into the US market.
WPP launch Hogarth Australia
WPP AUNZ have brought their advertising production brand Hogarth to Australia, melding the group's other production agencies Agile, One20, Paragon, and Carnival into one.
Hogarth Australia would be headed by new CEO hire, Justin Ricketts, who would work with COO David Fleer, also newly appointed to the role. The local team comprised more than 80 employees, specialising in seven production disciplines including photography, web design and build, and social content. The agency would offer production services across various channels including TV, radio, print, mobile, and out-of-home.
WPP AUNZ CEO Mike Connaghan said: "Combining the global muscle of an iconic brand, such as Hogarth, with the local expertise and strength of four successful production houses represents a fabulous opportunity for us to lead the way in content production in Australia and further solidify our leadership position in the region."
Ricketts added: "In today's evolving media landscape, clients demand increasing amounts of content, and the time is right to disrupt old habits and evolve the production model."
Hogarth Australia operated production facilities in Melbourne and Sydney.
NYT bring brand content to Asia
The New York Times have brought their brand content agency, T Brand Studio, into the Asia-Pacific region through a new outfit in Hong Kong.
Comprising a local team of content strategists, producers, editors, and designers, T Brand Studio Hong Kong was headed by director of T Brand Studio International, Raquel Bubar, who would remain based out of London.
New hires for the new site included content strategist Reno Ong and producer Clara Lim.
The New York Times' senior vice president of advertising and innovation, Sebastian Tomich, said: "With the opening of our Hong Kong studio, we're able to work closely with our partners in the Asia-Pacific region to help them create the kind of productions that T Brand Studio is known for."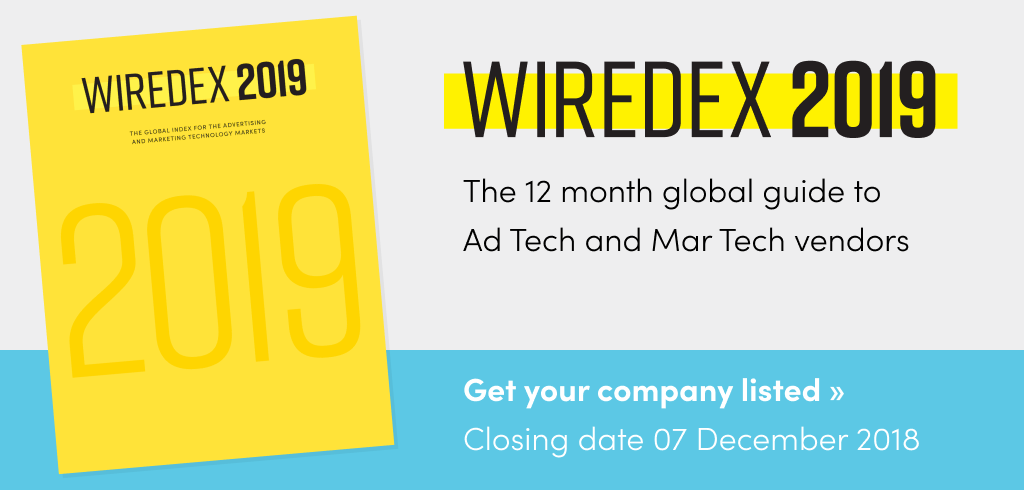 TagsAdvertiserAgencyAPACAustraliaChinaDisplayIndiaMedia SpendMobile