Programmatic Predictions Then & Now: Reflections from Cannes
by Lindsay Rowntree on 6th Jul 2017 in News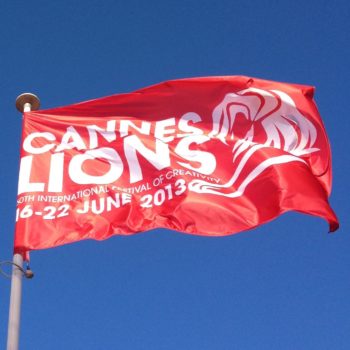 Cannes Lions International Festival of Creativity is a mecca for innovative and visionary minds to celebrate the very best in creative advertising; it is the perfect environment to reflect on progression across the industry and look to where it's heading. With programmatic becoming a more prominent feature not only in advertising, but at Cannes Lions itself, Tim Webster, CSO & Co-Founder, The Exchange Lab takes the opportunity to look back at predictions shared at the start of the year, to see where we thought we would be and where we are, based around discussions and experiences at Cannes recently.
Earlier this year we focused our attention on industry predictions around programmatic TV, creativity, and AI.
Programmatic TV – still trying to tune in  
There have been many proclamations of TV and radio having 'arrived' over the past couple of years. However, to date there hasn't been the true scale of inventory made available - yet. Originally, we predicted that as we move towards an omni-channel world, we'll begin to see a more concerted shift towards programmatic trading methods in some of the final traditional bastions of media.
At Cannes the domination of on-demand, convenient content through streamed services such as Amazon Prime, Netflix, and Hulu, allowing advertisers another channel to reach targeted audiences was explored. On-demand TV viewing remains the dominant force, but forecasts expect to see programmatic TV ad spending in the US grow to 6% of total TV ad spending by 2018, representing USD$4.43bn (£3.43bn). Considering that the growth-audience for on demand TV are Millennials and Generation Z – the largest set of consumers in the near future - it is clear that advertisers and brands don't expect those habits to change. This will force the TV and radio industries to expand their data-driven methods.
There was also acknowledgement that due to the steep traditions that exist within the broadcast TV model, the transition to programmatic TV is slow and shrouded in bureaucracy. There is a future in programmatic TV but the transition is gradual and driven by AP growth. In five years it likely still won't quite be there yet and in another five after that there will be a new generation coming up on the millennials who will be consuming content in yet another way.
Creative – edging forward   
While there has been a clear lack of synergy to-date between programmatic and creative. We predicted that we would start seeing advancements in dynamic content technologies and richer ad formats, which are better suited to the device and environment that they are being consumed in.
At this year's Cannes Lions, there was certainly a lot of focus on how to progress the relationship between programmatic and the creative side of the industry. There has been some headway, but it still feels like we have a way to go before digital and creative work in total unity. The tech is evolving and we can optimise targeted creative in real-time – but until we achieve unison with creative – programmatic can't reach its full potential. There are some agencies that understand the importance of close working relationships but they remain too few and far between. We need to work together to deliver programmatic, data-driven creative because frankly, however good your creative or your technology, without the other, your advertising campaigns will struggle to succeed. So, what is the role of creative now and in the future of digital advertising? Creative is key to storytelling and is compelling when the right audience has been targeted. 
Artificial Intelligence – not quite there yet but keenly exploring 
Our original prediction was that artificial intelligence (AI) would begin coming into the mainstream in terms of application and quality. Although tech companies had a heavy presence again at this year's Cannes Lions and artificial intelligence was plugged as a hot topic leading up to the event, it still seems to be in its early days. In fact, in many cases it seems the conversation ended up focusing on what's to come rather than what is a tangible option currently. Still, it's clear there will be huge leaps in this category in the coming years. AI is certainly not there yet, but remains a hot topic.
During Cannes, Soul Machines Co-Founder & CEO Mark Sagar shared a few examples of how AI technology is 'humanising' computing.  IBM's Watson group and Watson is being used by Soul Machines.
Sagar explained that AI is getting closer to allowing us to bring anything to life and apply it to daily life in many cases, whether through a virtual spokesperson or non-human characters. One example he shared was a baby on a screen shown sitting in a car seat - she could register his face, respond and seemed to carry a set of emotional models, leading to human reactions to movement, light and action. He went on to explain how this tech will be able to be transferred to endless applications, especially in customer service. On the heels of such a heavy week of content and conversation, the overall takeaway is that when it comes to predictions in the world of digital advertising many of us seem to overestimate what we can achieve in a month and underestimate what can be accomplished in a few years. With all the changes this year and Publicis announcing that they will not be going to Cannes next year – it'll be interesting to see where we land on each of these topics by this time next year and how they are showcased at Cannes.