Netflix Trounces Analysts' Expectations in Q2 Earnings
by Rebecca Muir on 18th Jul 2017 in News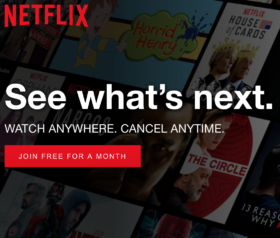 Through adding a whopping 5.2 million total subscribers, versus the company forecast of 3.2 million, Netflix soared past Q2 growth targets, both on the domestic and international fronts. 
The company was rewarded with an 8% rise in stock price in the immediate aftermath of its earnings report, hitting an all-time high in after-hours trading.
What caused Netflix's growth to surge?
"In Q2, we underestimated the popularity of our strong slate of content which led to higher-than-expected acquisition across all major territories", Netflix wrote in its earnings letter.
And it's not going to stop there.
Netflix said that it "assumes much of this momentum" in subscriber growth will continue going forward, which is great news for investors, as some on Wall Street were bracing for weak guidance. Q3 will also have a favourable comparison to last year for Netflix, when Q3 saw Netflix's price increase – dubbed 'un-grandfathering' – hurt its subscriber growth.
Financial Highlights
– Q2 revenue: USD$2.785bn (£2.13bn), up 32.3% year-on-year, and compared to Wall Street forecasts of USD$2.76bn (£2.11bn)
– Q2 US subscriber growth (net additions): 1.07 million versus Wall Street expectations of 633,000, and Netflix guidance of 600,000
– Q2 international subscriber growth (net additions): 4.14 million versus Wall Street expectations and Netflix guidance of 2.6 million
– Q3 revenue forecast: USD$2.969bn (£2.27bn)
– Q3 US subscriber growth forecasts (net additions): 0.75 million
– Q3 international subscriber growth forecasts (net additions): 3.65 million
Having scored a number of Emmy awards, Netflix has helped shape the kind of programming made by traditional television studios. Now, sights are set on the film business. In its letter to investors Netflix wrote, "We understand that our approach to films – debuting movies on Netflix first – is counter to Hollywood's century-old windowing tradition. But just as we changed and reinvented the TV business by putting consumers first and making access to content more convenient, we believe internet TV can similarly reinvigorate the film business (as distinct from the theatrical business). This year we will release 40 features that range from big budget popcorn films to grassroots independent cinema", said Reed Hastings, CEO of Netflix in the company's letter to shareholders.
Despite other streaming services, such as Hulu and Amazon, joining Netflix in making original content, the prospect of competition does not dissuade Hastings. "Internet TV is really catching on for us, for Youtube, and for others", Hastings said in a video interview posted Monday.
He was also asked about the potential for the FCC to overturn 2015 net-neutrality rules, which aimed to prevent companies that bring internet into homes from favouring their own content over others. Two months ago, Hastings said the company had gotten big enough that it had no concerns about its content being throttled. However, he noted that the company participated in last week's Net Neutrality Day of Action to drive awareness. "Certainly, we, other companies, and the public have weighed in heavily", Hastings said. "We will see where that goes."