ATS London 8 Years on: Why Ad Tech Matters More than Ever in 2017
by Ciaran O'Kane on 3rd Aug 2017 in News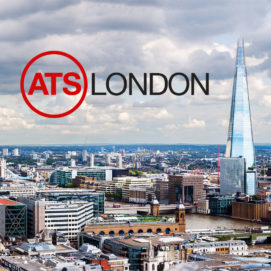 ATS London is now in its eighth year and I still remember our first event vividly. It took place in the old Centre Point building and, like all of our ATS events since, it was oversold. The great Mike Nolet, former AppNexus CTO, spoke. As did Ben Barokas.
There was a joint keynote from Marco Bertozzi and the late great Kurt Hecht. Louisa Wong, then a publisher exec at Sky, was picking fights with everyone on the buy side.
It was chaotic. It was raw. And it was an event that felt like a precursor to a huge upheaval in digital advertising.
Over that eight-year period, we have seen massive M&A ad tech activity, the disappearance of established digital brands, shifting business strategies, and the complete domination of data in digital advertising.
Throughout the duration, advertising technology has been pronounced dead several thousand times. Again and again the sector has made fools of its detractors. You see, ill-informed types don't get that ad tech is not just the monetisation engine for the internet, but also media.
As even more channels like TV, Radio, DOOH, and ITM (in-transit media – think digital in-flight advertising, for example) become more data-driven, ad tech evolves to enable sellers and buyers to transact. It's that simple. If Terry keeps adding new boxes to his LUMAscapes, and the industry thrives and keeps selling ad tech companies, then you know it's alright.
So, where are we at right now in ad tech? Where even to begin in 2017? Between GDPR, supply path optimisation (SPO), transparency, machine learning, header bidding, margin compression, consolidation, and the slow agonising death of the IO, the permanently shifting tectonic plates of ad tech can make it difficult to actually run a business.
This year's agenda at ATS London has been crafted by the knowledgeable team at ExchangeWire to navigate the current maze of issues in the industry right now. Here I will summarise the reasons you need to make sure you attend this year.
Transparency & SPO is all that matters to buyers and sellers
After I sit down with ad tech's great 'rainmaker' Michael Barrett to get his view on all things sell-side tech, we will host a panel on transparency. The discussion will focus on price transparency, SPO, and fraud – and will include The Guardian's Hamish Nicklin; Tim Hussain, head of digital, Ebiquity; and two of the biggest display-buying brands in Europe. This part of the show is going to be fairly explosive and we are expecting an open and frank debate on why this is the industry's hot button topic. Want to know what the constituent players are thinking and areas they are formulating strategy for? You need to be sitting front row.
The buy side & identity working hand-in-hand
You know why Google and Facebook are sucking the commercial life from us? Identity, of course. Their identity layers are stronger than everyone else's and have scale. How do we retaliate? Hear from a number of key players trying to change the identity narrative and steal away budget from the duopoly. Before that, we will learn about the future makeup of buy-side tech. Are we really only going to have five super-stacks? Or is the world going fully modular?
Dr Boris astounds with another 'blow-the-door-off' keynote
I won't lie to you. I am a Boris fanboy – as is most of ad tech. The man is revered by anyone and everyone. Holding a doctorate in theoretical physics, he has built a lot of the programmatic infrastructure since the early days of ad tech. He has also delivered some of the most revered keynotes ever seen at any ad tech conference. The man is an ATS legend.
GDPR: Get the real story
GDPR is, to say the least, confusing. Some say it's the end of ad tech. Other say it's a huge opportunity. Can I honestly tell which is the likely scenario? No. That's why we have drafted in someone who can. In this presentation and fireside on GDPR, we outline how the industry can comply with the law and keep out of the way of data ambulance chasers.
Agency or consultancy: What is the new service layer?
Consultancies have been buying creative agencies aggressively over the past couple of years. Are they coming for the agency business? And are they equipped to join the dots for clients as they try to navigate this new data-first marketing world? We debate how this is evolving and what the new service layer will look like over the coming five years.
The rebirth of the ad server?
If I see another article about header bidding I might actually retire and raise some goats on some isolated rock in the South Atlantic. It is the most written-about topic: ad tech fact. And it matters to publishers. But why are we here? Why can't we build an ad server that can do a holistic auction of all demand sources? The answer to that is simple: Google does not like the idea of empowering the publisher. Everything must go to AdX so it can take margin from everyone. Now we are living in a world of client-side header tags, server-to-server tags and, of course, the wrapper. Is this the bright future we were promised? We have assembled the best minds to discuss.
Making the publisher great again
It is the sad fact of the digital age that the press, which is necessary to question, and hold the powerful to account, is slowly dying. It has been gutted by the rise of Google, Facebook, et al. The platforms have imprisoned them, and those same publishers are dependent on the platforms for traffic and revenue. What can be done? Diversify the business model? Work together? This panel of industry heavyweights discusses how we, as an industry, make the publisher great again.
This is going to be one of the most eagerly anticipated ATS events we have ever done – given what we currently face as an industry. I look forward to seeing you there. Be sure to get your ticket today, as we will sell out soon.