The Evolution of Programmatic OOH Advertising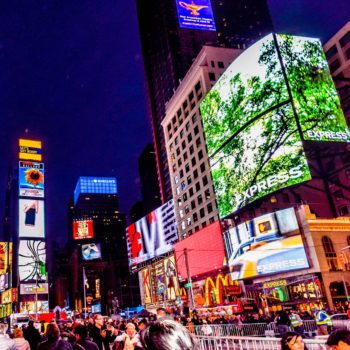 While programmatic advertising for out-of-home (OOH) media has been slower to gain a foothold compared to digital advertising, movement in the space is finally being made, and at a faster pace. Writing exclusively for ExchangeWire, Ken Sahlin (pictured below), CEO, DOmedia, talks about the ongoing challenges that programmatic OOH faces, the progress being made with technology, and the future evolution of the industry.
Programmatic has been the standard by which all other forms of ad buys are measured for over a decade. The ability to buy people instead of merely space, along with the technology to do it reliably and at scale, drove massive growth in digital advertising. Now, the race is on to reach the same level of precision – and achieve the same level of growth – in so-called 'traditional media'. For the last several years, the march towards programmatic media buying has focused on formats with highly consolidated supply-side ownership: television and radio. Despite charting nearly six years of sustained growth, fragmented inventory ownership and challenges in measurement made the out-of-home media (OOH) industry slower to adapt. However, recent developments in OOH ad tech are changing that narrative.
DOmedia, which operates the largest supply-side platform (SSP) and demand-side platform (DSP) in the OOH industry, connects both global agency holding companies and local advertisers alike to over 1.5 million US media assets, including nearly half a million billboards. In 2016, DOmedia powered over 10% of all US OOH spend. Put another way: the OOH industry's oft-cited fragmentation challenges are a thing of the past. A process that began nearly a decade ago, with a small number of startups driving aggregation of company directories and media assets, has resulted in a thriving ad tech sector, with multiple SSP and DSP options providing both broad and highly niche services.
However, consolidating inventory data is only part of the challenge for the ad tech providers guiding the industry down the so-called 'path to programmatic'. In order to trade ads programmatically, the industry needs a single 'currency' for measurement, as well as standards that govern the programmatic buying and selling process. This is where the OOH media's thriving industry groups have stepped up to the plate. Organisations such as the Outdoor Advertising Association of America, which recently celebrated its centennial anniversary, have been quick to collaborate with newer groups, such as the Digital Place-Based Advertising Association, and measurement-focused bodies, such as Geopath. This 'rising tide raises all boats' mentality resulted in strong standards for data, measurement, and programmatic advertising, which have debuted to quick and passionate adoption from the media sellers as well as advertisers.
With inventory access and measurement standards in place – and DSPs and SSPs increasingly automating the process of buying and selling media – programmatic OOH advertising has taken major steps forward over the past two years. The first programmatic OOH solutions focused on networks of digital screens. For the first time, agencies could submit an audience and budget, upload creative, and receive campaign data as their ads ran. It was a real technological achievement for the industry, with one major caveat. Digital signage networks are only a small fraction of US out-of-home inventory. Signage networks equipped to handle programmatic buying are an even smaller fraction. In order for programmatic advertising to fulfill its promise, the marketplace must have sufficient supply to allow programmatic algorithms to actually discriminate – identifying one piece of inventory as better than another for a specific target audience.
This initial success created some turbulence within the out-of-home community. Early leaders in programmatic OOH began to tout their successes; but experts in the broader ad tech industry were quick to point out that these claims were somewhat exaggerated. Worse, the industry was glossing over the entirely true and very valuable progress it had made using tech to increase automation and performance. Thankfully, the rapid acceleration of technological progress is increasingly bridging the gap between the more egregious early claims and the expectations of digitally savvy agencies and advertisers. More recent developments in programmatic OOH include the debut of technologies that link programmatic OOH inventory to programmatic mobile advertising, two channels which are proven to be highly complementary. Additionally, more and more inventory is being readied for programmatic sales.
In 2016, Clear Channel announced a partnership with Rubicon Project to begin offering their digital billboards programmatically. For the first time, marquee OOH media assets were integrated into the larger omnichannel programmatic media buying landscape. In May 2017, DOmedia announced an integration with Rubicon Project that would establish a pipeline between the vendors in DOmedia's SSP and some of the largest media-buying platforms on earth, dramatically lowering the technical and financial burden of moving OOH inventory into omnichannel buying platforms. This democratisation of access to programmatic OOH is the next phase of evolution for the industry.
This will take two forms, first the supply side of the industry will continue to push the definition of what types of media can be sold programmatically. Right now, the industry is grappling with important questions such as: If a static billboard is purchased using an automated process, based on a target audience (and without regard for location), is that a programmatic buy? Or, on the other hand, is real-time ad serving a necessary component of all programmatic media? On the demand side, programmatic tools will begin to become more accessible to non-expert buyers. Advertiser-direct buys represent roughly half of annual US OOH spend. This has created a strong incentive for ad tech providers to develop products for the industry's longtail – 'AdWords' for OOH.
Regardless of how events shake out in these rapidly-evolving areas, the future of programmatic OOH is no longer in question. Agency buyers are already taking advantage of the so-called 'Out-of-Home Media Renaissance'. And, as technology becomes increasingly adapted for non-experts, this renaissance is poised to become a revolution.