Judge, Jury & Executioner: Google's War Against Ad Blocking
by Lindsay Rowntree on 18th Oct 2017 in News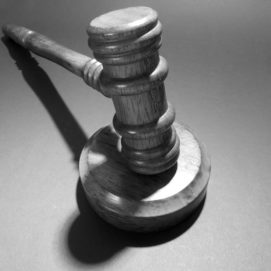 In a bid to do its part for the future of publishing, and to create a better web for users, Google announced back in June some new tools for publishers, as well as a roll-out of a pseudo ad-blocking tool to stop ads showing on websites that are not compliant with the Better Ads Standards, an initiative developed by the Coalition for Better Ads. ExchangeWire delves into the details of this news and what it could do to the future of advertising.
The announcement, focused ultimately on promoting a better quality internet, consists of four key parts, with an onus on brands, advertising platforms, agencies, publishers, and even the consumers, to do their bit to support the future of publishing and advertising. A valiant effort to change the world one ad at a time – or a thinly veiled attempt to grab even more land from the competition?
Quality filter, not ad blocker
The Coalition for Better Ads, which launched at dmexco last year, with Google as one of the founding members, appears to be the driving force behind the new developments, with Google building the future of their internet around the coalition's Better Ads Standards initiative, released in March of this year. It identified the most annoying consumer ad experiences through a survey of 104 ad formats across an audience of 25,000 participants. The ad formats revealed as the most annoying, and which will form the basis for Google's ad blocking across the Chrome web browser, include pop-up ads, prestitial ads (displayed before the homepage is opened), ads with density greater than 30%, flashing animated ads, autoplay video ads with sound, postitial ads with countdown (displayed after a link is clicked, requiring the user to wait a number of seconds before the ad can be dismissed), full-screen scroll-over ads, and large sticky ads. A quick browse across the internet and you'll probably come across at least one of these formats fairly quickly; they're a pretty common sight. If a publisher happens to display one of the offending formats, while a user is browsing with Google's Chrome web browser, expect it to be automatically blocked in the not-too-distant future. Google wants to protect the consumer experience, while taking ad blocking head on and claims that even inventory owned and served by Google is liable to be blocked, based on the new rules. Let's politely ignore the fact that Google, as part of the Coalition for Better Ads, doesn't let many of these ad formats slip through its ad serving nets. Nor does Facebook, another coalition member, for that matter. Let's also gloss over the fact that Google and Facebook, combined, took an estimated 99% of digital advertising revenue growth in the US last year, leaving those outside of the duopoly to ask what more they could possibly want. There isn't much trust in this industry.
Google is keen to avoid the term 'ad blocker' and instead is referring to the new Chrome setting as a quality filter; one which will be switched on by default, once it officially launches in 2018. Why announce it now, if it doesn't launch until next year? To give the industry time to prepare. Net Applications' Net Market Share Report estimates that Google Chrome had a 59.36% global market share in May 2017. Turn on a default quality filter with little-to-no warning and the industry literally wouldn't know what has hit it.
A fairer internet?
Google knows the value of quality content and wants to help publishers continue to thrive in these challenging times, or so it says. The types of ads deemed the most annoying by Better Ads Standards sound very much like the premium, IO-based, high-CPM sort, so the ad networks specialising in these premium formats may need to have a rethink. Advertisers keen on investing in these impactful and engaging ad formats may also need to go back to basics. Publishers also have some choices to make about their future partnerships.
To help publishers better understand what types of ads Google (and the Coalition for Better Ads) consider to be too intrusive and liable to being blocked, it announced the launch of the ad experience report on its blog, which analyses publisher sites to provide a quality health report.
Google's stance is that helping publishers understand which ads frustrate consumers will encourage them to remove the offending formats, reducing the instances of consumers installing tools that block all ads.
Judge, jury, and executioner
Some concerns echoed across the industry centre around the lack of impartiality of Google's initiative. Google has too much invested in the digital advertising ecosystem to position itself as the saviour of digital monetisation. Google maintains in its blog that the filter could also apply to its own served ads; so it's not trying to discriminate against the competition. The competition may not agree, however. If the rumours are true, Google has been paying existing ad blocking tools to add the ads it serves to the whitelists. Considering that, its own ad blocking tool, or 'quality filter', will remove the need for that and send the existing ad-blocking tools (which currently exist as Chrome extensions) spiralling. How it works in practice remains to be seen, but the whispers that Google is just trying to ensure its own ad server, DoubleClick for Advertisers, becomes the only 'safe' option, are getting louder.
The ad-blocking problem
Depending on whom you speak to (or whom you want to believe) ad blocking is either a huge problem, or no longer a real industry concern. Certainly, when it comes to column inches, brand safety and transparency have filled the hole left by ad blocking, after it caused so much controversy in 2016. In February, eMarketer scaled back its estimates of ad blocker usage in the US, but still forecasted that 27.5% of US internet users would be using ad blockers this year. PageFair released global stats in its latest report on ad blocking, citing that 11% of the global internet used ad blockers in 2016. According to statistics published last year by the IAB/YouGov, ad-blocking levels in the UK hover around the 21-22% mark. Admittedly, the numbers aren't great, but one has to ask how many of those ad-blocker users genuinely care about intrusive ads, over and above issues such as security, or just a general hatred for all types of online advertising? The same PageFair report cited security as the overriding reason for internet users installing an ad blocker, with 30% of those surveyed worried about viruses and malware. A further 6% highlighted privacy and data leakage as the main reason behind installing an ad blocker. On top of that, 14% cited the fact that there are just too many ads on webpages. That makes 50% of the ad blocking population, for which Google's attempts to achieve a better web for everyone through its quality filter could likely have no bearing whatsoever.  
Is Google attempting to fell the last remaining bastions outside of the duopoly? Answers on a postcard.
Carrot and stick
Not only will publishers be penalised with blocked ads that don't meet Google's quality requirements, they will also be rewarded for providing consumers with good ad experiences through Funding Choices. A cross between a paywall, like The Times, and an ad-block wall, like City A.M., funding choices will allow publishers to show users across the internet (not just on Chrome) a customised message, inviting them either to enable ads on their site, or pay for a pass to remove all ads on that same site through Google Contributor.
For the consumer, Contributor works with your Google account to deduct a fee each time you visit an affiliated web page (not a top-level domain) and have an ad blocker installed. This fee is then passed onto the site publisher (minus a small amount Google claims it keeps back to cover running costs). It's still in beta for publishers and only available in the US, UK, Germany, and New Zealand (a popular test market for Google) and, at the time of writing, only has 12 sites listed, ranging from the mainstream Business Insider UK, to the more obscure spirituality and religion site, Beliefnet. Contributor is basically a place for you to manage subscriptions to sites you want to be able to access ad-free, but wouldn't be able to access with an ad blocker in place. How much would consumers expect to pay to access participating ad-free sites? ComicBook charges a penny a page; whereas it will cost you double that to access Beliefnet ad-free. If you want ad-free access to Business Insider UK, you need to stump up £0.04 per page, meaning that for £1, you can read 25 articles on the site. Does it stack up for Business Insider UK to operate in this way? If the alternative hard options are to put all content behind a paywall, or lose all revenue to ad blocking, then it probably does. Appealing to ad-blocker users and giving them a feasible alternative to not being able to access the site at all, as well as still receiving advertising revenue from users without ad blockers, seems like a publisher win-win. I wonder what City A.M. is thinking right now. While it hasn't published statistics on the success of its ad-block wall after the initial roll out, at the time of launch, the publisher reported that 25% of users switched off ad blockers to access content. Would Funding Choices be a good happy medium for City A.M., or would it be backtracking? Does it even have a choice?
For the publishers, Google is acting as a conduit between them and the consumer, in an attempt to help consumers understand how publisher business models work and provide a solution that, hopefully, offers the best of both worlds.
Combine the efforts of Funding Choices and Google Contributor with Google's ad quality filter, and Google really could have a shot at making the internet a better place for everyone. Many publishers have never felt like Google has been on their side in the past; so either Google is changing its tune, or there is a less-than-savoury ulterior motive to this development. Either way, 2018, when this officially rolls out, looks set to be an interesting year for ad blocking.