The Factors Driving Digital Dominance in Out-of-Home
by Lindsay Rowntree on 9th Apr 2018 in News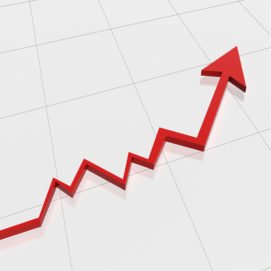 If all the headlines are to be believed, the advertising industry is leaning in to a number of headwinds right now, from structural change and increased competition from consultancies to pressure on investment and issues of transparency. Amidst all these challenges, digital out-of-home's star continues to rise, writes Dominic Murray, group creative account director, Kinetic Active.
Figures released by Outsmart and PwC recently revealed that, for the first time, digital out-of-home (DOOH) has grown to account for 50% of total out-of-home ad spend – an increase of 17.4% on the year before. In further evidence of the extent of the medium's growth, Route, the industry-agreed measurement body, announced at the end of 2017 that DOOH now boasts a coverage of over half of UK adults nationally and 92% of those in London.
Rapid digital innovation, and the addition of new and exciting inventory on an almost monthly basis, has only succeeded in spurring on this growth. DOOH has been the fastest growing medium, after mobile, for a number of consecutive quarters, according to the AA/WARC Expenditure Report, and advertisers are increasingly taking advantage of the opportunities DOOH offers to connect with consumers in smarter and more sophisticated ways. However, in a climate of caution, where every ad dollar must be accounted for, what is it about the medium that is not only appealing for advertisers, but also drawing consumer interest?
In order to dig beneath the surface of DOOH's rapid growth and appeal, Alfresco Labs, Kinetic's research unit, conducted a nationally representative survey of 1,000 UK residents, asking them what they thought of the digital screens in the environment around them. The findings were striking and overwhelmingly positive: 74% of the respondents said they found digital posters 'eye-catching'; whilst over two-thirds found them 'engaging'. Moreover, 72% thought that brands using DOOH are 'forward-thinking'; whilst 52% of respondents felt they were 'premium' – indicating the clear draw for brands wishing to play in this territory.
Beyond its ability to attract attention from consumers, digital out-of-home also has the potential to play an active role within daily life. One of the questions posed to survey participants was the type of information they were most interested in seeing on the digital screens around them. A clear preference for utility-led creative emerged, with 22% 'very interested' in location-relevant content, and 19% in time-relevant content. For brands, this insight reveals an opportunity to connect with consumers by using contextual information, like weather or time, to serve adverts that add value to the environment and the passersby viewing them.
An example of an advertiser that exploited this potential is MyTaxi, which used contextual information to inform their creative to great success in a recent award-winning campaign. The on-demand black cab service aggregated multiple real-world data sources to trigger creative changes in real time, driven by the understanding that the biggest pain point of their competitor's service was surge pricing. By drawing on information about time, weather, and location – all of which impact taxi fares and demand – MyTaxi was able to create the Surge Predictor engine, triggering relevant copy when customers nearby were in the active purchasing phase.
Readily available data derived from real-world sources gives us insight into environmental conditions around a DOOH screen and, from that, combined with other indicators, we can gain an understanding of context. In the case of MyTaxi, this meant building up an understanding of the customer's main pain points around on-demand transport, and the corresponding environmental factors – ultimately, allowing the campaign team to create and deliver appropriate creative content for that specific moment.
Another successful campaign that leveraged the flexibility of DOOH was the award-winning Bigger Issues campaign created by Lynx in partnership with male suicide charity C.A.L.M. The campaign sought to highlight the issue of male suicide in the UK and, in particular, the fact that it isn't discussed as often as it should be. Using real-time data feeds, Lynx juxtaposed the headlines of of-the-moment 'trending' topics and tweets with the bigger issue of male suicide, the biggest killer of men under 45. By serving fresh, reactive headlines in two-hour intervals, the campaign was able to reflect the frequency at which a UK male takes his own life – and shine a light on the trivial issues we are more likely to talk about, in real time.
Both campaigns reveal the creative scope and flexibility that DOOH can offer advertisers and brands, all based on actionable, real-time insight that is likely to appeal to consumers and drive awareness or sales. However, perhaps the most interesting insight that the Alfresco Labs' research unveiled was the amplification of positive sentiment among younger audiences. Indeed, according to the panel research, audiences aged 18-44 years old were nearly 15% more likely than those over the age of 45 to find DOOH eye-catching, and 20% more likely to find it engaging. This positive amplification was true of the other qualities attributed to DOOH: 80% of younger consumers thought that brands that used the medium were forward-thinking, in comparison to 66% of older audiences.
For brands, the incentive is clear – not only does the medium offer the scope to use real-time data sources to inform creative outdoor campaigns, but it also allows advertisers to speak directly to a highly desirable and captive segment of the population. However, perhaps the most striking insight from the panel research was that 18-44 year olds were 30% more likely to think digital posters were aesthetically pleasing and improved the look of an area. Such a glowing endorsement, alongside digital out-of-home's ability to introduce creativity, relevance, and utility to the world around us suggests that the medium will continue to grow at pace, and scale, for the foreseeable future.