AANA Forms Alliance with PwC's CMO Advisory; Forsman & Bodenfors Goes to Singapore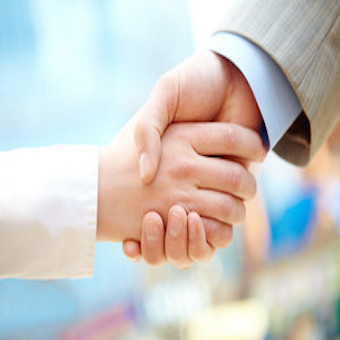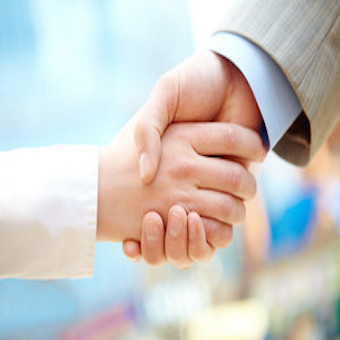 In this weekly segment, ExchangeWire sums up key industry updates on ad tech from around the Asia-Pacific region – and in this edition: AANA Forms Alliance with PwC's CMO Advisory; Forsman & Bodenfors Goes to Singapore; Majority of Australians Read News Online; New Appointments at IAB AU & SG; and Consulting Firm Buys Chinese Marketing Agency.
AANA Forms Alliance with PwC's CMO Advisory
The Australian Association of National Advertisers (AANA) says it has brought in PwC's CMO Advisory to share its knowledge and expertise on key industry issues.
To start off, the two organisations would work on updating the media contract template, which was introduced in 2016.
AANA said it has been gathering feedback from the industry to further improve the template's relevance and effectiveness. These would be reviewed to facilitate the update.
AANA CEO John Broome said: "Our UK counterparts at ISBA also worked with PwC on developing their recent framework and guidance notes. We will be tapping into that experience to ensure we can fast-track our processes and deliver the relevant best-practice advice from the UK to our members here."

PwC Australia CMO Mike McGrath said the organisations would have "shared accountability" in coming up with the revised media contract template, with the goal to further strengthen partnerships between advertisers and agencies.
Forsman & Bodenfors Goes to Singapore
The Swedish ad agency has opened an office in Singapore to bolster its client support in the region.
Forsman & Bodenfors (F&B) said the local operations would commence in August 2018 and marks its first site outside its domestic market.
The agency's client director since 2003, Susanna Fagring, would assume the role of Singapore managing director and move from Sweden to the city-state, along with "a small team".
Fagring said the company's "size and nature of work" in Asia-Pacific has been growing, making it a "natural step" to set up an office in Singapore to strengthen the agency's relations with existing clients, as well as future customers.
Founded in 1986, F&B's current clientele in Asia-Pacific includes SK-II.
Majority of Australians Read News Online
Almost 15.7 million Australians aged 14 and above, or 78%, now get their news fix online every month.
Amongst news websites, news.com.au was the most popular, clocking some 5.9 million local visitors on average over a four-week period, according to data from Roy Morgan Research. Sydney Morning Herald was second-most popular, with 5.3 million visitors, while the ABC News website recorded a little over five million over the same period.
Reading preferences, though, differed between generations. Just two of the top five news sites amongst Pre-Boomers, born before 1946, made the same list for Generation Z, born between 1991 and 2005. The latter group stood out with its preference for Daily Mail and Buzzfeed, noted Roy Morgan.
News.com.au was the most popular for Pre-Boomers, accounting for 20.9% visits in the four-week period, while Sydney Morning Herald's website was most popular amongst Baby Boomers, born between 1946 and 1960.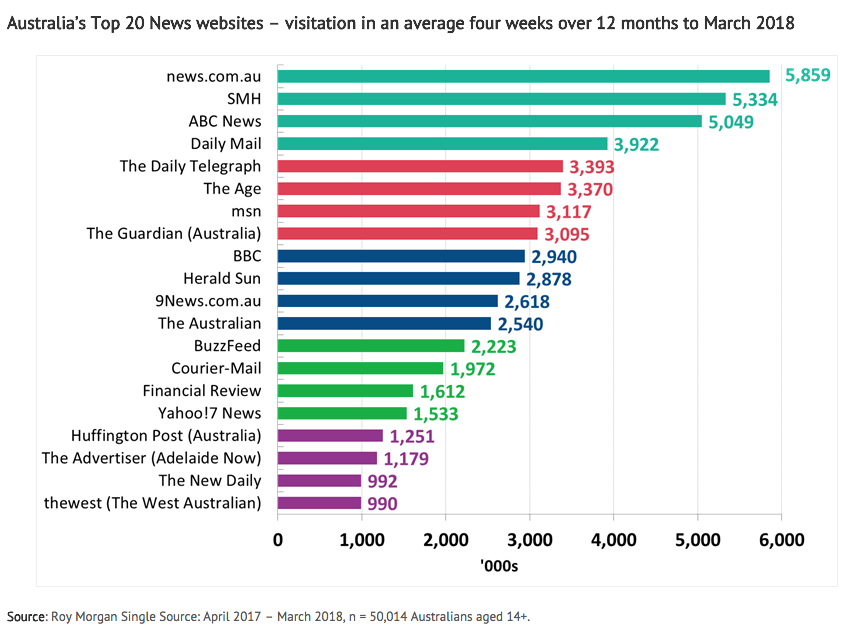 New Appointments at IAB AU & SG
The Australian and Singapore chapters of the Interactive Advertising Bureau (IAB) both have announced new appointments, including a changing of guard following an executive election.
IAB Australia said Libby Minogue had assumed the newly created role of deputy chair, which was established to "add depth" to the board and manage increased "council activity and output". Minogue's day job sees her as executive general manager of media and content at REA Group.
News Corp Australia's digital revenue director, Cameron King, also has been appointed board chairperson following the departure of Nicole Sheffield, who resigned from the news network in February.
King would serve until the end of News Corp's tenure as IAB Australia's chair in September. He said he would focus on key issues that impacted IAB members, including measurement, standards, and transparency.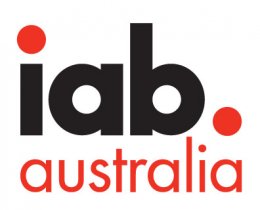 Meanwhile, IAB Singapore has welcomed a new board after wrapping up its 2018 elections.
Responsible for driving investment in digital advertising, the new members would work alongside the local bureau's CEO and Southeast Asia ambassador, Miranda Dimopoulos.
Current chair and CEO of APD Singapore, Tobias Wilson, will be stepping down from the board after four years including two as CEO. He said he is moving on to focus on his work at APD, as well as his family.
IAB's new Singapore board members include Google's Asia-Pacific managing director of agency business Joanna Flint, TripAdvisor's Asia-Pacific vice president Cindy Tan, and LinkedIn's Asia-Pacific China head of online sales Ashutosh Gupta.
Dimopoulos noted that almost all of its new board members hold regional roles in their organisation, indicating Singapore's standing as a regional business hub.
The local bureau will elect its new chair and vice chair early next month.
Consulting Firm Buys Chinese Marketing Agency
Accenture has announced plans to acquire Shanghai-based digital marketing agency, HO Communication, in a bid to beef up its footprint in China.
The Chinese agency, which also runs offices in Beijing, Chengdu, and Nanjing, provides a range of marketing services including content creation and creative design.
HO Communications CEO Lamy Zhang said: "The state of the traditional marketing and advertising industry is changing. Clients want campaigns, but they also want advice on strategy and assistance on delivery. We see this as the future for the industry and want to be part of creating and shaping that future."
Adding that China was the world's largest digital consumer market, Accenture's Greater China chairman Wei Zhu said HO Communication would boost its ability to meet its clients growing digital demands.
The consulting firm did not reveal financial details involved in the acquisition.
Ad TechAdvertiserAgencyAPACAudienceAustraliaChinaDigital MarketingSingapore