Why It's Important for Marketers to Embrace UX
by Romany Reagan on 25th Feb 2019 in News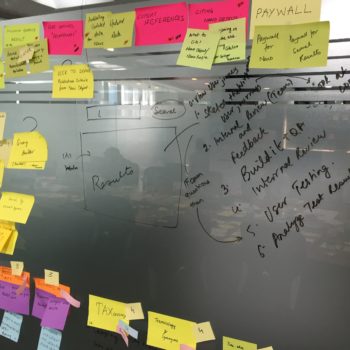 In today's digital world, consumers' attention span continues to decrease while expectations for online experiences increase. Research conducted by Google indicates that if sites take longer than three to four seconds to load, users are more likely to turn towards the competition. For a lot of marketers, user experience may not be front of mind, but it is now a vital part of their digital marketing strategy. In this piece for ExchangeWire, Maggie McKosky (pictured below), head of user experience & product design, Shutterstock, explains why user experience should go hand in hand with marketing – and not be delegated as a tech problem.
Businesses must ensure the user experience is as seamless as possible as it touches every way people interact with your company. What is the point of brilliant marketing if the product you are offering is not user-friendly?
A seamless user journey involves a combination of speed, ease, clarity, and convenience. According to a recent KPMG report on customer experience, personalisation is integral to optimal customer experience, user loyalty, advocacy, and revenue growth.
The retail sector is a case in point. A highly developed user experience is especially important in retail due to the need to convert interest into sales and revenue. If a user is unable to easily find what they came to the website to buy, the chances are they will swiftly move on. A marketer's job, first and foremost, is to help generate revenue for the business. Getting the user journey right should, therefore, be a top priority.
At Shutterstock, it is equally as important to ensure the user experience is second to none. Thousands of people use our site every day to buy images, videos, or music. We work hard to make sure the site is user-friendly, so customers keep coming back and enjoy using our service. Like an online clothing shopper, Shutterstock users enjoy both browsing the site for inspiration and looking for a specific asset.
A poor user experience can be extremely frustrating for the range of visitors to your site, which is why it is important to understand the various needs and expectations different users may have when they browse through.
As technology continues to develop and evolve, so too does the user experience in its mission to become more seamless than it has ever been before. The use of AI within the user experience offers the customer a service that's more personal and immersive and provides greater support. This can also result in the customer trusting the brand and enhanced user experience. A subset of AI, deep learning, is one of the technologies enabling this. Deep learning allows computers to learn without being explicitly programmed and can, therefore, start to predict the way a user may want to interact with a website. This can inform the user experience of how people navigate a website and ways to make it more efficient and logical.
The search for photographs online demonstrates how the accuracy of search tools can significantly improve the overall user experience. The search bar is typically a highly trafficked touch point between your website and your users. Using words to search is subjective, antiquated, and an inefficient process of finding something. Language can be limiting in how a visual may be described and how one person describes an image may be completely different from someone else's interpretation. This is where AI can really come into effect, by seeing what's in an image and then refining the search results to direct the user to images that are similar in composition, colour, or aesthetic.
At Shutterstock, we have developed a suite of search tools through deep learning and computer vision to make the process of visual search easier and less time consuming, thus creating a positive user experience.
For example, Reverse Image Search, which is based on pixel data technology, allows customers to drag, drop, and discover images similar to one they are looking for. Not only is this way of searching more entertaining, but it is also easy, time efficient, and voids any text or language barriers. Research by eMarketer has found that visual search is the technology U.S. and UK millennial internet users feel most comfortable incorporating into their digital shopping experience. This new way of searching clocks into consumers' growing need for instant gratification; so it is not surprising that consumers are keen to see it implemented in their everyday online shopping experience.
User experience should go hand in hand with marketing; not delegated as a tech problem, but rather a process to enhance the customer flow from their first touchpoint (through marketing efforts) to the post-purchase/site visit interactions. Simply put, if marketing and UX are closely aligned, the customer will not only be happy on your website/application, but they will also enjoy the unified experiences before and after their visit.