Mobile World Congress: When MWC Realised That Not Everything Is About Phones
by Mathew Broughton on 3rd Apr 2019 in News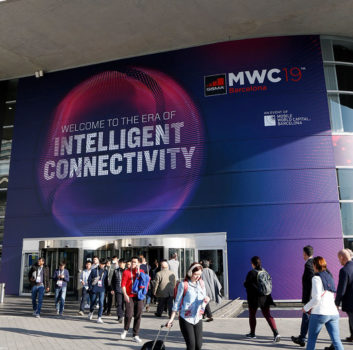 The 2019 edition of the Mobile Web Congress (MWC) was recently held in Barcelona, gathering the great and the good of tech companies, telephone providers, and suppliers. In an exclusive report for ExchangeWire Anaïs Ferrández (pictured below), international MarCom manager at Tradelab, discusses the latest smartphone innovations, and how the industry is looking past the basic smartphone.
As every year since 2006, Barcelona hosts its most important event: The Mobile World Congress (MWC). It looks like all and sundry have been saving their biggest secrets for this Spanish city.
This year's Intelligent Connectivity edition displayed ideas fuelled with the latest Asian technological power. From 25-28 February, Barcelona boasted about the latest smartphone models and the newest innovations in artificial intelligence technology and gadgets. This year, the event concluded with attendance breaking records.
Every consumer is adopting new technologies in both their personal and professional lives. In the last five years, companies have even tripled their investments in artificial intelligence – and, thanks to this, they have the power to change the way business is created. If there is anything MWC can prove it's that technological advances will continue to open doors to new possibilities and provide life-changing tools at our fingertips.
The Holy Grail: foldable smartphones
For years, the industry has been shouting out for flexible screens and, finally, someone heard these cries. No one could deny the excitement of seeing a foldable phone for the first time and seeing how it functions.
Many mobile phone manufacturers have been criticised for their lack of creativity, but nobody questions that this expensive innovation is definitely their blue-eyed boy. Companies such as Samsung, LG, and Huawei exhibited their latest models. Samsung's hybrid device was present: it can change from a pocket-sized smartphone of 4.6 inches to a 7.3 inch screen tablet. This sci-fi element is already a reality and can fit in any pocket (or at least the ones of those able to afford it).
Of course, these models are not the first on the market. However, when all is said and done, will this trend strengthen? Will these devices open like a book, or wrap around the outside? Will they be durable enough? Will this just be a fashion trend to be quickly replaced? Skeptics place your bets!
Cybersecurity takes a greater relevance
There is so much work to be done before mobile devices, and all the IoT world which surrounds it, will become part of a secure environment. Users nowadays no longer worry about the cybersecurity of their computers, but their smartphones. For a long time, users forgot about the solutions companies could offer, even if they were bringing their normal desktop habits onto the mobile environment. But according to Kaspersky on MWC, now we should even be careful with bionic extensions, as hackers are targeting into prosthesis! Like many devices, these extensions should be checked for vulnerabilities.
In today's reality, every expert advises the importance of keeping a close eye on all devices to maximise security. Is the future requiring us to have more security elements in place to protect our data? While the benefit is to restore movement to limbs, security can't be forgotten. We should integrate security to every technology we have.
The 5G never-ending story
5G technology has been the queen at previous editions of the MWC, with so many companies showing their first compatible devices. As said during MWC, this innovation could also improve so many sectors such as the health industry; for instance, guiding a surgeon in another time zone in real time, and drones with temperature sensors in order to detect, prevent, and extinguish conflagrations. The 5G technology can even change the tourist experience with rich and interactive content, or even direct robots in industrial environments. It looks like it's going to take a few years before 'up to 5G' will reach its potential power. Though it should note that this technology is not expected to develop in Europe till 2026.
But if we go back to small-home… What do we love about this technology adapted in routers? 5G appears to be a promising alternative to fibre optics with its promise of speed, lower latency, and the ability to connect many devices. Will these devices finally hit the high street knowing that we have been hearing about 5G for – already – five years ago now?
Long live the batteries!
Everyone at some point in their life has felt the frustration of running out of battery. We have also thought about having a cell phone with a battery that lasts a week long. That's why Energizer's Power Max P18K Pop landed in MWC 2019, with the mission to eradicate the fear of the blank screen. The battery has a lithium reagent, which could explode… (It should be noted that this has not happened often in the history of cell phones, but it could.) However, it is designed to be safe, replacing liquid in batteries with something solid, increasing capacity with its reduced size.
This phone is not the most attractive model on the market today, looking pretty much like a brick with an 18mm thickness. However, when the battery lasts no more and no less than 50 days (do I hear "Is that possible?"), we could sacrifice the design for the practicality! Anyway, if you ever watched Get Smart, you can boast about having the shoe phone!
Augmented Reality: HoloLens 2 brings the power
Microsoft announced in 2017 that they were working on the second version of its holographic glasses, integrating artificial intelligence functions. This headset recognises the user via an iris recognition system and incorporates three innovations: a display area that is twice as large as its previous iteration, improved ergonomics (it is three times more comfortable to wear) and hand tracking with natural voice control.
During MWC, an impressed Tim Sweeney (CEO of Epic, the company behind Fortnite) affirmed that the future of gaming is on platforms like this one and his own games will be available there in the next few years. "This marks a new era for Microsoft", he said. Sooner or later, we will say goodbye to virtual reality and embrace the fact that augmented reality will control the future.
Final conclusions
This Intelligent Connectivity edition of the MWC showed us digital impacts in all aspects of our lives. Everyone thinks about the future, but what kind of view do we have? Which shape will it take in the world for the generations to come? Well, we will have to wait another year to find what is next on the horizon.