IAS Pre-Bid Activation Leads to Improved Cost Savings, Quality Impressions™ & Traffic Quality for Samsung
by ExchangeWire PressBox on 9th Feb 2023 in News
Integral Ad Science (IAS), a global leader in digital media quality, has published the results of its work in Indonesia with Samsung and Mindshare to drive positive business outcomes with pre- and post-bid media quality.
Mindshare and Samsung partnered with IAS to explore if adding pre-bid to the advertiser's current post-bid strategy would improve their media quality metrics and KPIs. Both companies also aimed to determine if increasing Quality Impressions™ would positively impact both Mindshare and Samsung's most important KPI, Traffic Quality, on the brands' website.
Utilising IAS' cost savings calculator, the company implemented cost saving measures into Samsung's traffic quality and an overall increase in Quality Impressions™. After activating the IAS pre-bid, Mindshare saw immediate improvements to viewability (+17%) and brand safety (+5%). Mindshare also experienced a significant improvement in Quality Impressions™, which increased by 23%.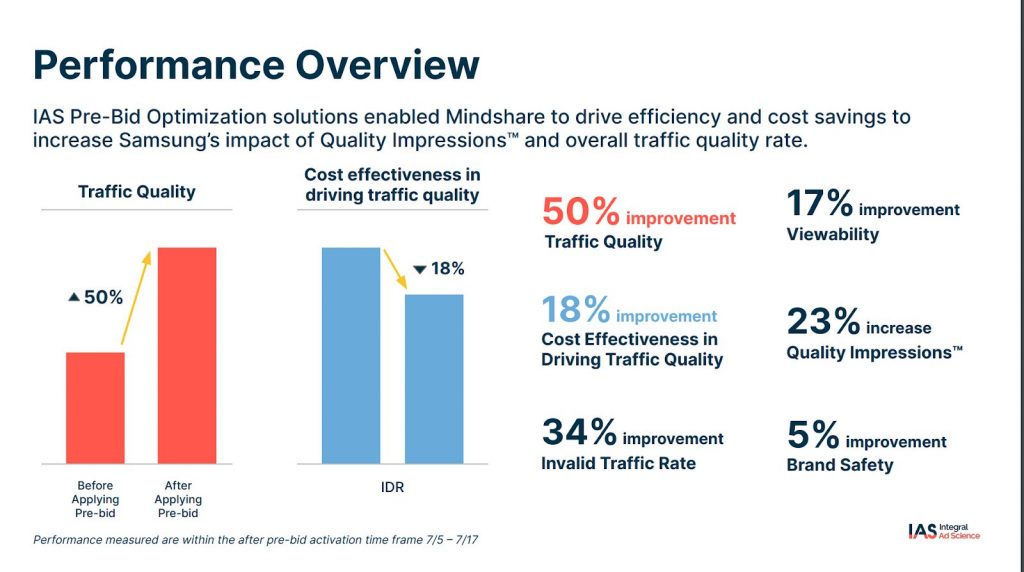 "The programmatic landscape is incredibly complex, making it important for brands to measure the quality of their impressions, and optimise towards greater efficiencies in order to deliver the desired marketing outcomes. It's heartening to see the improved performance Samsung have delivered as a result of activating pre-bid to ensure they only bid on quality inventory that is brand safe, suitable, fraud-free, and viewable by a real person", commented Megan Reichelt, country manager of Southeast Asia, IAS.
View the full results by downloading the case study here.

Integral Ad Science
Integral Ad Science (IAS) is a global leader in digital media quality. IAS makes every impression count, ensuring that ads are viewable by real people, in safe and suitable environments, activating contextual targeting, and driving supply path optimi...
Powered by PressBox