Publisher Co-ops in Southern Europe: Q&A with Marco Guglielmin, CRO, Zodiak Advertising
by Lindsay Rowntree on 8th Nov 2016 in News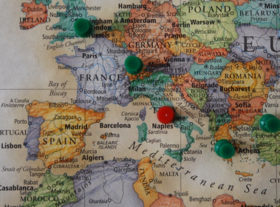 Each market has a different approach to programmatic buying and selling and markets less often heard about, such as Italy and Spain, have very different methods from the UK or France when it comes to publisher monetisation. Marco Guglielmin (pictured below), chief revenue officer, Zodiak Advertising, explains the publisher trends he is seeing in Southern Europe, the rise of the publisher co-op and the growth of the multi-SSP approach.
ExchangeWire: What growth journey have Zodiak been on since starting in Italy four years ago?
Marco Guglielmin: Zodiak Advertising has been a pioneer in the Italian programmatic scenario business since 2011 when we launched our publisher trading desk solution.
We have moved from being a service supply-side company, based in Italy, to a programmatic technology player: we operate in six countries: Italy, Spain, Portugal, Germany, Switzerland, and Austria – keeping our focus on supporting premium publishers with their programmatic reselling strategy.
What publisher trends are you seeing in southern European markets?
Italy had a very high growth rate in the last two years, with programmatic technology fully adopted by the major players of demand and supply side. At least 25% of digital advertising spend happens 'programmatically'.
The primary business drivers have been private deals and direct integration demand. This market structure positioned Italy as one of the most advanced private-deal-oriented countries in Europe, with around 40% deal market share.
Spain had a two-year delay on adopting programmatic technology, compared with Italy, but it is seeing significant acceleration in the last six to eight months.
The open market is steering the Spanish market with performance-oriented demand having an edge on the weaker private deals.
As a result, there is a very high premium liquidity available in the exchanges, at a quite low floor prices, which is stimulating the demand side to access the marketplace quickly.
Publisher trading desks are still fairly new on the scene across Europe. Why does operating as a publisher trading desk suit markets like Italy and Spain?
Zodiak Advertising was the first company to adapt the trading desk approach to the supply side over five years ago. As one the European pioneers of this industry, we proved that we could bring high value to our partners with our fully independent, multi-SSP approach, combining various technologies and service stacks.
With our trading desk strategy, we succeed on managing three large publisher coalitions – Premio in Italy, Primedia in Spain, and PMA in Austria. We are involved not only providing technology to our partners, but we are also actively concerned in addressing their business strategy. That's our added value.
Publisher co-ops are gaining popularity in certain markets. What success are they seeing in southern Europe?
Next month, we celebrate the third anniversary of 'Premio', the first Italian private marketplace that aggregates 20 websites, which was launched together with Il Sole24Ore, the leading financial digital newspaper in Italy.
Premio has been positioned as a 'by invitation only' marketplace to keep the premium value of these publishers and avoid abusing their direct-sales strategy. After the Premio experience, we launched PRIMEDIA, a Spanish coalition of premium publishers like 20minutos, El Diario, Gruner Yahr, El Confidential, and Publico.
We spent over a year addressing this cooperation strategy, resulting in a 100% alignment from the partners involved, which is the key to our success. Proper data tactics have been put in place to differentiate this offer and create real value to all the coalition members.
You have recently expanded into the DACH region under the name Orbyd. Are publisher trends in this region similar to southern Europe?
We started a strategic partnership with Orbyd based in Hamburg, Germany about a year ago. Zodiak Advertising and Orbyd are business and technology partners, so we are able to serve the needs of publishers and sales houses across Europe to the full extent. Germany is a different market, especially on the publisher side, being much more in control of the programmatic ecosystem and having a strong focus on premium inventory and private marketplace structures than Southern Europe. In general, more power to the supply side, due to very large and healthy publishing groups, compared with everywhere else in Europe.
Are the steps being taken by the supply side, such as publisher co-ops and publisher trading desks, helping the struggle of ailing publishers?
The co-op problems lie in aligning the publisher's interest and strategy. Each one has their own positioning, and their audience is considered unique. Data allows the ability to share these audiences, but there is jealousy and, as such, they are kept as a secret from the publishers who are not happy to hand out this information to other parties.
There are several advantages of serving as a trading desk, such as being an external agent, with independence and impartiality, responsible not only for supplying the technology, but also helping in the operational management of the coalition, to reduce the conflicts between partners.
We see ourselves as a referee, which allows others to operate by minimising the disputes.