Facebook Test Messenger Ads in TH & AU; China See Lower Search Ads Growth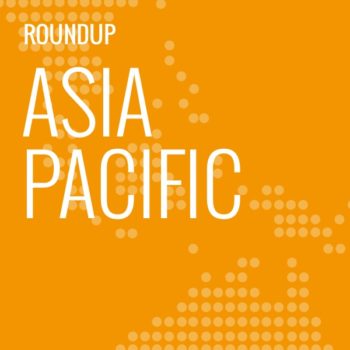 In this weekly segment, ExchangeWire sum up key industry updates on ad tech from around the Asia-Pacific region – and in this edition: Facebook test Messenger ads in TH & AU; China see lower search ads growth; Dentsu buy out Indonesian agency group; Taptica eye Japan growth via partnership; Columbus head to Malaysia; and Kargo roll into Sydney.
Facebook test Messenger ads in TH & AU
The social media juggernaut are planning to run tests in Thailand and Australia that will enable ads to be placed on the Messenger home screen.
The trials would involve a small group of users in both countries, Facebook's product manager Eddie Zhang said in a blog post, adding that businesses could place ads below recent conversations. Test ads would not be seen in conversations, unless users clicked on an ad via Messenger home screen or triggered a conversation with a brand, he said.
The user test groups would start seeing ads in the coming weeks, Zhang said. Users would be able to hide or report specific ads using an option in the dropdown menu and advertisers would only be able to directly message consumers if the users initiated the interaction.
Zhang said: "Businesses have long been telling us that they are very excited about the potential of the Messenger platform to reach their customers and help them to drive sales, build brand awareness, and increase customer satisfaction. Our current offerings, like ads that take people to Messenger conversations from their Facebook News Feed and sponsored messages, have demonstrated that people are interested in hearing from and interacting with businesses and brands on Messenger."
He revealed that more than more than one billion messages were exchanged each month between Facebook Messenger users and businesses, with more than one billion using the messaging platform each month.
He said the company would "take our time" learning from the trials in both markets before deciding if the service should be further expanded.
There were an estimated 19 million Facebook users in Thailand last year, while Australia had 10.3 million.
China see lower search ads growth
Search ads clocked revenue of 76.1bn yuan (£8.82bn) in China last year, climbing 11% from the previous year.
The year-on-year growth rate, however, paled in comparison to 32% in 2015 and 50% the year before, according to local market analyst iResearch. They noted that the Chinese government's online advertising regulation interim measures had raised the entry for search engine advertisers.
They added that the dip in online medical care ads dragged down search ad revenue for major market players in 2016 and that revenue from other businesses did little to buffer the impact.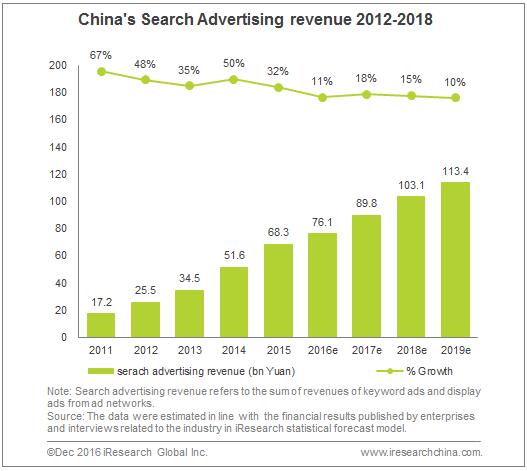 The Cyberspace Administration of China last September introduced laws that prohibited search engine operators from displaying subversive content and required them to evaluate the qualifications of paid search advertisers. The move followed reports of consumers claiming to be misled by medical-related ads peddling treatments that were unproven.
According to iResearch, search engine operators last year reported revenue totalling 90bn yuan (£10.43bn), up 12% from 2015, but lower than 35% the year before. The analyst firm said market players were expected to tweak their short-term strategy in the first quarter of 2017 and see revenue recover in the new year.
However, while the search ad market was projected to see a rebound, this was unlikely to be the 30%-plus growth rates seen in previous years, iResearch said.
Chinese search engine platform Baidu continued to dominate the local market with a 78% share last year, with other players, such as Google, Qihoo 360, and Sogou, accounting for the remaining 22%.
Dentsu buy out Indonesian agency group
Dentsu Aegis Network have announced plans to acquire Indonesian ad media company, Dwi Sapta Group, in a move aimed at boosting their footprint in the local market.
Dentsu said they would acquire a 51% stake in the media group, with the option to convert the latter into a wholly-owned subsidiary in the future. No financial details were disclosed, although Dentsu described the deal as "one of the biggest mergers in the history of Indonesia's advertising industry". The transaction is expected to be finalised in the first half of 2017.
Founded in 1981, Dwi Sapta employed more than 400 across Indonesia, offering a range of services including advertising, media, PR, and digital. The group encompassed two media agencies, Dwi Sapta Media and Main Media; two creative agencies, Dwi Sapta IMC and Main Ad; digital agency Inexus; PR agency Dwi Sapta PR; and activation agency Bee Activator.
Dwi Sapta Group's founder and CEO Adji Watono, as well as managing director Maya Watono, would join the leadership team at Dentsu Aegis Network Indonesia, reporting to the Japanese agency group's Indonesia CEO Harris Thajeb.
Dentsu Aegis Network Southeast Asia CEO Dick van Motman said: "Indonesia, with its favourable demographics, rapid urbanisation, and significant growth levels both in GDP and ad spend, is a priority market for us.
"Joining forces [with Dwi Sapta Group] made a lot of sense, given the additions they would bring in talent, clientele, and service, helping us in our quest to be sufficiently scaled and substantially differentiated", van Motman said. "What I particularly like is the strong local flavour of the talent and client base they add to us."
Adji Watono added: "Many of today's major local clients are exporting their products abroad and require a global network to better support their business agenda. Joining Dentsu Aegis Network will allow us to tap into the innovative tools, global resources, and synergies to drive our growth regionally. It is also the first global communications group born out of Asia."
Taptica eye Japan growth via partnership
The mobile ad vendor have inked a partnership with Adinnovation as part of efforts to target Japan's mobile games market.
The announcement came after Taptica set up their Seoul office last June and was aimed at further driving the company's expansion plans in Asia-Pacific, they said.
Headquartered in Japan, Adinnovation is a marketing agency specialising in app monetisation services, including mobile ad marketing, tracking, and media site monetisation. Their CEO and president Hiromitsu Ishimori said: "We believe we can expect further growth of the Japanese market with this partnership and the business expansion of Taptica's solution. Also, the partnership it is set to facilitate the global expansion of Japanese companies and accelerate the entering of overseas companies into Japan."
Taptica CEO Hagai Tal added: "Japanese smartphone penetration is expected to continue to increase and the smartphone ad industry is expected to see exponential growth. This partnership will accelerate our brand awareness in Japan and help us lead local market expansion."
Columbus head to Malaysia
Dentsu Aegis Network have launched digital marketing agency, Columbus Malaysia, extending the brand to eight markets across Asia-Pacific.
The agency tout a suite of 'intelligence-led' performance service offerings across search, social, content, and analytics.
Leading Columbus Malaysia is managing director, Abdullah Alkury, who was previously head of business development at Consider iProspect, a Dentsu agency that also have operations in the Asian market.
Abdullah's former iProspect colleague, Matthew Wong, has followed in his footsteps and is now business director at Columbus Malaysia.
"Businesses here are rapidly beginning to adopt online marketing as a core part of their marketing strategies, with internet penetration at one of the highest in the Southeast Asia region", Abdullah said, adding that his team would tap the group's capabilities to "bridge the gap" between consumption and digital media spend in Malaysia.
Columbus' Asian presence includes Singapore, Thailand, Indonesia, and Australia, where the agency was first established in 2006.
Kargo roll into Sydney
The mobile ad agency have made their foray into the Asia-Pacific region with a new Sydney outfit.
The Australian site marked their second global office after London, which was launched last year, said Kargo, pointing to further plans to double their workforce in this region by end-2017.
Heading the Sydney office is Asia-Pacific general manager Robert Leach, who also is joined by Asia-Pacific commercial director Peter Birch and Asia-Pacific operations director Rob Williams.
Leach reports to Kargo's international general manager Owen Hanks, who said publishers and brands in North America and the UK had encouraged the agency to set up presence in this region, where there was growing demand for mobile ad services.
"As mobile usage grows exponentially in Asia-Pacific, the premium editorial alliance provided by Kargo will afford brands the ideal environment and scale in which to advertise", he said.
Ad TechAgencyAPACAustraliaChinaFacebookMedia SpendMobilePublisherSearch