DIMA: Not Just Another Diversity Event!
by Rebecca Muir on 17th Mar 2017 in News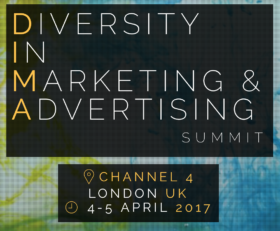 ExchangeWire are proud to announce a partnership with the Diversity In Advertising and Marketing Summit (DIMA), which takes place in London on 4 & 5 April. The event is aimed at people who work at agencies, media owners, tech providers, and brands – and is the only two-day event in Europe dedicated to diversity and inclusion in marketing and advertising. Lync are offering ExchangeWire readers a 20% discount on standard ticket prices. To register, click here and enter ExchangeWire4Diversity when you checkout.
The DIMA Summit is the only two-day diversity summit in Europe, bringing together the entire marketing and advertising ecosystem under one roof, with a focus on fostering greater diversity and inclusion, particularly within leadership roles and brand campaigns.
Created in collaboration with a distinguished advisory board, including: Nina Jasinski, Chief Marketing Officer, Ogilvy & Mather Group UK; Ade Onilude, Founder & CEO, Women In Marketing CIC; Brandon Atkinson, Chief People Officer, AppNexus; Maya Garkusha, Head of Programmatic, GroupM; Anna Hickey, Managing Director, Maxus; Dora Michail, Managing Director, Digital, Telegraph Media Group; Jackie Celestin Andre, International Diversity Director, L'Oréal; Kirk McDonald, President, PubMatic; Sarah Wood, Co-founder & CEO, Unruly; Mohamed Sheta, Worldwide Marketing Director, Johnson & Johnson; Jan Gooding, Global Inclusion Director, Aviva; and Luca Vergani, Chief Executive Officer, MEC.
The event facilitates collective industry development, providing a platform for identifying tangible solutions for overcoming key challenges faced by the sector in today's globalised world and fast-evolving media landscape.
Through expert-led keynotes, panels, and interactive sessions, the event will highlight success stories, best practices, and insights from inspirational leaders championing diversity in the advertising world.
ExchangeWire encourage you to join your peers in London for a unique and dynamic experience that will sharpen your vision for the future and enable personal, professional, and corporate development.
Everyone knows that diversity is important, because without a range of people in your business you will undoubtedly not achieve diversity in your product or service offering and your business will not reach its full potential. However, as an industry, we are some way from achieving true diversity.
Achieving diversity in the workplace requires recruiting people on merit, regardless of gender, race, nationality, marital status, physical disability, age, parental status, sexual orientation, physical features, political beliefs, religious beliefs, and any other distinguishing feature of behaviour relating to a person.
Of course, we're not saying that any company is acting in an underhand way and actively discriminating against candidates for roles, whether internal or external; however, looking around at any industry event, it is impossible not to notice the lack of diversity in the room. 
Speakers at the DIMA Summit include senior leaders from many of the world's biggest and most recognised brands such as: L'Oreal Paris, HP, Mars, Coca-Cola, Airbnb, Aviva, and Johnson & Johnson. In addition, guests will hear from leading publishers: Pearl & Dean, Telegraph, and The Huffington Post.
Topics up for discussion include:
– What does it mean to be truly diverse and inclusive
– Building the case for change
– What can be done to engage in an organisation
– Unconscious bias
– Multicultural marketing and media planning
– How inclusive marketing can deliver against business goals
– Scaling the ranks and breaking down the glass ceiling
– Gender pay gap
– Supporting working mothers
– Empowering male advocates for change
– Lessons learnt from the Great British Diversity Experiment
– Supplier diversity
– What marketing can learn from other industries
There are also several panels, one of which will focus exclusively on diversity in ad tech and will be moderated by ExchangeWire's Becca Muir.
Guests also have the chance to get involved in discussions via several workshops, which promise to focus on change and provide participants with actionable strategies to improve diversity.
You can follow the build up to DIMA Summit and activity across both days @DIMASummit #DIMASummit.