India Advertisers Still Love Traditional Media; ANZ Firms Not Doing Enough for Cross-Channel Marketing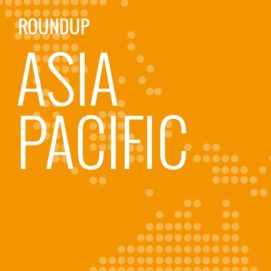 In this weekly segment, ExchangeWire sum up key industry updates on ad tech from around the Asia-Pacific region – and in this edition: India advertisers still love traditional media; ANZ firms not doing enough for cross-channel marketing; WE make double acquisitions to expand Asian reach; AU see lower ad bookings; Mirum buy China's 3Ti; and Executive appointments at AppNexus & InMobi.
India advertisers still love traditional media
Advertisers in India are projected to spend most of their budget on traditional media, with TV accounting for 39.3% of the country's overall ad spend in 2017.
Specifically, they would spend USD$3.13bn (£2.57bn) on TV ads this year, according to eMarketer. They also were expected to spend a significant amount on print, which would account for 35.7% of total ad spend, and newspapers, in particular, would rake up the majority of this budget.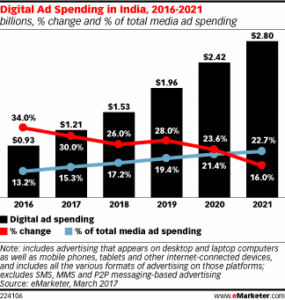 Overall, India's media ad spend would climb 12% this year to hit USD$7.94bn (£6.53bn). In comparison to traditional platforms, digital media would account for just 15.3% of all ad expenditures. However, this segment is expected to see a 30% growth, fuelled largely by mobile, which was projected to increase 85% this year to churn USD$460.1m (£378.18m), eMarketer said.
According to the market researcher, many advertisers had held back on their spend following the Indian government's surprise demonetisation move in November 2016. This slowdown, though, is likely to be short-term.
eMarketer's senior forecasting analyst, Shelleen Shum, said: "Traditional media outlets, especially print and TV, remain the mainstay of media advertising, due to its outsized influence on the lives of many in India.
"Local content coverage in various languages and the widespread accessibility to print and TV signals explain their ability to hold on to large audiences", Shum explained. "This is a stark contrast to many other countries where both industries are facing declines in advertising revenue as audiences migrate to digital."
ANZ firms not doing enough for cross-channel marketing
Most companies in Australia and New Zealand recognise cross-channel marketing has a "major impact" on business objectives, but say such efforts remain disparate within their organisation.
In fact, ownership and responsibility for cross-market marketing was not evenly shared, revealed the Cross-Channel Marketing Report, which was jointed produced by eConsultancy and IBM Marketing Cloud. The study polled 300 marketing, digital, and e-commerce professionals in both countries.
Some 71% of respondents said access to customer engagement insights belonged to marketing teams.
Only 37% of client-side respondents their marketing teams were "somewhat integrated", while 57% of agency respondents described their clients' marketing teams in the same way. This indicated that siloed behaviours, processes, and organisational structures still existed within these organisations, and were holding back cross-channel marketing efforts, noted the report.
Other key findings underscored social as the biggest priority and would receive the biggest investment from marketers over the next year. More focus, however, must be directed towards ensuring social channels were properly integrated into organisations' overall cross-channel marketing strategy.
The report further highlighted the need for businesses to look more closely at post-campaign components, such as testing, optimisation, and evaluation. It noted that 43% of client-side respondents said they spent the most time on strategy and planning for a marketing campaign; while 32% pointed to design and content as their top focus area.
Only 1% said testing was a top-focus area, while 1% pointed to optimisation, and 3% highlighted evaluation and learning. "A greater emphasis on these areas is required in order to iterate and improve cross-channel marketing efforts", the report said. It further noted that mobile also ranked low in terms of channel usage and integration with marketing initiatives.
In addition, 51% of client-side respondents said they did not have a measurement system in place to assess customer interactions between channels. Some 80% said they did not have such systems in place between online and offline channels.
Some 75% of client-side respondents looked at sales or revenues to gauge the effectiveness of cross-channel marketing, while 84% of agencies said likewise.
WE make double acquisitions to expand Asian reach
WE Communications have inked two acquisition deals they say will expand the agency's service offerings and presence into new markets and sectors.
Shanghai-based media agency Red Bridge Communications and Singaporean consultancy WATATAWA would be joining the WE, where the former would be rebranded 'WE Red Bridge' while WATATAWA would retain their brand.
Founded in 2009, Red Bridge offered brand marketing and corporate consulting services, specialising in integrated campaigns. The company's managing partner Penny Burgess said: "The merger into WE represents a huge opportunity for us to accelerate our expansion into new sectors and markets within the region. With the increased scale of the combined business, we can deepen our specialist capabilities, particularly in the areas of digital and analytics, and provide our team with greater development opportunities."
Following the merger, Burgess would become China head of WE Red Bridge, reporting to Asia-Pacific executive vice president, Matthew Lackie.
WATATAWA, set up in 2010, provided corporate and financial communications services. "Increasingly, our clients are seeking related services in marketing and digital communications", said their managing partner, Simon Pangrazio. "Becoming part of WE, while retaining our brand and core operating philosophy, allows us to provide wider integrated solutions to our clients and those of WE Communications."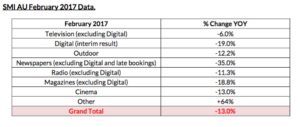 AU see lower ad bookings
Ad bookings in Australia for February dipped across all major media channels, following record figures in the previous year.
Local media agencies saw bookings dropped 13% to AUD$467.7m (£288.83m), according to Standard Media Index (SMI), which attributed the dips to lower government ad spending and comparisons to robust numbers in February 2016. Last year was a leap year, providing an extra Monday and weekend, and this had affected the print media in particular this year, since the industry produced fewer editions, noted SMI.
While all media platforms saw lower bookings in February 2017, the current 19% drop in Digital would likely show up flat, or slightly positive, after late bookings were included in the overall figures later.
The majority of large product categories saw double-digit drops in ad spend for the month, including Government, which grew significantly in the lead up to last year's federal elections, but reported a 26.2% dip in bookings to AUD$16.9m (£10.44m) for February 2017.
SMI's ANZ managing director, Jane Schulze, said: "Australia's agency market will increasingly face tougher comparative periods as we move closer to the one-year anniversary of the federal election last July and then the Rio Olympics in August.
"However, March 2016 experienced a similar level of demand as we've seen for February 2017 so hopefully that may make March an easier month from a comparative standpoint", Schulze said.
Mirum buy China's 3Ti
The WPP company have announced plans to acquire Chinese product and mobile app developer, 3Ti Solutions.
Mirum said the merger would add R&D capabilities to their service offerings, particularly in the development of proprietary software for China, where WPP companies pushed revenues totalling USD$1.6bn (£1.32bn).
3Ti's service portfolio included digital business strategy consulting, as well as product design and development, and they built Internet of Things (IoT) solutions, including smart wearables and smart health products.
Once finalised, the acquisition would see 3Ti rebranded as 'Mirum'. The Chinese company operated offices in Shanghai, Shenzhen, and Xi'an.
Executive appointments at AppNexus & InMobi
AppNexus have appointed Kaylie Smith as their new managing director for Asia-Pacific, Japan, and Australia.
Sydney-based Smith would be responsible for the adtech vendor's strategic partnerships and commercial strategy and would oversee their offices in Singapore, Tokyo, and Sydney. Sonal Patel, who was appointed Asia-Pacific managing director last April, would lead the company's Singapore operations and report to Smith, said AppNexus.
Prior to her appointment, Smith was head of seller cloud at Rubicon Project, where she led the publisher division and also spent a long tenure at DoubleClick, where she was managing director for Asia-Pacific Japan and later Google's Asia-Pacific Japan head of platforms.
Over at InMobi, Stuart Bartram has joined the mobile programmatic platform as vice president of brand solutions and programmatic for Asia-Pacific, Middle East, and Africa.
Based in Sydney, Bartram would be responsible for the growth of InMobi Exchange in the region, where the in-app exchange had clocked more than 12 million unique users in Australia across 22,000 apps and publishers. The newly appointed executive would be tasked with evangelising the value of first-party data via SDKs (software developer kits), as well as boosting the company's verification and fraud-detection capabilities, said InMobi.
Bartram said: "Senior management aren't often aware that most mobile online consumption is in-app; with close to 90% of time spent on mobile occurring in-app, versus 10% mobile website browsing. This means that when brands are talking about mobile advertising, they should be focusing on their in-app strategy first and foremost, looking at how it fits within the brand's digital ecosystem and how they should leverage it through the programmatic channel.
"Programmatic in-app mobile buying is not new, but there has been some hesitancy around it due to assumed lack of data accountability", he said, adding that the vendor had been focused on improving their capabilities to address this issue.
The executive was previously MediaMath's ANZ country manager as well as Asia-Paific managing director for Rubicon Project.
TagsAd TechAdvertiserAPACAustraliaChinaCross-ChannelIndiaMedia SpendMobileProgrammaticSingapore