The Nordics Contribute Heavily to Overall Video Growth: Q&A with Stephen Byrne, SpotX
by Lindsay Rowntree on 30th Mar 2017 in News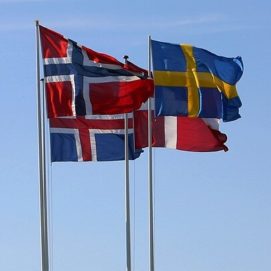 They may be small in size, but the Nordic markets pack a punch when it comes to their digital savvy, relative to other European markets. Their size makes them agile when it comes to digital advertising and technology, with advertisers and publishers seeking innovation in their approach to digital strategy. ExchangeWire speak with Stephen Byrne, recently appointed as senior business development director, Nordics, at SpotX about programmatic trends and challenges in the region, as well as plans for SpotX, as they expand their operations with their new Stockholm office.
ExchangeWire: SpotX have been growing their workforce in the Nordics – what growth trends are you seeing in this region and how are trends in video consumption changing?
Stephen Byrne: It's no secret that the Nordic countries are advanced digitally; and that has a big impact on online video consumption. Broadband penetration, fast speed, and a strong mobile data network all mean that demand for services has been rising rapidly, growing faster than in other EU countries. This macro trend is really driving growth in the online video market. Of course, the Nordics are relatively small, from a population perspective; so, while they make up a fraction of the overall video market, they are contributing heavily to growth.
How does media strategy in the Nordics differ from other European markets?
Given we are a handful of countries with digital-savvy early adopter consumers, digital media has been on the rise for a lot longer than other major markets. Many of the media owners and publishers here are several years into a digital transformation strategy for their news and print titles. They, of course, look to video advertising to replace the revenue streams lost in print and, in general, digital makes up a much bigger portion of media spend, compared to print. TV is, of course, still a dominant media; but more and more people are consuming content online instead of good old appointment viewing. So, as a result, marketers look to online as their main media channel and, specifically, to online video as a key place for brand advertising. But speaking to agencies on the ground here, there are only a handful of truly premium online video destinations; so we are hoping to provide a simple way for them to scale this with the right brands.
Do publishers in the region face the same challenges as their European counterparts? How do they approach monetisation and revenue optimisation?
Many of the same challenges are there. Ad blocking is still an issue with certain demographics and verticals, as is the challenge of working in a market dominated by the large walled gardens. Another challenge is the huge variation in knowledge and understanding of programmatic on both the demand and supply side.
As for the approach, the publishers we speak with are all investing in programmatic and testing sales strategies that complement their strong direct sales channels. Many of the larger players are experimenting with data to enhance targeting; and almost all are seeking to expand their reach through strategies like outstream or audience extension.
When you opened the Stockholm office in 2016, were you able to adopt a cookiecutter approach to the market? Or does it require a completely different strategy from your other operations?
It was a very different strategy compared to our other hubs like London and Amsterdam. The first question we asked ourselves was: "Should it even be Stockholm?!" We have four countries whose capitals all have a legitimate claim as the regional HQ. In this sense, the Nordics are similar to Germany with its decentralised power centres.
We also had to look at our resources carefully. For instance, it doesn't make sense to have quite as many publisher-focused sales people here compared with other markets. Our first few hires were very senior, experienced industry professionals. We took the approach to start by hiring more experienced people, perhaps compared with other regions.
What is the 2017 outlook for SpotX in the Nordics?
The future looks bright. Our goal is to enable all Nordic media owners to embrace programmatic advertising, without compromising their own position in the market. Initially, that means beginning to work with some key publishers and broadcasters and share our learnings with others as the market grows. We've made a good start, having signed up a few local players, and we expect to add further names in 2017!