Vistar Media Launches OOH Attribution; NinthDecimal Acquires MoLOGIQ
by Diane Harding on 11th Jul 2017 in News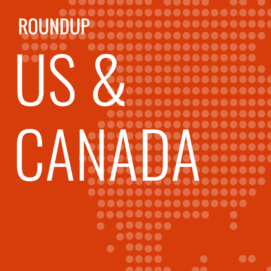 ExchangeWire rounds up some of the biggest stories in the US/Canadian digital advertising space. In this week's edition: Vistar Media launches OOH attribution; NinthDecimal acquires MoLOGIQ; Dex Media acquires YP Holdings; InfoGroup launches mGen; and ShareIQ launches image performance platform.
Vistar Media launches OOH attribution for vehicle purchasers
Vistar Media, a New-York-based advertising platform company, using geospatial technology for out-of-home advertising, has launched a way for automotive marketers to extend reach to in-market audiences and measure out-of-home ROI. This solution gives marketers a way to combine offline and online data sets to understand where and when to place a media buy to reach customers on-the-go and the ability to develop an omnichannel strategy across both traditional and digital channels.
In a partnership with IHS Markit, this solution allows automotive marketers to leverage the aggregated market predictor database of 130 million households, combined with web intent data from 3,000 OEM and third-party websites, to measure the impact of out-of-home advertising on new and used car sales.
"Marketers have long been combining offline transactional data with online behavioural data on purchase intent to get a clear definition of the in-market consumer audience, and using this to inform their online advertising. Now, through our partnership with IHS, we are combining these precise audience segments with data on the movement patterns of consumers in the physical world. Using our geospatial technology, we can help marketers target campaigns in out-of-home and measure real-world attribution – so marketers can understand where and when to best reach and engage with their target consumers as they move throughout their daily routines, and then assess the impact of that engagement through closed-loop sales lift reporting", Michael Provenzano, CEO and co-founder of Vistar Media, tells ExchangeWire.
NinthDecimal acquires MoLOGIQ
NinthDecimal, a location data marketing platform, has acquired mobile audience platform MoLOGIQ to accelerate NinthDecimal's data initiatives and continue to grow the business. MoLOGIQ's employees, as well as CEO Arvi Kang and CTO Partha Roy Chowdhury, will be joining the NinthDecimal team.
MoLOGIQ's audience platform uses mobile behavioural insights to provide marketers with a better understanding of what makes consumers engage with media campaigns. Being able to map MoLOGIQ's 50 million devices to household addresses in a privacy-friendly manner, will enhance the reach and scale of NinthDecimal's own proprietary Household Graph. With this acquisition, NinthDecimal will have the largest mobile device reach of any location intelligence company in the US, processing trillions of data points from 230 million unique devices every month.
Michael Fordyce, CEO, NinthDecimal, tells ExchangeWire: "Location intelligence is the most important development in digital marketing; and the opportunities for new applications are endless. Through ongoing input from some of the largest brands and agencies in the country, we have been focused on developing applications powered by location intelligence that unlock these new growth opportunities. The acquisition of MoLOGIQ and aggressive investment in NinthDecimal Labs will play a key role in our innovation efforts and further accelerate our time to market."
Dex Media acquires YP Holdings
Dallas-based Dex Media, Inc., has acquired YP Holdings, a marketing solutions and search platform provider and publisher of the Real Yellow Pages® and YP.com. The combined company will be called DexYP and will offer their product Thryv, formerly known as DexHub, to more than 700,000 small- to medium-sized business (SMB) clients with a footprint across the 48 continental United States, allowing them to manage their businesses from anywhere, on smartphones and other devices.
"DexYP will help businesses across America survive and thrive", said DexYP CEO Joe Walsh. "Both of our companies have a long history of helping local independent business owners. Now, as DexYP, we will enable these entrepreneurs, the backbone of the US economy, to compete and win against big-box national chains and on-demand service providers. We will arm them with the same business automation software that big enterprises use. We already have nearly 30,000 customers using this powerful software, modernising the way they do business, and with our thousands of sales reps nationwide, we can now deliver this capability to businesses everywhere. Today's acquisition is good for local businesses and their consumers across America."
Mr. Walsh continued: "Today's transaction underscores our commitment to serving America's local businesses. We will enable them to acquire and retain customers and digitise and automate their business functions. And we will continue to deliver these clients the high-quality leads they covet through our market-leading search, social, display, and online and print directories. Indeed, a majority of DexYP's revenue will be derived from digital products, giving us a growing digital audience, to whom we will have greater opportunities to sell our best-in-class digital solutions, while enhancing our ability to manage our print directories business profitably."
InfoGroup launches mGen
Infogroup, an Omaha, Nebraska-based consumer data provider has launched 'mGen', its Marketing Genetics solution, which is a marketing database built on transactional data from 75+ million US households. Previously, marketers could only use Marketing Genetics to acquire new customers only via direct mail, now marketers will be able to target prospects based on buying histories, consumer behaviour, and location, and it will be available for both display and Facebook custom audience creation.
"We are ensuring we continue to craft innovative solutions that meet the individual needs of our client base", said Gretchen Littlefield, president of Infogroup Data Solutions. "By bringing our Marketing Genetics capabilities to the digital landscape, we deliver on our clients' wants and needs in a way that complements what they're already doing offline to reach their customers. With all the viewing options today, clients are challenged in reaching customers in this fragmented marketplace; mGen is the beginning of Infogroup's investment towards enabling our clients' cross-screen targeting, acquisition, and retention needs."
Infogroup Marketing Genetics data is now available in every major DMP including BlueKai/Oracle, Adobe, Exelate/Nielsen, Neustar's Platform One and more.
ShareIQ launches image performance platform and expands to the US
ShareIQ, a Berlin-based SaaS company helping brands to measure and optimise their visual content, has launched an image performance platform and has expanded by opening their first US office in New York City. The new platform will provide transparency on how branded visual content engages consumers across social media platforms and publishers, and will be able to identify, track, and anticipate how images lead to engagement and action, enabling brands to measure and optimise their visual content. Brands are now able to analyse both owned and competitive images against more than 750 billion digital brand images to understand what inspires influencers and drives social trends.
"Our goal at ShareIQ is to give our customers a three-dimensional view of image activity and to help them understand how visual content is posted, shared, and discovered across the internet", said Brian Killen, founder and CEO, ShareIQ. "We can show you what worked yesterday or last month and, more importantly, what's going to work tomorrow. At the CMO-level, ShareIQ is a must-have solution that enables marketing teams to benchmark against competitors' image performance and optimise their ad spend and brand investments."