The Vast Number of Technologies for Marketers Has Created a Paradox
by Lindsay Rowntree on 17th Aug 2017 in News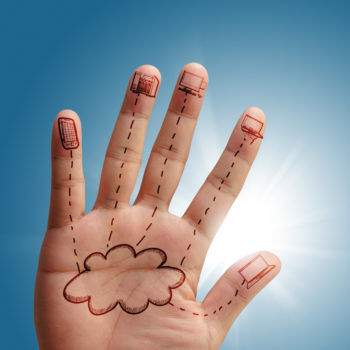 Amidst a shift of focus from being a marketing attribution solution to a marketing intelligence solution, with an emphasis on people-based marketing, Visual IQ has recently partnered with data management platform (DMP), Lotame. ExchangeWire speaks with Ryan Rolf, vice president of data solutions at Lotame and Phil Gross, vice president of product management at Visual IQ to find about more about this shift of business focus and Lotame's role in helping to achieve that.
ExchangeWire: What will the partnership between Visual IQ and Lotame mean for customers?
Ryan Rolf andPhil Gross: Visual IQ's partnership with Lotame bridges demographic, intent, interest, and B2B audience attributes with multi-touch attribution measurement, to provide brands with a holistic and accurate view of marketing and advertising performance by audience segment. Specifically, Visual IQ has integrated Lotame's robust audience data (including age, gender, household income, etc.) into its Marketing Intelligence Platform, making it a core feature of the platform. As a result, customers can uncover the specific tactics and messages that drive the best results for each audience segment across all channels and devices. They can then use that insight to make inter- and intra- budget optimisations, as well as inform improvements to the consumer experience. 
What are the challenges around accurately measuring ad performance across all channels?
The key challenges are disparate systems and data sources. Today's marketers use a multitude of tools and technologies to plan, execute, and measure the results of their marketing and advertising efforts. Yet this vast number of technologies has created a paradox. Marketers have access to more audience and performance data to inform their marketing and advertising efforts, but it's scattered across multiple systems with no simple way to tie it together. As a result, teams are forced to think in terms of execution silos (direct mail, email, display, search, etc.) instead of through the lens of the consumer. Moreover, marketing organisations are losing productivity as they struggle to establish a 'single source of truth' about their marketing performance. When marketers can't get an accurate and holistic view of customers and prospects traversing multiple channels and touchpoints, they can't accurately measure the value of each experience, or how well they are directing their consumers towards desired success criteria.
Visual IQ has recently repositioned to focus on people-based marketing – why?
Today's consumers have more choices and control than ever before, and they expect highly relevant experiences, regardless of when or where they are taking place. To earn their business – and their loyalty – marketers need to target, measure, and optimise their marketing and advertising at the level of real people.
At Visual IQ, we provide the sophisticated marketing intelligence brands need to deliver on a people-based marketing strategy. Through partnerships with leading data providers, like Lotame, we're able to de-duplicate individuals across channels, devices and online-to-offline environments and link those anonymous, unique IDs with demographic, intent, interest, and other audience attribute data, to create robust consumer profiles. When these profiles are integrated with multi-touch attribution, marketers can see all the consumer touchpoints involved in the buying cycle. They can then track how each interaction contributes to a desired action at each stage in the individual's journey to conversion. With visibility into how certain audiences are responding to messages, offers, creatives, and other granular tactics, marketers can allocate their budgets more efficiently and effectively, while making the consumer's journey a better experience.
What role does the partnership with Lotame play in Visual IQ's move from marketing attribution solution provider to marketing intelligence solution provider?
Attribution is used by marketers today to understand the performance of their marketing and advertising against specific success criteria or business KPIs. By and large, it's been focused on paid media channels, with the purpose of providing visibility into which channels and granular-level tactics (placement, creative, offer, etc.) influence a conversion, when, and to what extent. But more and more, marketers are realising that the 'who' also plays a big part.
Today's consumers are more informed, connected, and empowered than ever. To effectively compete in today's consumer-led world, marketers must not only analyse tactical marketing performance, but also ensure that audience data is part of that mix. This is why our partnership with Lotame is so critical in our move to become a leading provider of marketing intelligence. When marketers are able to measure tactics in combination with customer and prospect attributes, they gain the insights they need to optimise their budgets within and across channels, and deliver more relevant experiences that drive the business KPIs. Lotame's global scale and reach, coupled with deep audience data, are enabling Visual IQ's platform to roll this out globally. 
What are the benefits of people-based marketing over traditional marketing?
Launching massive campaigns to as many people as possible is no longer effective. With consumers exposed to hundreds, if not thousands, of messages a day, marketing and advertising has to be more relevant than ever before, and delivered at the right moment across channels and devices in order to acquire and retain customers. The appeal of people-based marketing is its ability to target known consumers (i.e., real people), rather than archetypal buyer personas. Understanding who your customers and prospects are, what they are like, and how they behave, is key to delivering tailored messages and experiences that meet their unique needs and preferences. By improving the overall consumer experience, marketers can boost engagement and conversions, increase lifetime value, improve ROI and, ultimately, gain a competitive advantage.
What are the key changes marketers need to make to implement people-based marketing?
Marketers need to realise that managing marketing and advertising channels separately, using siloed, channel-specific strategies, tactics, and metrics just doesn't cut it anymore. These silos not only promote inefficiency, duplication, and waste, but also create a disjointed experience for prospects and customers. Successfully implementing a people-based strategy starts with rethinking traditional marketing structures – shifting away from isolated channel silos towards a cross-functional team. This will allow companies to develop, test, measure, and optimise strategies and tactics across digital, mobile, and physical environments to drive a common set of success metrics. It also means collecting and consolidating data from disparate systems into a single repository, such as a data management platform. This includes interaction data from both online and offline sources (web, mobile, call centre, in-store, etc.), as well as demographic, intent, interest, and other audience attribute data from first- and third-party data sources. By synthesising all of this data in one place, marketers will be able to develop a more complete, people-based view of their customers and prospects. Thus creating high-value audience segments to target, and tailoring messages and experiences to meet their unique needs and preferences.
With an improved understanding of audience engagement and the customer path to purchase, are there specific findings that clients might discover that will consequently alter their future marketing strategies?
Absolutely. By tying marketing performance to audience data, customers gain unprecedented insight into the tactics and experiences that are resonating with different audiences. For the first time, marketers can get answers to critical business questions, such as:
- Which audiences are engaging with my brand and turning into converters?
- What new audiences should I consider targeting that I haven't before?
- Which creative messages and offers resonate best with each audience at various points in their journey?
- What is the most effective experience to show my customers and prospects across channels and devices?
- How effective are my overall marketing tactics at driving different success criteria (e.g., engagement, online conversion, in-store purchase, etc.) by audience type?
Adding additional layers of data to the marketing mix means more information to filter and understand – what can marketers do to ensure they are using the data to the greatest effect?
The first step in using data to its greatest effect is having the appropriate technology to help you aggregate it from disparate silos. Data management platforms (DMPs) are used by marketers to collect, store, organise, analyse, and activate data to its fullest potential. Moreover, data collection at a user-level, not a segment-level, is critical for true people-based marketing. The interoperability of the DMP to send this aggregated data to the rest of your tech stack means marketers can utilise the data for targeting or insights for maximum impact.
At the same time, the issue of data quality is something that cannot be ignored. When employing data-driven marketing strategies, it's important to work with companies that can explain their data sourcing and build trust through quality. Lotame recently partnered with Are You a Human to filter identified bots out of their global data network, meaning the data fuelling Visual IQ's platform is far more likely to reach humans than bots. If you're powering your marketing strategies with data, ensuring the data you use is premium quality and transparent is an important first step.