The Trade Desk Expands Trading Academy; Immersv Closes USD$10.5m Series A Financing
by Lindsay Rowntree on 22nd Aug 2017 in News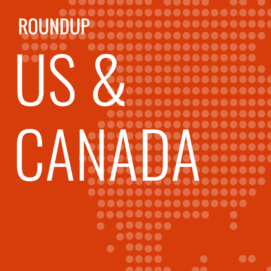 ExchangeWire rounds up some of the biggest stories in the US/Canadian digital advertising space. In this week's edition: The Trade Desk expands its Trading Academy curriculum; Immersv closes USD$10.5m Series A financing; ADYOULIKE partners with AppNexus; and DOOH publisher Gloss Media announces integration with SpotX.
The Trade Desk expands Trading Academy curriculum, including new partners
The Trade Desk has announced the expansion of its programmatic education programme, The Trading Academy. The programme, which teaches the theories and strategies of programmatic advertising, will expand the curriculum to include eight free educational videos, new videos on the hot topics of programmatic, as well as a partnership with the IAB, allowing users to obtain credits for its certification programme.
"As more and more advertisers are spending their dollars on programmatic, we're seeing media buyers and marketers want a closer understanding of the principles and strategies used in smart media campaigns," said Meredith Hall, general manager, learning and development, The Trade Desk. "That's why The Trading Academy aligns perfectly with our mission to bring increased transparency and understanding to the industry, while also educating those who are new to programmatic. We are thrilled to expand our curriculum and add new partners like Index Exchange, Horizon Media, and Spotify."
The aim of The Trading Academy is to encourage the industry's next pioneers and thought leaders not just to understand the 'how' of programmatic, but also the 'why', breaking the curriculum out into four key pillars: professional, practitioner, strategist, and specialist.
Immersv closes USD$10.5m Series A financing
Mobile 360 and VR advertising platform, Immersv, has completed a USD$10.5m Series A round of financing, led by Rogers Venture Partners.
The California-based company, founded in 2015, has been on a growth journey over the past year. The Series A financing builds on a host of recent deals with top DSPs and SSPs, including Tremor Video, BidSwitch, ironSource, and YuMe.
Mihir Shah, Immersv's CEO and president said: "We're excited to partner with some of the finest institutional and strategic investors in the world. While the mobile video market continues to grow, we believe interactive advertising experiences will displace the current video advertising market in the next few years providing better results for advertisers, higher yield for publishers, and a significantly better experience for consumers."
Immersv intends to use the funds to accelerate product development and deployment, as well as rapidly expand available inventory through direct publisher and SSP integrations.
ADYOULIKE announces strategic partnership with AppNexus
In-feed native ad platform, ADYOULIKE, has announced a partnership with AppNexus, to enable real-time sale and purchase of digital advertising, allowing advertisers and agencies to deliver personalised native campaigns on the AppNexus platform.
ADYOULIKE's native SSP will use OpenRTB 2.3 to deliver in-feed native content, programmatically integrated with AppNexus, opening up a new network of publishers. With native advertising expected to make up 30% of global ad spend by 2020, at a value of USD$85.5bn, the partnership will enable both ADYOULIKE and AppNexus to expand their native programmatic reach.
Of the partnership, US general manager and CRO of ADYOULIKE, Francis Turner said: "This partnership with AppNexus is another great demonstration of how native advertising is gaining in importance and how advertisers, agencies and brand marketers can benefit from both using programmatic technology to create highly-targeted campaigns with that of in-feed native advertising to reach greater audiences and access more publishers worldwide."
Gloss Media integrates with SpotX to tap DOOH and Connected TV Budgets
Digital OOH publisher Gloss Media has named video ad serving platform, SpotX, as its premier programmatic platform to enhance the monetisation of its network of digital video screens in nail salons.
As buyer relationships shift to programmatic, the company recognises the need to augment its direct-sold deals, with the SpotX integration marking its first in the programmatic video space.
Gloss Media's network of over 300 nail salons nationwide offer advertisers a uniquely captive audience, with the average patron visiting a salon every two weeks, with appointments lasting over an hour. Over the next four years, Gloss Media plans to increase its network ten-fold.
"As an out-of-home publisher, our inventory has a limit and value," said Perry Kirk Parkes, president, Gloss Media. "This partnership with SpotX has allowed us to tap budgets previously reserved for connected TV and attract new advertiser segments without sacrificing our CPM. We've always done well in categories such as CPG and entertainment, but now we're able to appeal to new industries, like automotive and telco, to name a few."
"We're excited to provide Gloss Media with modern ad serving capabilities and help them access new sources of demand for their unique inventory," said Ryan Kenney, VP, platform services, SpotX. "Our programmatic infrastructure will allow them to leverage successful tactics employed in OTT and maximise their yield by enabling more flexible ad placements via dynamic ad insertion."