Publishers Are the Glue That Holds the Landscape Together: Q&A with Max Pepe, VP Marketing, Mozoo
by Lindsay Rowntree on 25th Sep 2017 in News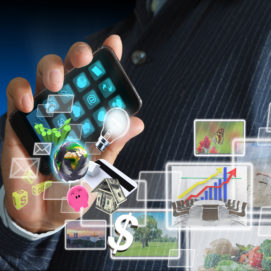 As the world becomes increasingly mobile-oriented, ensuring mobile publishers are capturing maximum yield is of great importance, and something mobile platform Mozoo is keen to address. ExchangeWire speaks with Max Pepe, VP marketing, Mozoo, about the company's recent acquisition of AdinCube (technology specialising in in-app monetisation) and how this will help to solidify Mozoo's efforts to optimise publisher monetisation, both in-app and on the mobile web.
ExchangeWire: Mozoo recently acquired AdinCube – an artificial intelligence (AI)-powered in-app mediation technology – in a USD$20m (£14.7m) deal. What was the reason behind the acquisition?
Max Pepe: Last year, we launched Mozoo Mediation, a managed service to optimise yield for mobile web publishers, which has grown 314% month-on-month since launch. Its success highlighted the problems publishers were experiencing with existing monetisation solutions in the market and made us determined to expand our offering to a complete mobile solution, spanning the in-app environment as well as the mobile web.
We met with Etienne Rugeri and Jonathan Ferrebeuf, the founding partners (CTO and CEO, respectively) of AdinCube, a company with an exceptional reputation in the in-app monetisation space. AdinCube's solution is the most technologically advanced mediation solution available and we were blown away by its proprietary AI-optimisation algorithms, exceptional publisher retention rate, and – most importantly – the increase in revenue AdinCube demonstrated to every publisher who integrated its SDK.
By combining Mozoo's mobile-monetisation experience, global presence, and strong commercial relationships with AdinCube's advanced optimisation technology, we can present publishers with a truly holistic, first of its kind, mobile revenue optimisation solution.
How will the addition of AdinCube's technology enhance Mozoo's offering?
We are now able to offer the most advanced monetisation solutions for all mobile publishers, in-app and mobile web. Furthermore, our unique approach to maximising publisher yield is grounded in aviation technology. Etienne Rugeri (CTO) spent six years optimising crucial operations for chartered airlines before moving into ad tech, including building automated platforms to optimise aircraft fuel consumption.
Conditioned by the importance of aviation precision, AdinCube's SDK uses advanced predictive optimisation algorithms, and multi-level machine learning, to accurately predict the future – analysing every available demand source, buying metric, creative format, and ad network in real time to ensure publisher inventory is filled with ads that generate the maximum revenue. We are able to put performance campaigns (CPI, CPA, and CPL) in direct competition with CPM.
How will this differentiate Mozoo from other mobile-monetisation solutions?
Mozoo technology provides two major benefits that place our solution firmly above the competition: 
Higher revenue: On average, publishers report a 30% to 200% increase in revenue, versus their previous monetisation solution, across all creative formats including banners, interstitials, video, rewarded video, and native.
Simplicity of implementation and management: One SDK (just two lines of code) connects publishers to all ad-networks and demand sources, with no need to create individual accounts or use SDK adapters, drastically reducing setup and account management time. AdinCube also manages all payments, with no minimum payment thresholds and the option of immediate on-demand bank transfers.
Unlike other mediation solutions, which favour their own internal ad campaigns, AdinCube optimises based on highest possible eCPM rate, with no bias to any network and, therefore, solely works for the publisher's benefit. Mozoo's premium impressions are served only if they are genuinely the highest yielding ad for the publisher at that moment.
What is the thinking behind focusing on the sell side rather than the buy side?
Our core value is to solve the problems that really need fixing; and we are convinced the issues the market faces are not due to a lack of buy-side vendors. The market is flooded with DSPs, and the abundance of white-label, off-the-shelf solutions makes it hard for advertisers to distinguish between those genuinely adding value, and those operating merely as sales houses.
Despite mobile ad spend rocketing – growing 51% in the UK last year to reach almost £4bn – publishers still struggle commercially. Publishers are the glue that holds the landscape together, providing advertisers with a route to the consumer. Advertisers need publishers to grow, attract attention, and create compelling platforms upon which to engage audiences; so we place ourselves firmly on the sell side to serve the whole market by ensuring publishers thrive.
While the buy side seems to focus on the value generated by mass-market premium publishers, it's also important to identify the value provided by mid-tail and long-tail publishers whose specific audiences often provide more value if targeted correctly. Providing the entire chain – from premium to independent – with maximum ad-revenue via intelligent technology is the way we drive the market forward.
What are the key challenges publishers are facing with mobile monetisation? How will the new offering help solve these issues?
Publishers are not getting the best yield for their inventory and find it difficult to choose between the vast amount of SDKs, SSPs, ad networks, and vendors on the market. Dealing with multiple monthly payments and account managers, as well as having to build in-house revenue optimisation systems, is labour-intensive and inefficient. Header bidding has great potential on mobile web, but doesn't exist in-app. Buyers still need publisher SDKs to enhance the value of in-app inventory and the technology is very specific.
Our new offering gives publishers full clarity and full control over their ad revenue, ensuring they receive the highest possible yield from their audiences – both in-app and mobile web – without suffering latency or having to manage dozens of accounts. If publishers can gain maximum ad revenue from every impression, without the need for manual optimisation, they can focus on producing high-quality content for their audiences.
AI is central to Mozoo's technology – what do you see as the future of AI and mobile monetisation?
AI is already making its mark in mobile monetisation – with Mozoo predictive algorithms using machine learning to analyse every available ad network, demand source, creative format, and buying metric in real time – but there's so much more to come.
In the near future, we will see precision targeting grow with increased accuracy based on a multitude of seemingly infinite variables, as well as AI predicting a customer's value and how much they are likely to spend in an app before they even download it.
One metric that will become highly significant to mobile monetisation in the future is Lifetime Value (LTV). It's not a new metric, however it is one that necessitates time. Predictive analytics models will be able to calculate the estimated 'value' of profiles with such exactitude that marketers will be able to make much bolder and better investments.
What's next for Mozoo? 
The acquisition of AdinCube is a major deal for Mozoo. Now we have our consolidated offer, which gives us a unique proposition in the market and significant value to mobile publishers, our key aim is to rapidly scale around the world. The vision for Mozoo is to be in a position where every app developer and publisher has heard of us and is using our solution – and, most importantly, is delighted with the results.