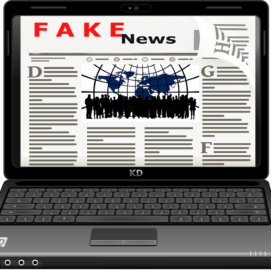 Fake news is a hot topic across the globe. The concept of fake news is particularly pertinent and discussions focus on genuinely falsified news and genuine news that is claimed to be fake for personal or company gains. This issue of ExchangeWire's Now & Next looks at the problems fake news is creating for media professionals, and what (if anything) needs to be done to address them.
The prevalence of fake news
Fake news is affecting a large proportion of the online population. Almost half of people (49%) recall seeing a fake news story at least once per day, with nearly a third (31%) seeing such articles more than once a day.
Social media is the main perpetrator, and is accountable for distributing 42% of fake news traffic in the US. In turn, this is leading to a crisis of faith in social media as a source of genuine news, with 46% of respondents saying they would either "almost never" or "rarely" trust a social media platform as a news source.
There can be no doubt about the level to which fake news has permeated the online media landscape; and the side effects create knock-on implications for both media buyers and publishers.
Brand safety
Programmatic ad spend has always followed consumer eyeballs. At the moment, this means ad spend is flowing to fake news – the top five fake election stories generated a cumulative total of 3.8 million engagements.
If media buyers are directing programmatic budgets to channels littered with false stories, brand safety is being compromised. With buyers aiming to ensure that they gain impressions on pages that publish contextually relevant stories to ensure maximum engagement, placement next to a fake story, or on a fake news site, will lead to disengagement and, ultimately, a loss in sales.
Genuine online news publishers stand to benefit as budgets are shifted from high-risk channels. This could provide a well-needed boost to ad revenue. 
What needs to be done?
Advertisers, publishers, and social media platforms are seeking a solution to limit the damage caused by fake news. Each party is coming up with different strategies to tackle the issue:
Media buyers: DSPs are creating whitelists and blacklists. Whitelists allow advertisers to be more selective, and pick only the sites on which they want their ads to appear, while blacklists allow them to create a list of banned sites. Though useful, advertisers and DSPs must constantly update their lists if they are to remain a useful remedy.
Government bodies: There have been suggestions that major publishers, such as Facebook, should be fined up to €500,000 (£433,000) for each fake news story they fail to remove from their site. The Czech government set up an 'anti-fake news' unit to monitor around 40 websites pushing conspiracy theories and inaccurate information about migrants in the run up to their October elections.
Publishers: Reuters' 'Journalism, Media, and Technology Trends and Predictions 2017' report suggests that we could see a "fact-checking explosion" this year, in a bid to increase the transparency and reputability (or otherwise) of the content's source. Facebook has announced plans to outsource fact checking to services like Snopes, the Washington Post, and PolitiFact, and to algorithmically integrate these with the news feed. Expect a huge rise in add-ons and extensions in the coming months.
Along with these add-ons, it is likely that we will see a rise in the number of in-site chatbots, offering a greater ability for users to report fake news stories as and when the see them. These reports will then be dealt with by external fact checkers.
A problem, or a golden opportunity?
Despite all that is being done to stop fake news, it looks as though the best course of action may be to do nothing and let nature take its course. Seven-in-ten (70%) media professionals feel that fake and inaccurate news will strengthen the position of news media online.
The issue of brand safety will force buyers to have a look at their media strategy and closely examine the sites on which they promote themselves. This, in turn, will promote trusted, high-quality news sources that will see an increase in their ability to monetise their inventory.
While this is great news for the sellers of high-quality online media, it does mean advertisers will be forced to pay more in RTB to secure greater content transparency and brand safety. It is this higher price point which will mean that a shift to premium publishers will not be instantaneous.