DigiTrust Consortium Strengthens Position; Sizmek Partners with Tapad
by Diane Harding on 21st Nov 2017 in News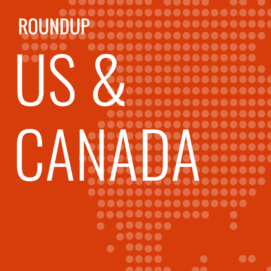 ExchangeWire rounds up some of the biggest stories in the US/Canadian digital advertising space. In this week's edition: DigiTrust consortium continues to grow; Sizmek and Tapad partner; Triton Digital integrates with AudioTrade; Sojern acquires Adphorus; Drawbridge integrates with The Trade Desk; Adyoulike partners with TabMo; AdTiming moves into the US; and Choozle raises Series B.
DigiTrust consortium strengthens position
DigiTrust, a consortium built in 2016 of 20 initial programmatic technology partners, came together to improve the digital experience for consumers, publishers, advertisers, and third-parties, offering an anonymous user token to reduce the number of third-party requests that take place on webpages.
Aiming for publishers to benefit from being able to recognise more site visitors, increasing CPMs especially on mobile web, faster page-load times, and a decreased number of third parties having access to their pages, DigiTrust's solution is being employed by fourteen new publishing organisations. These organisations, reaching more than 80% of US audiences across hundreds of web properties, include: CBS Interactive, Univision/Gizmodo Media Group, Nexstar Media Group, Purch, Hometalk, Topix, Spil Games, Encyclopaedia Britannica, Barons Media, and Snopes.com.
Jordan Mitchell, CEO, DigiTrust, tells ExchangeWire: "Every webpage we view as consumers is being crushed by the weight of ID syncs. A standardised, shared user ID is the only solution, and improves our industry in many ways. But the industry will not allow a proprietary, for-profit ID to emerge as the standard. Publishers and platforms support DigiTrust because it's the only truly open, neutral, independent, non-profit ID consortium."
Along with the publishers in deployment are 29 buy-side and sell-side technology platforms including: Adobe Advertising Cloud, Adzerk, Bidswitch, dataxu, Dochase, Eyereturn Marketing, Infectious Media, GumGum, Kargo, LKQD, OpenX, PubMatic, Rubicon Project, Screen6, Serverbid, Sizmek, Sonobi, Sovrn, SpotX, and Unruly.
See more coverage on ExchangeWire.
Sizmek partners with Tapad
Cross-device marketing technology company, Tapad, and advertising platform company, Sizmek, have partnered to integrate the Tapad Device Graph to enhance Sizmek's AI-powered predictive capabilities, delivering cross-device messaging on their platform.
This integration will benefit advertisers with a clear view of the customer journey, increased scale and efficiency, and reveal new conversion opportunities. Sizmek's customers can now access Tapad's privacy-safe datasets across the Americas, EMEA, and APAC, and have deeper knowledge of consumer preferences, purchase intent and conversion behaviours, enhancing advertising strategies including cross-device audience identification and more.
"Sizmek's recent acquisition of Rocket Fuel, coupled together with their stack across ad-serving, creative optimisation, and measurement, makes them a truly unique and differentiated partner to Tapad. We're extremely excited to partner with a platform that holds similar values to Tapad, including global coverage, global scale, and a consumer-first mindset when it comes to privacy", Chris Feo, SVP, strategy and global partnerships, Tapad, tells ExchangeWire.
Mike Caprio, chief growth officer, Sizmek, also adds: "As consumers are spending more and more time across a wide variety of devices, its critical for brands and agencies to understand the impact on frequency and ad exposure by person, independent of device type. We are pleased to partner with Tapad, one of the leading device graphs in our industry, to add a dimension of transparency for our programmatic customers to reduce waste and maximise campaign performance."
Triton Digital integrates with AudioTrade DSP
Digital audio technology and advertising company, Triton Digital, has partnered with the first digital audio DSP in Latin America, Audio.Ad, to integrate their AudioTrade DSP with Triton's a2x, programmatic audio marketplace. The integration will enable buyers using the AudioTrade platform to expand their reach by adding Triton's premium, global audio inventory within a2x to their programmatic buys.
Benjamin Masse, managing director, market development and strategy, Triton Digital, tells ExchangeWire: "We remain dedicated to providing buyers across the globe with access to premium audio inventory, to both increase their reach and enhance their overall programmatic buys. The AudioTrade DSP is opening up a tremendous advertising opportunity in LATAM, and we are proud to help power that opportunity through its integration with a2x, and to continue to help brands reach their target audiences in a more meaningful and relevant manner than ever before."
Sojern acquires Adphorus
Programmatic marketing platform for travel, Sojern, has acquired Facebook & Instagram Marketing Partner (FMP) for travel brands, Adphorus, combining forces in the travel industry to use Adphorus' unique approach to travel marketing science, and help Sojern find new customers for marketers.
"Facebook has a massive global platform that attracts more than two billion users every month. Not surprisingly, travel companies have been trying to find a way to capitalise on that scale to drive more bookings, more efficiently. Given our mission is to put more heads in beds and butts in seats than anyone else in the world, about a year ago we set out to find the best solution for our 4,000+ customers to leverage the Facebook platform, and that led us to Adphorus. Volkan and his team have spent the last three years building the tools and technology to maximise ROI on Facebook and as a result have onboarded some of the biggest names in travel, like Expedia, Kayak, and Trivago. We're thrilled to welcome Adphorus to the Sojern family and look forward to accelerating our joint customer's ability to drive more bookings, more efficiently, via Facebook's breadth of advertising products", Mark Rabe, CEO, Sojern, tells ExchangeWire.
Volkan Cagsal, CEO, Adphorus, also adds: "Sojern has been a close partner for nearly a year. We've helped them convince major customers of the value of Facebook and have been the skilled execution partner required to make it a success. As we started partnering, it became clear that Sojern's long-term vision and company culture align directly with ours. Now, by joining forces with Sojern, we can achieve our goal to develop the most scientific approach to achieving the best performance and results in the world for travel marketers."
Adphorus will continue to operate as a standalone company in its Istanbul and Berlin offices post-acquisition.
Drawbridge integrates with The Trade Desk
People-based identity management company, Drawbridge, has deepened its cross-device data integration with programmatic advertising technology platform, The Trade Desk, to enhance addressability and measurement on TV.
Brands and agencies using both The Trade Desk Platform or Drawbridge's Connected Consumer Graph, can extend their first-party mobile and desktop audience segments onto connected TV devices for reach across smartphones, tablets, computers, and connected TV. The number of active advertisers activating media with Drawbridge's solution through The Trade Desk this year has doubled; and Drawbridge has seen growing usage across formats like native, in-feed, and video.
Haylee Adkins, global head of client strategy, Drawbridge, tells ExchangeWire: "TV is still a huge channel for consumer attention, and brands are still spending major dollars there. The problem is that TV is largely missing out on the incredible targeting and measurement capabilities that digital offers. That's why we're so excited to extend our partnership with The Trade Desk to bring our connected TV capabilities to advertisers through their platform."
Adyoulike partners with TabMo
In-feed native ad platform, Adyoulike, has partnered with mobile DSP, TabMo, to offer agencies and brands the ability to give audiences more personalised and targeted native advertising on mobile devices.
This partnership combines TabMo's DSP and Adyoulike's SSP giving marketers access to expanded inventory, and the ability to safely serve ads to the right audience, in the right context.
"We're witnessing native advertising rapidly becoming the preferred method of creative ad delivery", said Chris Childs, Tabmo UK managing director. "With Adyoulike's proven expertise in the space, we'll now be able to bring our clients the power of AI-based targeting, which forms the backbone of this partnership and Adyoulike's technology."
"Mobile ad spend will continue its explosive growth in 2018, particularly in the video ad space. The small screen and this highly personal device, however, means that traditional delivery of ads can be extremely intrusive. Native is the perfect solution, by seamlessly integrating personalised content and video in-feed, a much more polite, engaging, and positive user experience is practically guaranteed", Francis Turner, US MD, Adyoulike, tells ExchangeWire.
AdTiming expands to the US
Beijing-based mobile analytic advertising platform, AdTiming, will address growing advertiser and mobile developer demand by expanding to the US to capitalise on the USD$83b (£62.6b) digital advertising market. They plan to deepen ties with mobile developers by providing faster self-serve options to maximise monetisation and leverage their data analytics capabilities for targeting for brands that are eager to tap into the Chinese market.
AtTiming's audience-based marketing approach is currently used across 200 countries in Europe, China, Southeast Asia, the Middle East, South America, and now North America. Their partner network includes Nexage, Smaato, PubNative, Smartyads, Advocarrot, Yex, Axonix, Adview, Gothamads, Inneractive, Cheetah, and more.
Leo Yang, CEO, AdTiming, tells ExchangeWire: "Programmatic marketing technology has become very mature globally, especially in the US market. Mobile developers are increasingly demanding more diversified ways to maximise monetisation opportunities, and our platform helps them to do exactly that.
Based on our extensive experience in China, and the global market as a whole, we are committed to providing the best mobile analytics solutions to help advertisers and mobile developers benefit from improved ad targeting and advertising performance, while at the same time enabling them to explore the Chinese market more efficiently and effectively. For the US market, we will also be leveraging more compelling mobile video ads to help mobile developers more effectively monetise their apps and other assets."
Choozle raises USD$6m in Series B
Denver-based Choozle, a self-service programmatic advertising platform, has raised USD$6m (£4.5m) in a round of Series B funding to be used for general growth, product innovation, and adoption of its platform among marketers.

Focused on mid-market agency and brand clients, Choozle builds and supports a self-service analytics and digital media buying platform to empower marketing operation and performance. Choozle has had consistent financial growth, providing investors with the confidence to contribute to their growth and scale.
"This investment will be used to support typical growth stage initiatives, including accelerating product development and innovation, sales/marketing, and general operations. And we are doubling down on data-powered automation across the board that makes our platform easier to operate while increasing performance", Andrew Fischer, CEO, Choozle, tells ExchangeWire.