TWG Tea Balances Need to Be Omnichannel, Whilst Remaining a Luxury Brand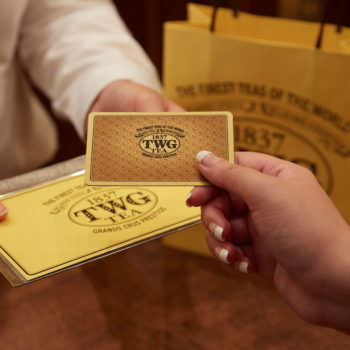 TWG Tea is looking to build out an omnichannel e-commerce site with the aim to offer free shipping across all locations; but, in doing so, is cautious about ensuring it continues to be seen as a luxury brand.
The Singapore-based tea brand marked its 10th anniversary this year with the launch of a new global online retail platform and local invitation-only MyTWG membership programme. Together, they served as the company's digital business intelligence tools and helped establish better connection with customers, said its co-founder and business development director Maranda Barnes.
There currently are 70 TWG Tea Salons and Boutiques across 19 countries, including Japan, China, the U.S., and UK. It is aiming to have an e-commerce site catering to each of those markets by 2021, so its membership programme can be "truly global and omnichannel". The objective here is to enable members to be recognised when they shop in the various markets, regardless of where they originally signed up.
For now, the programme is available only in Singapore, whilst Barnes' team assesses credit card penetration rates as well as delivery structures in the different markets.
She said this was necessary to determine if local logistics services could be properly managed and delivery costs kept low, not only in the country's main metropolitan area, but also across its various cities.
Citing user feedback, she noted that delivery fees typically were a bugbear and, coupled with shipping duties and additional taxes, could be prohibitive for an F&B brand. And, with TWG Tea products often sent as gifts, it would not be desirable for recipients to have to pay extra charges just to accept their gifts.
TWG Tea does not charge shipping fees for orders in Singapore and it is looking to do the same for all markets it ships to, including the 18 countries in which it operates subsidiaries and franchises.
It hopes to achieve this by setting up 'sub-sites', each operating with their own set of local logistics partners and inventories and offering local payment options. Such local infrastructures are especially essential to support perishable food products such as tea.
Barnes said: "I'm not sure how feasible it is right now, but my goal is to offer free shipping [for all locations]. We need each of the [respective local subsidiaries and franchises] to manage their own e-commerce sub-sites, with local shipping and payment, as well as their own customer service centres.
"But, as a luxury brand, you also want to be cautious about how you do that", she said, adding that her team spent three years developing the right model. "We would manage, from Singapore, the overall design and structure of how people navigate [the site] as well as images used, but our partners would be able to choose their own shipping partner, adjust some of their offerings, and run marketing strategies that are appropriate for their market."
Wordings and translations also would be reviewed to ensure the company's overall messaging remained consistent, she noted. These would include descriptions of tea and any content related to the products.
TWG partners would be able to localise news and marketing, selecting from the company's database of 10,000 images to use alongside their campaigns. They would be able to focus their content around local customs, for instance, in China where tea played an important role in wedding ceremonies and in Japan where consumers often used tea as gifts.
According to TWG Tea, overseas travellers accounted for 33% of sales at its tea boutiques.
The company had launched a mobile app in 2013, choosing to focus on the platform first because it was widely pervasive in the region. With the app, it aimed to enable customers to access a 'tea connoisseur' anytime and be able to identify a tea they might be interested in, Barnes said, noting that the company offered 800 varieties of loose tea. The app clocked about 120,000 downloads.
The company then unveiled an e-commerce site a year later, which grew to account for 60-70% of its total online orders, with mobile contributing the remaining share.
E-commerce sales, though, currently were not significant, hovering at 1% of TWG Tea's overall revenue. Over the next three years, with the new launch, Barnes said she was targeting for 15% of its Singapore retail sales to come from e-commerce.
The majority of its online orders were from Singapore and the U.S., where its products had been available through retailers since 2008. She further noted that some customers would use its online platforms to find out more about its products, before making their way to purchase products in-store.
The new membership programme would enable TWG Tea to know more about its customers so its frontline staff could offer better service, regardless of whether they interacted with the company online or in-store. This would ensure a truly omnichannel experience, she said, adding that the company was working to integrate its mobile app with the loyalty programme by year-end.
Barnes adds: "We want to build a database of people who want to know more about tea and TWG Tea. Opening up a mass loyalty programme just to accumulate data isn't the objective here. We want to know how to better interact with customers who really love tea and are passionate about it."
With the launch, she hoped to be able to draw more insights from the data collected, such as the kinds of tea customers liked, in order to offer a "new" experience.
For instance, the company typically included two additional sachets of 20g tea with every online order, so customers would be able to sample new flavours. This, however, was done "blindly", without any consideration of the customer's personal preferences. With the new data collected, TWG Tea would know not to insert a floral tea sample if customers had indicated they did not like such blends.
Barnes stressed: "We don't want to be a data-collection company, but we want to give our store managers [the opportunity to deliver personalised service] and customers the opportunity to identify things that they like. So, if they're a MyTWG member, they can say they really like something and we then can suggest tea through their profiles."
She added that there were tablet devices placed in stores to let customers update their profile. Customers' purchases also would be recorded so they would be able to track their transaction history and easily reorder their favourite teas.
TWG Tea has a team of 12 managing its digital frontend and backend systems, as well as customer relationship management, IT operations, and warehouse. So far, it spent some SGD$1.2m (£669,540), mostly in developing the new online site and loyalty programme and building up the support team.This content was originally published in RetailTechNews.
Customer ExperienceDataE-CommerceIn-storeLoyaltyMobileOmnichannelPersonalisation