Weekly Focus APAC: JD.com Seeds Food Production Business with Hydroponic Plant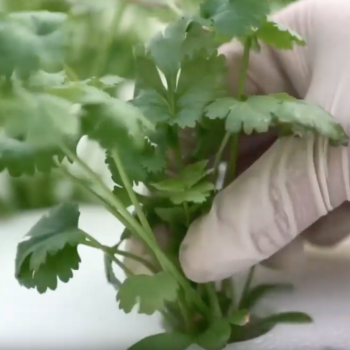 In this edition of Weekly Focus APAC: JD.com Seeds Food Production Business With Hydroponic Plant; Alibaba Signs Up Belgium in E-trade Pact; Grab Brings Mobile Wallet to Philippines; and Frasers Property Builds Partnership with Honestbee & EZ-Link.
JD.com Seeds Food Production Business With Hydroponic Plant
The online retailer has begun its foray into the food production business with the launch of a hydroponic facility, alongside partner Mitsubishi Chemical.
Located in the southeast Beijing district of Tongzhou, the factory sits on 11,040 square metres and currently produces spinach, cabbage, coriander, and red and green lettuce. There are plans to add fruits and other vegetables to the mix in future, according to JD.com.
The plant features a hydroponic culturing system that is integrated with solar light as well as a seedling production environment that uses artificial light. Its management system automatically controls temperature, humidity, light, and liquid fertiliser, making production more consistent and unaffected by seasonal changes.
And since pesticides and agrochemicals did not have to be dispensed, there was less need to wash the fresh produce, JD.com said. The Chinese vendor added that the site was capable of producing 19 batches of spinach a year, compared to four in a traditional field or six in a greenhouse. In addition, just half a litre of water was required to grow any of the vegetables at the hydroponic facility.
Crops cultivated at the plant would be made available for sale to customers via JD.com's online marketplaces and chain of 7Fresh supermarkets.
All crops cultivated are tracked from when they are planted and delivered, and are integrated with JD.com's cold chain or temperature-controlled logistics network, which allows for the vegetables to be delivered the day they are harvested.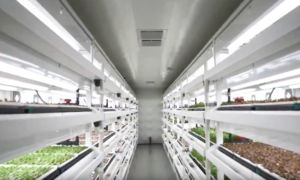 JD.com's president of FMCG and food businesses, Wang Xiaosong, said: "The JD plant factory in Tongzhou marks JD's entry into the very beginning of the fresh food production chain, allowing us to guarantee that the fresh goods we sell have been treated with the care JD applies to everything we do. JD's supply chain technology, logistics network, and e-commerce expertise, combined with Mitsubishi Chemical's sophisticated growing technology, puts us in an ideal position to create an entirely new model for agriculture, and cultivates a fresh and healthy lifestyle in China."
JD.com Applies Blockchain to Pharmaceuticals
In a separate statement, JD.com says it has introduced a blockchain-based tracking application to inject more transparency into China's pharmaceutical supply chains.
The JD Medicine Open Tracing offering was launched on the vendor's blockchain platform, which was unveiled earlier in August to enable companies to develop their own applications on the technology.
The pharmaceutical application encompassed each layer of the industry's supply chain, including the production, medical application, transportation, storage, and sale of drugs.
JD.com touted it as an offering that addresses recent pharmaceutical safety cases in the country involving substandard products, including vaccines that had expired or did not meet safety standards.
Alibaba Signs Up Belgium in E-trade Pact
Belgium is the first European Union (EU) market that has agreed to join Alibaba Group's Electronic World Trade Platform (eWTP), with plans that include a new shipping hub at the Liege Airport.
The Chinese internet giant signed an agreement with Belgium, which has a population of 11.4 million, that aimed to lower barriers to cross-border trade for small and midsize businesses (SMBs) through e-commerce, said Alibaba. Such efforts would look to streamline regulations, making them simple and straightforward for businesses, and offer services in logistics, financing, cloud computing, and mobile payment.
The collaboration included a deal inked between Alibaba's logistics arm Cainiao and Belgium's Liege Airport to build a shipping hub that spans 220,000 square metres. The facility would be funded with an initial investment of €75m (£66.99m), with the first phase of operations to begin in early-2021.
Belgian Prime Minister Charles Michel said: "This will be a huge opportunity to boost exports and bring wide reaching economic benefits to society, including employment opportunities to Liege. Participation in eWTP underlines our country's vision to help local SMBs to be more competitive in the global marketplace in the digital age."
Apart from China, Malaysia and Rwanda are part of the eWTP, which has been supported by the World Trade Organisation and World Economic Forum.
As part of the agreement, Alibaba and Belgium also would collaborate to digitise and streamline customs procedures, making the clearance of goods more efficient for SMBs. The Chinese vendor also would work with the EU country's trade and investment agencies in Flanders, Brussels, and Wallonia to drive promotions, marketing, and direct imports of Belgian products on Alibaba's e-commerce marketplaces.
Noting that 98% of Europe's enterprise community were small businesses, Alibaba Group CEO Daniel Zhang said the cross-border co-operation would be significant for the region, as well as Alibaba's aim to serve as international companies' gateway to China.
Liege Airport CEO Luc Partoune said: "Several Chinese companies are already here. Other companies will be attracted by the presence of Cainiao and the opportunity for e-commerce growth between Europe and China."
Michel added that the partnership would be "a huge opportunity" to boost exports and bring "wide-reaching economic benefits" to the market.
Grab Brings Mobile Wallet to Philippines
Grab has inked a partnership with retail and banking group SM Investments (SM) to offer its GrabPay mobile wallet in the Philippines.
The deal would enable GrabPay customers to use the app to make payments at SM's network of shopping malls, banks, and participating merchants in the Asian market. SM operates more than 70 malls and 2,200 stores, while its banking subsidiary BDO Unibank has more than 1,200 branches nationwide.
The partnership aims to boost the adoption of GrabPay in the Philippines, where Grab's application currently was tapped for various services, including ride-sharing and delivery. With the new agreement, its customers would be able to use the mobile wallet at physical retail stores such as SM Supermarket, SM Cinema, and The SM Store, as well as BDO's participating merchant community.
They also have the option to load their mobile wallet from their BDO bank accounts or at the bank's ATM network.
Grab's app has clocked more than 125 million downloads in Southeast Asia, including the Philippines, where the app is on one-in-two smartphones, according to the vendor. Its e-payment services are available in six markets, including Singapore, Indonesia, and Vietnam.
GrabPay's managing director for Singapore, Malaysia, and the Philippines, Ooi Huey Tyng, said: "This partnership calls to attention the size of the opportunity Grab's Asean user base offers, even to leading conglomerates and financial institutions like SM and BDO. We are confident that by combining the strengths of Grab's fintech platform with SM's extensive network of merchant partners and establishments, we can drive financial inclusion for millions of unbanked Filipinos."
Frasers Property Builds Partnership with Honestbee & EZ-Link
Frasers Property Singapore has unveiled a new rewards app and will work with online commerce and payment providers Honestbee and EZ-Link to integrate mobile wallet services on its upcoming e-payment platform.
Called 'Frasers Experience', the new app replaces its current rewards app Frasers Rewards, said the retail and commercial estate operator and will progressively offer more features, which owns 14 developments in the country.
To start, the app offers an improved digital gift card experience, allowing shoppers to scan a digital card's QR code to add physical gift cards to their mobile wallet. Digital gift cards also could be sent via email as an e-gifting option within the app.
These new options aim to offer more convenience to Frasers Property tenants by enabling them to process transactions digitally and to shoppers who no longer have to join the queue at customer service counters to redeem their loyalty benefits.
In addition, through a digital F&B concierge service, called 'Makan Master', app users would be able to reserve tables at dining options located in Frasers' retail malls. Future features would allow diners to pre-order meals and make digital payments at participating outlets.
Frasers Property Singapore's senior executive vice president and head of retail and commercial, Low Chee Wah, said: "The future of shopping malls is about experiences and the customer journey. We are continuously innovating by using technology to enhance shopper experiences at our malls [and] want to make the customer journey a seamless one, providing them more with less – more benefits with less time needed [and] more conveniences with less hassle."
According to the Singapore company, future releases would include an in-app booking function that would enable users to book a range of facilities and amenities located in Frasers' developments, including event spaces, futsal courts, and barbeque pits.
Future plans also would see Frasers working with e-commerce platform Honestbee and digital payments vendor EZ-Link, to integrate their respective digital payment services on its payment platform, FrasersPay.
Such efforts would include support for EZ-Link's current contactless cards and upcoming e-wallet, scheduled for launch in the first quarter of next year, on FrasersPay. Also slated for release in the first quarter of 2019, Frasers' payment platform would enable its app users to choose their preferred digital payment mode, including Honestbee's in-app wallet beePay, EZ-Link, or credit card.This content was originally published in RetailTechNews.
BankingBlockchainChinaE-CommerceM-CommercePayment