Ogury Dona Oltre 1 Milione di Dollari di Spazio Pubblicitario a Organizzazioni Non-Profit
by ExchangeWire PressBox on 21st Sep 2021 in News
Ogury, azienda creatrice del Personified Advertising, annuncia la donazione di oltre 1 milione di dollari di spazi pubblicitari a organizzazioni non-profit dall'inizio dell'anno ad oggi. L'azienda ha consentito a numerose organizzazioni benefiche l'accesso premium alla sua nuova offerta mobile web, di cui già godono tutti i brand globali con cui Ogury collabora. Tra gli enti supportati figurano: l'Institut de la Vision, la Epic Foundation, l'Accion Contra el Hambre, The Leukemia & Lymphoma Society e l'italiana Dynamo Camp.
"L'ultimo anno e mezzo è stato difficile per molti e ora, più che mai, è importante sostenere le organizzazioni non-profit che stanno facendo la differenza nel mondo, ricompensandole per il loro operato", dichiara Thomas Pasquet, CEO di Ogury. "Sono orgoglioso di come la nostra azienda sia stata in grado di supportarle attraverso la donazione di inserzioni pubblicitarie volte a generare brand awareness per queste straordinarie realtà".
Le campagne hanno raggiunto più di 11 milioni di utenti mobile tra Stati Uniti ed Europa attraverso Thumbnail Ad, l'esclusivo formato creato da Ogury pensato per l'ambiente in-app, rilasciato dall'azienda lo scorso anno e ora disponibile anche su protocollo mobile web. Con questo formato creativo, gli annunci video appaiono in un punto preciso all'interno dell'applicazione, fornendo all'utente un'esperienza intuitiva ed efficace senza interruzioni. L'annuncio mostrato è d'impatto e per nulla invadente: a differenza dei formati tradizionali, l'utente può infatti espandere, trascinare o skippare la creatività sullo schermo. Thumbnail Ad offre annunci in modalità picture-in-picture, permettendo agli utenti di fruire del contenuto continuando a navigare sulla pagina web.
"Siamo molto felici della collaborazione con Ogury, che ci ha consentito di aumentare ulteriormente la brand awareness del nostro istituto. Abbiamo infatti raggiunto oltre 1,5 milioni di utenti mobile tra Francia e Regno Unito in una modalità non invadente e user-friendly", ha detto Arnaud Bricout, responsabile della raccolta fondi di Institut de la Vision. "Il formato Thumbnail Ad di Ogury è risultato molto efficace e ha permesso di registrare CTR e VTR superiori alla media".
"Quando abbiamo iniziato a lavorare insieme a Ogury, il nostro principale obiettivo era aumentare la brand awareness della nostra organizzazione. Vogliamo infatti migliorare la vita di bambini e ragazzi meno fortunati in tutto il mondo", ha commentato Alexandre Mars, Founder & CEO of Epic Foundation. "Con l'aiuto di Ogury, e grazie a Thumbnail Ad, in meno di un mese siamo riusciti a generare oltre 12 milioni di impression, superando di gran lunga le nostre aspettative iniziali e i risultati che solitamente raggiungiamo attraverso le nostre campagne digitali".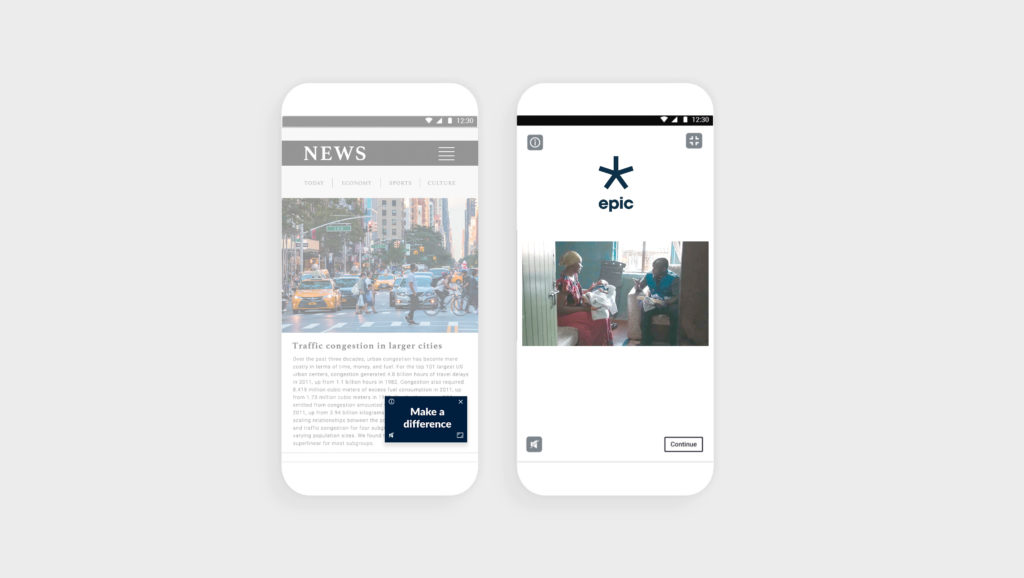 Ogury
Ogury, the Personified Advertising company, has created a breakthrough advertising engine that delivers precision, sustainability and privacy protection within one technology stack, built and optimized for mobile. Advertisers working with Ogury benef…
Powered by PressBox