Adomik Presented H1 2022 Results in the French Programmatic Market at Programmatic Barometer Event
by ExchangeWire PressBox on 19th Jul 2022 in News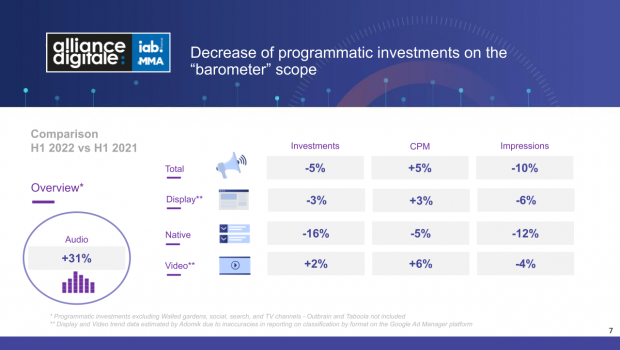 Alliance Digitale (IAB France) hosted its fourth edition of its Programmatic Barometer in-person event presented by Philippe Framezelle, managing director of Adverline, Arthur Millet, general director of Alliance Digitale, and Jean-François Bernard, CPO of Adomik.
This French market study, initiated in 2021 and occurring biannually, excluding walled gardens, social, search, and TV channels aims to show the dynamism of the programmatic market, to bring more insights to the market, with more granularity and consistency, and to gain clarity for all players in the value chain of the French programmatic market. For the first time, it includes a chapter dedicated to supply paths, showing the growing demand from advertisers to optimise the delivery of their campaigns.
Here are some key findings of the French programmatic market analysis presented at the event: 
With a net slowdown in investments from April 2022, programmatic advertising is caught up in a difficult economic context and dropped 5% compared to H1 2021. While the

Observatoire de l'e-pub

indicates that the global digital advertising market is still growing sharply (+19%), French publishers seem to be strongly impacted by the reduction in programmatic advertising budgets since June 2022.
eCPM increased by 5% but with a sharp drop in June. ID deals are still losing momentum in favour of programmatic guaranteed (+36%) and curated marketplaces; the latter now representing 5% of investments in programmatic. Open auction has dropped, yet it still represents 73.1% of investments and 94% of impressions.
Video continues to be popular among advertisers and represents the majority of programmatic guaranteed investments (57.3%). Audio increased by 31% compared to the same period in 2021. Regarding devices, the mobile web is valued better than the desktop. On the other hand, the application inventory remains undervalued compared to the mobile web. Also, there was a drop in investments in the automotive and consumer packaged goods verticals and an increase in the tourism vertical.
The study also gives, for the first time, an overview of the breakdown of investments by supply paths. Pre-bid is on the rise and dominates non-primary SSP supply paths, accounting for 21.9% of spending, Transparent Ad Marketplace(TAM) comes in second (2.8%) ahead of open bidding (Google).
The data presented in the study is based on Adomik's programmatic market index Benchmark for the French programmatic market. Benchmark aggregates the programmatic revenue data of leading publishers worldwide to create a unique market index, and provide trends and sales opportunities; it gives full visibility into demand, transaction types, CPMs, devices, formats, etc. 
The full study is free and available on demand: Get your copy here.

Adomik
The Adomik platform is built with the publisher in mind: Over the years, working closely with small and large publishers, Adomik has developed deep expertise in monetisation and data science, which has been applied to building the best platform...
Powered by PressBox