Odeeo Sees 300% Revenue & Active User Growth on its Audio Advertising Platform for Mobile Games
by ExchangeWire PressBox on 8th Feb 2023 in News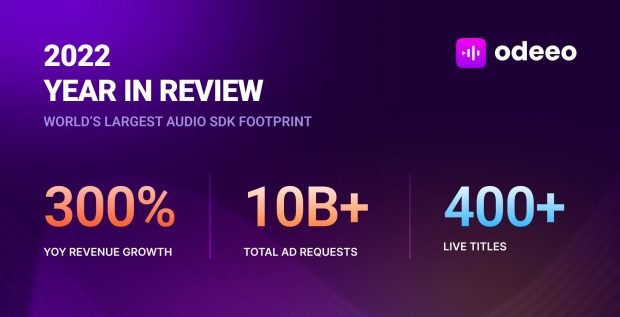 Odeeo, the global audio ads in game platform has recorded 300% year-on-year revenue and daily active user (DAU) growth in 2022, and served over a billion ads, with 10bn ad opportunities created.
Odeeo connects advertisers to the world's 2.9bn mobile gamers. Its record growth is driven by its technical innovation and its timely exploitation of the burgeoning audio ad space. Founded in 2021 by two ad tech veterans from IronSource, today the Odeeo audio SDK platform is live in over 400 game titles across dozens of publishers, including partnerships with four of the top five mobile gaming studios.
You can't support that kind of growth without an amazing team, and in 2022, Odeeo has made sure it has the muscle to deliver! The company grew from 5 to 35 people and is now represented on three continents, making sure partners have the support and advice they need to make the most of audio advertising in gaming. The platform is continually evolving with 50% of the team working in R&D, building the innovations that will take the sector forward.
Odeeo makes it possible for advertisers to use non-intrusive audio ads that get their brand voice in the ears of a huge untapped gaming audience. Ad placements are highly targeted, contextual, and brand-safe as they are only placed in verified gaming inventories.
For game developers, the Odeeo SDK makes it possible to rapidly integrate audio advertising and seamlessly monetise titles with non-intrusive ads from premium brands, that do not interfere with the gaming experience. Odeeo has been proven to create incremental in-game revenue, boost LTV (Lifetime Value) and ARPDAU (Average Revenue Per Daily Active User). Tapnation increased its ARPDAU by 8% with Odeeo.
Amit Monheit, CEO and co-founder of Odeeo, said: "2022 was an astounding year for Odeeo, with the value audio ads can deliver for brands and games publishers being proved time and time again. We've got some great innovations in the pipeline for 2023 to expand the platform, and are looking forward to strong growth worth shouting about for ourselves, our publishers, and advertisers."
AudioContextualIn-GameMobileTargeting