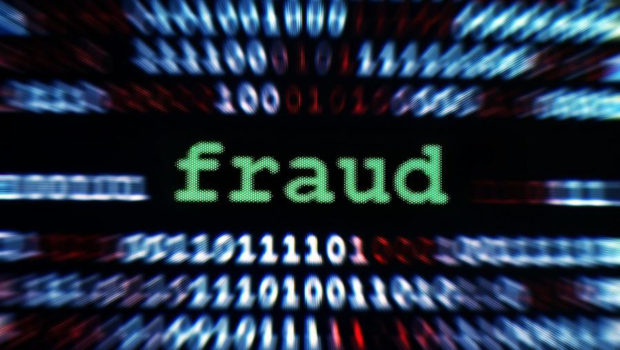 Brands have never been keener to put programmatic on the media plan, but with this increased demand comes scrutiny, propelling phrases such as 'transparency' to the core of the public industry discussion, as advertisers increasingly demand ROI.
ExchangeWire speaks with comScore to examine how it aims to help clean up the sector, post its WPP tie-up, as it addresses brand-side marketers over concerns about advertising fraud.

As programmatic media buying continues to take dominance on digital media plans, advertisers are asking for increased levels of transparency, with programmatic media buys classified at the more 'worrisome' end of the scale when it comes to non-human traffic (NHT), according to comScore.
comScore will present the findings of a recent transparency study, entitled 'The Value of a Digital Ad', at today's ISBA annual conference, where brand-side marketers will debate the wherefores of digital advertising, with programmatic advertising a particular area of concern.
The paper aims to help brands measure campaign delivery, as well as the performance and effectiveness of their digital campaigns, by assessing whether their ads were actually seen by a human being from the intended demographic, or indeed if a click was generated by NHT, and whether the ad was served in a brand safe environment.
Paul Goode, comScore, SVP marketing & strategic partnerships, EMEA, discussed statistics from the measurement report with ExchangeWire and said that while all forms of digital media posed some kind of risk when it came to transparency, programmatic media-buying was "particularly worrisome" to brand-side marketers.
This comes as comScore prepares to integrate its data with Europe-based demand-side platforms (DSPs), meaning all its planning data, plus fraud and viewability scores, are available to advertisers in a 'pre-bid situation', after earlier efforts to do so in the USA.
Levels of NHT
The company is currently road showing insights on NHT on tier-one publisher sites and classifies them in three categories. They are: low-NHT (sub-5% of total traffic), mid-NHT (5-20%), and high-NHT (20%+).
Insights from its earlier US efforts, and found that the vast majority of campaigns had minimal levels of suspicious traffic (see below).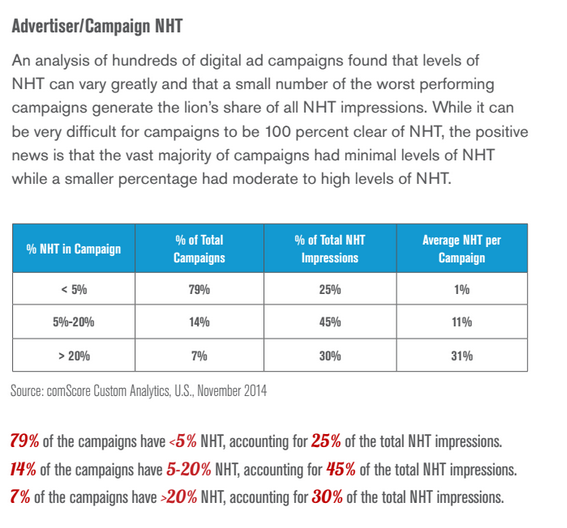 "Last week we started a series of roundtables with companies from the buy-side, the ad tech companies, and publishers to brief them on this. And what we're looking at is the percentage [statistics] of the top-100 publishers, and long-tail as well," said Goode.
The latest statistics from comScore's UK data also reveal that 89% of the UK's top 100 web properties have low NHT. Although, 35% of these have sections with medium or high NHT, according to the statistics.
Meanwhile, 64% of the top 100 comScore-ranked video websites have low NHT, while 29% of these have sections with medium or high NHT, according to the figures.
Sources with expert knowledge of advertising fraud told ExchangeWire the instances of higher NHT on such sites is likely the result of publishers using audience extension tools, which inadvertently inflates the levels of NHT.
The comScore reports reads: "With so many different constituencies sitting between the advertiser and publisher in the digital ad supply chain, it's no wonder there's so much friction in the media planning and buying processes."
comScore – 15% of which was acquired by WPP last month – is implementing the above as part of its alliance with the holding group's Kantar division, which aims to establish a framework for the parties to pool their products, technology, data assets, research panels – to better provide cross-media audience and campaign measurement capabilities.
Brand concerns
A recent report from Infectious Media revealed that 75% of marketers are eager to increase their programmatic ad spend in the coming 12 months, but two-thirds (65%) of those surveyed cited a "lack of transparency of financials", as the main barrier to significantly increasing their programmatic ad spend (see bar chart).
Speaking earlier with ExchangeWire, Bob Wotton, ISBA, director of media & advertising, said that while advertisers were "very excited" about the possibilities posed by programmatic media buying, there were levels of "anger" regarding transparency among his trade body's Digital Action Group membership.
The comScore report goes on to quote Aaron Fetters, Kellogg Company, director of digital insights & analytics, who said: "In our experience, digital impressions have produced a measurable effect in market mix models, which has helped us make better allocations towards digital – but it's clear there's still value being left on the table.
"When you consider that each impression's impact has generally been diluted by fraudulent, non-viewable, and out-of-target ads, the question is how much better can these results get when we have cleaner inputs? We've seen that a 20% increase in viewability can produce a 60% effectiveness gain in our mix models, suggesting there's still plenty of ROI upside in digital."
comScore will be presenting along with Integral Ad Science on the topic of viewability at ISBA's Annual Conference taking place today (11 March) in London. Delegates from ExchangeWire Research will be on hand to share insights from its bespoke research on the service.
Ad FraudAd VerificationAdvertiserAnalyticsattributionBrandingEMEARegulationTargetingTradingViewability