The Rise of Digital Brings Diversity of Inventory
by Lindsay Rowntree on 2nd Oct 2017 in News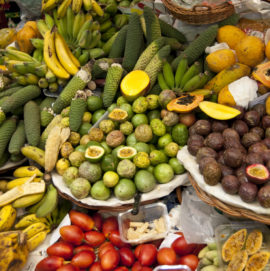 In association with Rubicon Project
The advent of header bidding has unlocked huge amounts of inventory in the desktop space, revolutionising the playing field for buyers and sellers alike. It is an area with a great deal of energy surrounding it; but the market should not lose sight of the number of exciting new formats and media channels that are entering the programmatic space and are starting to make an impact outside of the header bidding discussion. Print ads, posters, radio, and even traditional television spots, are embracing automation technology – changing the face of advertising as we know it and presenting a ripe opportunity for marketers to reach their consumers, writes Steve Wing (pictured below), head of UK & Nordics, Rubicon Project. 
To fully realise the opportunity this diversity of inventory offers, we must make ourselves aware of the unique advantages and nuances that each of these breakout media offer. Below are some of the markets that we are particularly excited about.
Programmatic audio 
Programmatic audio is quickly becoming increasingly important in marketers' programmatic budgets, and the demand for premium audio inventory is only getting louder. Audio inventory is immersive, it's targeted, and with more than half of all media time in the UK being spent on mobile devices, it has impressive reach. Already, Spotify engages 100 million users; Pandora does the same with 77.9 million. According to Triton Digital, digital audio stations have enjoyed a steady increase in weekly listenership since 2011, with daily sessions reaching six million in 2016. Podcasts have also seen a significant spike, with 4.7 million adults in the UK listening to podcasts.
Beyond its impressive reach, marketers are recognising other opportunities in audio: it's relevant, unobtrusive, and is delivered in a contextual state. Listeners are engaged with personalised playlists, whether they're working out, studying, or at a party, and they're connecting with the media in an emotionally piqued state. This may explain why audio advertising boasts a 60% higher brand recall rate than traditional banner ads, and is twice as likely to reach strong brand advocates. With audio, marketers can also leverage data from mobile apps and devices to run more targeted ads. While navigating the burgeoning audio market, it's key that marketers find the right partners to maintain quality and meet higher user expectations. As a result, the sweet spot for audio is in the private marketplace, where inventory is premium and publishers are vetted. To fully capitalise on the promise of audio, it is essential to explore the diversity inside the market, as podcasts, streaming, and live radio all offer their own benefits and own nuances.
OTT  
With the growing trend of 'cord-cutting' moving to other markets, the consumption of over the top (OTT) media is quickly becoming the preferred mode of viewing for audiences – as opposed to cable pipe or satellite. Couple that with the cost and depth of screens approaching zero (an Amazon Firestick, Roku, or Amazon TV is less than £30) and the result is digital's presence in our living rooms is becoming commonplace. With internet penetration at a staggering 92%, the OTT audience in the UK is active and poised to grow, and predicted to reach 54.23% in 2020. Yet, while OTT presents a major opportunity, it also presents its own challenges. From fragmented cross-device experiences, to finding universal metrics of measurement, marketers have their share of issues to tackle in navigating the OTT space. To become optimally efficient, marketers will need to be able to access premium audiences, across connected devices, in one simple programmatic buy. To do so, the entire media supply chain will need to become increasingly integrated. With OTT undeniably ascendant, it's critical that marketers partner with select partners who emphasise quality, so that we can deliver on its promise while fulfilling the high expectations of viewers. 
Digital out-of-home  
The digital-out-of-home (DOOH) market is another arena that's quietly shifting the industry by way of reimagining – making the classic advertising experience more efficient and effective through the use of automation and data on posters and beyond. This market encapsulates everything from the giant digital billboards on buildings and highways, to screens in bars, bathrooms, lifts, bus stops, and more. PricewaterhouseCoopers predicts that DOOH advertising revenues will overtake traditional spend in 2020, growing at a rate of 15% a year for the next four years. The UK DOOH market alone will be worth £618m by 2021. What's exciting about DOOH is that, unlike the OOH market of yesteryear, it allows advertisers to reach target audiences in a specific, real-world context, coupled with newer mobile technologies like GPS, WiFi, and data that enable this marriage of the physical and the online.
As the digital advertising ecosystem becomes more automated, Rubicon Project is experiencing a wellspring of new inventory available to buyers – and brands are seizing the opportunity to reach new markets and audiences in a targeted, immersive way. Through strategic agreements with leading companies like Clear Channel, SoundCloud, and Spotify, Rubicon Project offers advertisers the ability to go to a single, unified location to reach consumers nearly everywhere they play and interact, from shops, elevators, lobbies, cinemas, digital billboards, television, restaurants, bars, email, and on their desktops and mobile devices.
With the plethora of formats, channels, and platforms becoming available, digital advertising inventory is extending the original definitions of display, mobile, and video. Rubicon Project is working with companies in these exciting areas to push for innovation and disruption in advertising sectors that stand much to gain from automation and technology. By collaborating with forward-thinking companies and industry bodies to pioneer the use of automation in these markets, we will be on our way to providing a truly 'complete' marketplace.