Europe Embraces Programmatic Video Monetisation; DOOH Brand Charter by JCDecaux
by Sonja Kroll on 6th Oct 2017 in News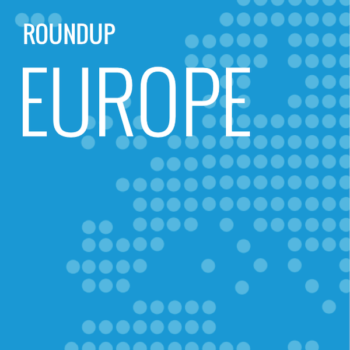 ExchangeWire rounds up some of the biggest stories in the European digital advertising space. In this week's edition: Programmatic video monetisation in Europe grows; Commitment to DOOH brand charter by JCDecaux; Triton Digital partners with Anghami; Marketo launches AI-powered engagement solution; Partnership for AI by Dataiku and Keyrus UK; New video format by Teads; Mobile programmatic confuses marketers; and Retail sector powers German ad spend.
Europe embraces video monetisation via programmatic
According to FreeWheel's Video Monetisation Report, premium video is continuing to grow in Europe with ad views growing 21% year-on-year, as well as an increase in video starts of 44%.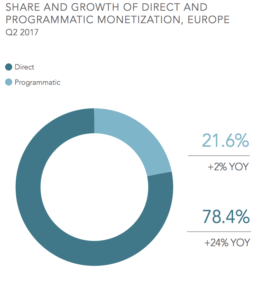 In terms of monetisation, the European market is embracing programmatic at a higher rate than even the US market: 21.6% of monetisation was conducted through programmatic deals. In the US, programmatic accounted for 11%. Year-on-year, programmatic video monetisation grew 2%, the study finds.
Overall, mobile is getting increasingly important in terms of ad views at the cost of desktop: while desktop's share of views now accounts for 34%, ad views on smartphones increased to 20%, and to 24% on OTT devices, which makes the latter a particularly promising opportunity for further growth, FreeWheel concludes.
JCDecaux commits to own DOOH brand charter
With a new set of guidelines, digital OOH specialists JCDecaux are hoping to generate trust among advertisers while moving towards automated trading. Dubbed 'BranDO', the brand charter commits to standards of viewability, measurement, accountability, transparency, and brand safety.
"This is a landmark moment for JCDecaux as we launch our brand charter, BranDO. At the same time, we are launching our automated trading platform, which signifies the transition to trading viewed impressions rather than frames", said Spencer Berwin, co-chief executive officer at JCDecaux UK. "The online industry has provided incredible innovation when it comes to ad delivery. Along with this innovation comes a real responsibility to advertisers."
JCDecaux UK's SSP features an integrated content management system as well as a DMP. Using IAB OpenDirect and OpenRTB protocols, the SSP enables connections with existing trading partners and emerging trading platforms, while the new DMP incorporates data from Telefonica, Route, CACI, and YouGov
As for the brand charter, Berwin wants to blaze the trail for new benchmarks in digital OOH: "We are launching BranDO to be the framework for quality standards in DOOH. We must maintain advertisers' trust and create working practices that ensure a brand-safe environment. We are committed to growing the medium through a new automated platform by putting the advertiser at the heart of what we do."
As part of their initiative, JCDecaux are committing to viewability measurement using the JIC-approved Route audience measurement system, providing the raw viewing logs that can be used for verification, and publishing playout reports independently audited via PwC, as well as a quarterly report on campaign compliance.
Triton Digital monetises Anghami
Streaming music provider Anghami and SSP Triton Digital are partnering to monetise Anghami's audio-streaming inventory. Through the partnership, Anghami is accessing the Triton ad server to insert their audio ads into Anghami's audio streams.
The digital audio inventory of Anghami is represented by Digital Media Services (DMS), who are taking the inventory to Triton's global audio advertising marketplace to reach buyers across the MENA region and other parts of the world.
"We look forward to leveraging Triton's digital audio advertising expertise and technology to continue to elevate Anghami's brand and reach, and to grow the digital audio ad market in the MENA region", says Michel Malkoun, COO, DMS. "The more that we can do to make the execution of relevant, contextual advertising easier for brands and agencies, the faster the industry will grow and the better the experience will be for its loyal, engaged listeners."
To that end, DMS is utilising Triton's SSP, managing their inventory within the marketplace, as well as facilitating private deals with specific buyers, brands, or sales houses.
"We are proud to help Anghami and DMS harness the power of programmatic advertising to more efficiently monetise their digital audio inventory", said Benjamin Masse, managing director, market development and strategy, Triton Digital. "Enabling agencies and advertisers to engage Anghami's 58 million registered users in a targeted, meaningful way will provide them with a higher return, and will undoubtedly further the growth of the digital audio advertising industry in the MENA region."
"We've already received interest from regional advertising agencies and brand managers who attended the first regional audio day organised by Anghami with the support of DMS, where Triton was a major contributor", said Elie Habib, co-founder and CTO, Anghami. "With Triton's technology, it became easier for advertisers to access our inventory in an automated fashion, and enables them to send the right message, at the right time, and in the right place, so it truly resonates with listeners. This is an enormous benefit that comes exclusively with the native, mobile nature of the audio channel."
Marketo launches AI-powered engagement solution
No more irrelevant marketing messages – that is what Marketo is promising with a new AI-powered engagement solution. Billed as 'ContentAI', the solution is an artificial-intelligence-powered tool that personalises cross-channel content by predicting the content most likely to convert each audience.
"Today's customers expect and demand that brand interactions are relevant, personalised, and delivered at right the moment. Marketo's survey of more than 2,000 global marketers and consumers found that the number-one reason customers do not frequently engage with brands is irrelevant content", explains Manoj Goyal, chief product officer, Marketo."With Marketo ContentAI, marketers make every interaction with each customer more valuable, and this engagement drives revenue."
According to Goyal, ContentAI has been tested to produce an increase in clicks of up to 75%, compared to a traditional, rules-based approach.
Apart from automated content discovery and best-content prediction on the basis of AI, the solution comes with audience insights for every content asset, as well as key metrics that highlight top content views, conversions, etc., for campaign management.
Dataiku & Keyrus UK collaborate on AI solution
After two previous collaborations in the US and France, Dataiku and Keyrus are now partnering in the UK in order to streamline the process of building data applications. The data-science experts want to improve their offerings for the UK market and develop data products based on state-of-the-art technology.
Santiago Castro, head of strategy, Keyrus UK, believes that the joint venture will create a unique new offering for their clients: "Joining Keyrus' Management Transformation offering with the DSS platform will help customers accelerate their digital transformation by democratising AI for the citizens, while facilitating collaboration of various communities of data scientists, business analysts, and IT professionals who can jointly work, innovate, and share understandings and insights in a common platform."
"We are very excited to announce this partnership with Keyrus UK and help them provide data innovation to their customers in the UK", said Jennifer Roubaud, VP of UK and Ireland with head UK of Dataiku. "This synergy aligns perfectly with our goals of partnering with leading innovators in the UK to build strong relationships and powerful products that help companies become data-driven. We are excited to work with them and contribute to the local community of innovation and continue providing incredible solutions to our customers."
Dataiku recently received £21.5m in funding in a series B round, earmarked for their UK expansion, amongst other things.
Teads launches 3D-effect video ads
New effects for video makers: Teads has developed a video format dubbed 'inRead 3D', which leverages depth of field perception to create a 3D effect for any video creative.
Teads hopes that the new 3D format will attract the users' attention, thus driving engagement for the advertisers. Especially suitable for branding, Teads' design team can build the 3D effect for brand clients using existing video creative. Alternatively, clients can submit their own 3D-effect videos to be inserted into Teads' inRead ad slot.
"Teads led the way for innovation in video advertising with the launch of our inRead format several years ago; and we have not stopped looking for ways to empower brands to engage consumers with stunning, impactful, and highly dynamic creative in premium editorial environments", says Bertrand Quesada, CEO, Teads. "inRead 3D is the next of many advancements that brands can expect from Teads as we continue our mission to inject creativity into advertising."
inRead 3D will be sold in the same way as the standard inRead product and is available on a CPM, vCPM, and CPCV basis.
Study: Marketers intimidated by mobile programmatic
In a study conducted among 500 UK-based marketers, media buying platform iotec finds that a large number of UK marketers are feeling intimidated by programmatic. Forty-one percent of those surveyed found mobile programmatic more confusing than on desktop; yet over 60% plan to increase their ad spend in mobile programmatic over the next year.
However, the commitment of marketers to mobile programmatic is no reason for the industry to lean back and enjoy the ad spend coming their way – as transparency and fraud still weigh much on the advertisers' minds, iotec's Mobile Transparency Report finds. Fraud is a major concern for 32.8% of those surveyed, as are viewability (28.7%) and targeting. But the biggest concern remains transparency: more than half of the participants in the study (50.4%) identified transparent pricing as their primary focus, due to growing industry concern.
As for choosing or changing vendors, transparency in the supply chain is a top priority for marketers: according to iotec's data, the most important consideration for a vendor is a fully transparent supply chain (27.2%). Similarly, the top reason for changing ad-tech providers was transparency (20.2%), even above performance.
Paul Wright, CEO of iotec, considers the findings a wake-up call: "Our findings have made it incredibly clear that brand advertisers and tech vendors all need to improve the way our industry works. An open and honest ecosystem, with an active commitment to ad fraud prevention, stands to benefit us all. That's why we wanted to conduct this research – we now know that marketers perceive the mobile programmatic landscape to be complex, further exacerbating the issue of transparent actions. After all, how can you work effectively within a system you don't understand? Therefore, we hope these results and recommendations serve as benchmarks for industry leaders to sign up to and use for themselves and their clients in the future."
Retail sector to supply 1/5th of German digital ad spend
The biggest share of German ad spend is generated by the retail sector. That is the conclusion of eMarketer's new cross-industry ad-spend forecast. According to the study, the ad spend generated by retail will increase by 7.4% and will total USD$1.38bn (£1.05bn) in 2017. Last year, the expenditures for digital advertising accounted for USD$1.28bn (£0.97bn).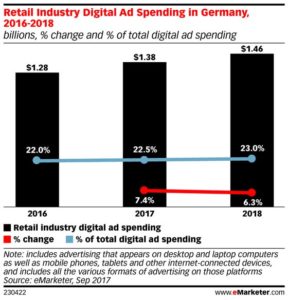 With regards to mobile ad spend, the retail sector will have an even larger share and account for 29% of the mobile ad spend in Germany this year. Mobile advertising now claims almost two-thirds of the retail sector's total ad spend: "The German retail industry's investment in mobile advertising has seen rapid growth more recently as the luxury goods market, especially fashion players, begin to make use of the medium", says Monica Peart, senior forecasting director, eMarketer. "This increased spend on mobile advertising is in tandem with Germany's consumers upping their engagement with mobile devices."
eMarketer predicts that the share of mobile in digital advertising is going to grow not only in the retail sector but across all industries. The automotive, consumer products, financial services, and travel sectors will decrease their advertising efforts on desktops and laptops, reflecting consumers' move to mobile devices.
Ad FraudAd TechBrandingEMEAMeasurementMobileMonetisationProgrammaticTransparencyViewability