Fyber Partners with Tapjoy & AdColony; Digital's Share in OOH Rising
by Sonja Kroll on 23rd Feb 2018 in News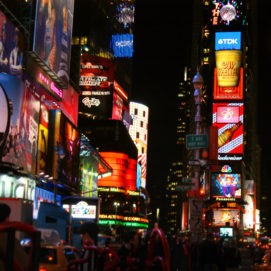 ExchangeWire rounds up some of the biggest stories in the European digital advertising space. In this week's edition: Fyber Partners with AdColony & Tapjoy; 13% of Brands' Media Budgets Goes to OOH; Triton Digital Integrates a2x with Platform 161; and Mobile eCPM Increase Strongest in EMEA
Fyber Partners with AdColony & Tapjoy
Tech provider Fyber is launching a new in-app header bidding solution. FairBid allows mobile in-app publishers to maximise their ad monetisation by enabling all types of demand to compete in one place, in transparent auctions. Combining programmatic demand from DSPs with direct campaigns and SDK-mediated networks, FairBid settles on the highest bid for maximum monetisation.
The concept is called 'programmatic mediation': Developed in conjunction with networks such as AdColony and Tapjoy, the solution allows SDK-mediated buyers to place bids in real time and compete simultaneously with real-time DSP buyers for every impression. The impressions are sold on price, assuming the buyer meets the publisher's standards for brand safety.
Fyber says the FairBid technology facilitates transparency and fairness in the ad buying and selling process, i.e. all buyers are given equal opportunity, as they can see and choose the bids they want to place for impressions. Simultaneously, FairBid maximises yield by awarding each impression to the highest bidder, treating all buying mechanisms equally.
"FairBid makes no judgement as to which is the better buying mechanism. We understand that many app publishers and buyers of in-app inventory wish to take advantage of the rich creative options that SDKs support. The industry needs a solution that eliminates hidden and unfair 'first looks' given to some buyers in a waterfall-based auction, and finally brings a state of header bidding – that has been proven successful for desktop – into the in-app environment", says Offer Yehudai, president at Fyber. "Our goal was to bring the benefits of header bidding to the in-app ecosystem, which will allow us to restore trust and improve efficiency. It's time to fix what's broken with in-app monetisation; and we feel that we are well positioned to do that with Fyber FairBid."
13% of Brands' Media Budget Go To OOH
In their latest Global Ad Trends report, WARC finds that brands are dedicating 13% of their media budget to OOH, on average. Based on media channel data in 96 countries, WARC concludes that OOH's share has remained largely stable since 2016, with government and non-profit organisations (26% of budgeted spend), alcoholic drinks brands (16%), and retail brands (14%) the highest spenders in OOH. On average, OOH has had a share of 5.9% of advertising spend since 1990.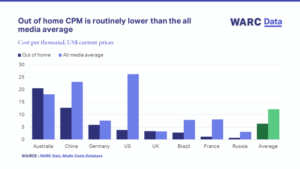 In 2016, global OOH expenditures came to USD$31bn (£22bn), which translate into a 5.8% share of the global ad spend total – a figure that is predicted to stay approximately the same for 2017.
However, the share of digital in OOH ad spend varies significantly from market to market, with the UK racking up a projected share of digital in OOH of 46.5% in 2016 – more than double the U.S. figure. In the U.S., it is estimated to have been 22.4% in 2017 up from 20.8% in 2016.
According to WARC's Media Costs Database, the OOH CPM in key markets is routinely lower than the all media average, with Australia and the UK the only exceptions. Average CPM for an outdoor ad with an all-adult target audience in key markets is USD$6.41 (£4.59), compared to an all media average of USD$12.20 (£8.74) for the same audience.
"Out-of-Home is an industry staple, attracting a consistent share of successful brands' budgets over the long term. The channel delivers affordable reach with CPM routinely below the all media average", says James McDonald, data editor, WARC. "Out-of-Home is well-placed for future advancement, with rising digital penetration delivering flexible creative informed by rich audience data. New tech, such as facial recognition, is being tailored to improve shopper experience, but advertisers need to heed consumer concerns."
Triton Digital Integrates a2x with Platform 161
Digital audio tech provider Triton Digital announces the integration of its audio advertising market a2x with Platform 161. The DSP will now allow their advertisers to access online audio from streaming and broadcast services. Both open auctions and private deals are part of the package.
"We remain committed to connecting advertisers and audiences through the power of digital audio, and are proud to add Platform 161 to the growing list of DSPs that are integrated with a2x", comments Benjamin Masse, managing director, market development and strategy, Triton Digital.
Marco Kloots, CEO, Platform 161 adds: "The personal, highly engaging nature of digital audio will undeniably enhance our marketers' omnichannel buys, enabling them to both scale their buys and connect with their target audience in a native, immersive manner across mobile phones, smart speakers, and other internet connected devices."
Mobile eCPM Increase Strongest in EMEA
According to Smaato's Global Trends in Advertising report, eCPMs in EMEA are rising faster than in other parts of the world. While the region is slower when it comes to quarterly impression growth, eCPMs grew heftily in European markets such as Switzerland (211%), Hungary (186%), Poland (82%), Greece (79%), and Austria (71%).
Mobile access to the internet is now dominating web use worldwide. Nearly 80% of all users are surfing via their mobile phones, Smaato finds. With increasing in-app usage rates, it is no wonder that 96% of the mobile ad spend is now generated in-app, growing from 80% in 2016.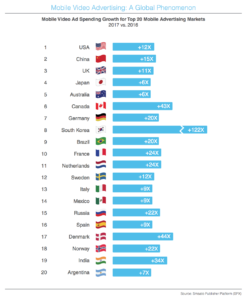 On mobile, video ad spending is booming. According to the report, mobile video ad spend has increased by at least 6x over the past year in key markets. In the UK, 2017 mobile video ad spend was 11x the year prior. In Germany, ad spend multiplied by 20; in France, it was multiplied by 24. Top mobile ad spend growth in Europe goes to Denmark, with a mobile video ad spend increase 44x the 2016 figure.
According to Smaato, video ad formats are outperforming all other mobile ad formats in terms of ad request, eCPM, and ad spend growth on their platform, with mobile video ad formats increasing 14x in ad requests between 2016 and 2017. Mobile video eCPMs have also seen a notable increase of 70% from 2016 to 2017, with eCPMs for non-video formats remaining stable over the past year.
TagsAdvertiserAudioDigital MarketingDOOHDSPEMEAHeader BiddingMedia SpendMobileMonetisationOOHVideo