Weekly Focus: Alibaba to Overshadow Chinese Competition with 58.2% Market Share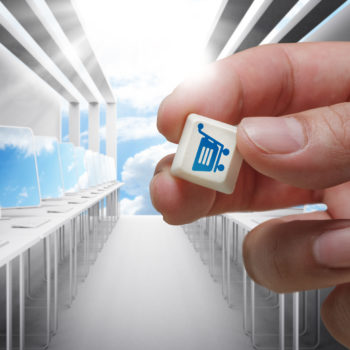 This week, China's top 10 e-commerce players have been unveiled and are expected to account for more than 85% of the country's total online retail sales by year-end, with Alibaba taking pole position.
The market leader is expected to grab a 58.2% share of total e-commerce sales, followed by JD.com with a 16.3% share, according to eMarketer.
The two leaders, though, would face increasing pressure from new market players that have emerged as "credible competitors" over the past few years, offering branded products that proved popular amongst consumers.
eMarketer said: "This has meant that smaller, more specialist players that can offer 'authentic' goods have become credible competitors to Alibaba and JD.com."
The market researcher pointed to Pinduoduo (PDD), Gome, Suning, and Vipshop as new players that have seen growth.
A daily deals site that also offers social buying, PDD, is expected to be the third-largest market player with a 5.2% share, up from just 0.1% when it launched in 2015. The site lets consumers purchase directly from wholesalers and factories at competitive prices, eMarketer said, adding that PDD also has made it easy for sellers to enter its marketplace.
Its strategy of targeting China's Tier-3 and Tier-4 cities also has proved successful, pulling in "new, price-conscious" e-commerce customers.
Online and offline multichannel home goods retailer, Gome, is expected to snag a 0.7% share this year, while electronics retailer Suning will grab just under 2% market share.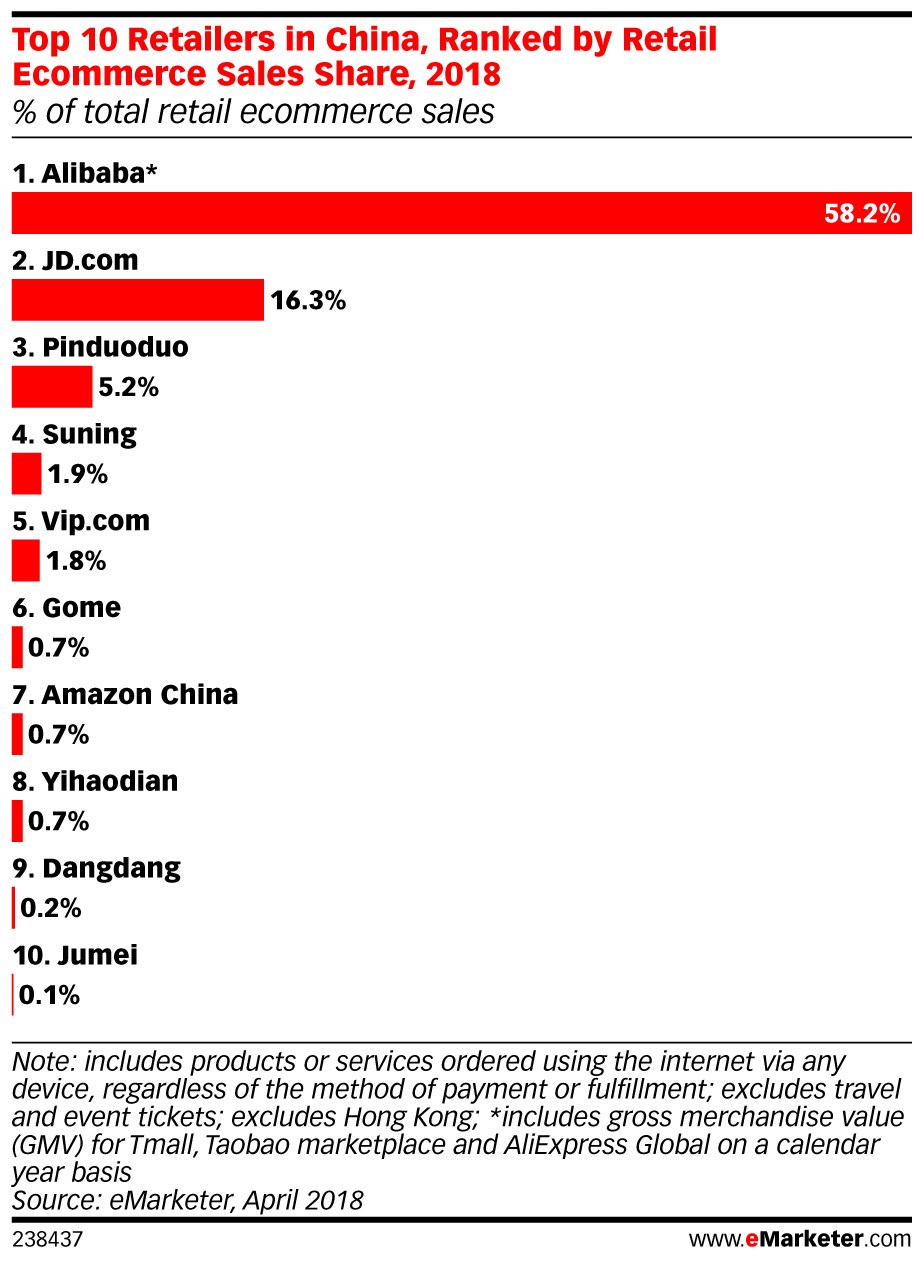 Online discount fashion retailer Vipshop is predicted to secure a 1.8% market share this year, eMarketer said.
Its senior director of forecasting Monica Peart said: "China's smaller cities such as Tier 3, Tier 4, and lower, are less urbanised than Tiers 1 and 2, but they are growing rapidly in e-commerce participation as digital buyers in those cities begin to seek out the benefits of more affordable yet genuine products online.
"Smaller e-commerce players, such as relative newcomer Pinduoduo, have benefitted from this trend, as buyers in lower-tier cities have been less tolerant of the higher prices found on large players such as Alibaba and JD.com, and are quick to seize upon the deals found on Pinduoduo's platform", Peart explained.
Over Half of Parcels to Arrive Under Two Hours
And, should consumers continue to shop online in the future, by 2028, more than half of all parcels delivered across Asia-Pacific will reach their hands in under two hours.
Some 95% of the region's manufacturers, transportation, and logistics companies, as well as retailers, believe e-commerce is driving the need for faster delivery, revealed a study by Zebra Technologies.


The study further revealed that 67% of logistics companies expect to offer same-day delivery by 2023, while 55% project a two-hour delivery window by 2028.
Zebra's Southeast Asia channels lead Yvonne Lim said the need for shorter delivery times is prompting these companies to turn to digital technology and analytics to introduce more automation, merchandise visibility, and business intelligence to the supply chain.
Lim said: "Driven by the always-connected, tech-savvy shopper, retailers, manufacturers, and logistics companies are collaborating and swapping roles in uncharted ways to meet shoppers' omnichannel product fulfilment and delivery expectations."
Reverse logistics, though, remains underdeveloped and is in need of improvements, with 93% of respondents acknowledging that accepting and managing product returns is a challenge.
Some 58% today include a surcharge for returns, but 71% noted that more retailers would convert stores into fulfilment centres that could facilitate product returns.
AU Retail OOH Firm to Tap Indoor Connection for Better UX
Australia's retail out-of-home (OOH) media firm, Shopper Media Group, is looking to offer WiFi and location-based services across its malls to drive deeper customer engagement.
It inked a partnership with wireless networks vendor, Mist, to power its Smartlite digital panel displays, with the aim to offer personalised location-based messaging and use real-time traffic analytics to improve the retail shopping experience.
Shopper Media Group operates more than 240 shopping centres across Australia. Its CEO Ben Walker said the malls would be able to push notifications to shoppers using virtual Bluetooth Low Energy technology and real-time shopper tracking.
Walker said: "Our partnership enhances the ecosystem between shoppers, advertisers, centre owners, and managers, providing centres with an unparalleled level of detail on consumer habits in-centre."
Asian Online Luxury Goods Marketplace Snags £132.12m Investment
Asian luxury goods e-marketplace Secoo Holdings has secured USDS$175m (£132.12m) in investment from Chinese e-commerce giant JD.com and private equity firm L Catterton Asia.
Headquartered in Beijing, Secoo currently offers more than 300,000 SKUs from more than 3,000 global and local brands on its online site.
The investment deal would enable Secoo to tap L Catterton's global retail and fashion expertise to further expand in the luxury market, it said.
JD.com's president of fashion and lifestyle, Hu Shengli, said: "This partnership will help us enhance our luxury capabilities and provide the best possible luxury shopping experience to consumers in China. Chinese consumers are increasingly discerning about their luxury purchases, demanding more variety and choice than ever. As we look to continue to meet this demand, we see many potential areas for future collaboration with Secoo."This content was originally published in RetailTechNews.
AlibabaChinaCustomer ExperienceE-CommerceIn-storeLocationPersonalisation