Holding Companies Likely to Diversify to Protect Market Position: Q&A with James Kesner, Results International
by Lindsay Rowntree on 24th Jul 2018 in News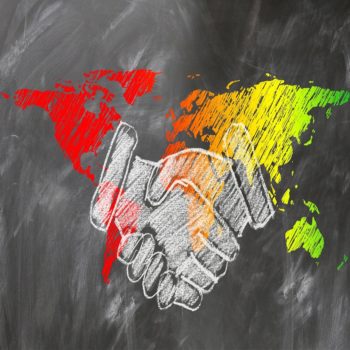 Mergers and acquisitions within ad tech and martech are firmly in the spotlight at the moment, with some very interesting moves happening across the space. Following the release of their H1 marcoms M&A analysis, James Kesner (pictured below), director of M&A advisory firm, Results International, speaks with ExchangeWire about how the M&A scene is changing, as well as the big global trends to look out for.
ExchangeWire: The marcoms M&A scene in 2018 appears to be much more buoyant so far, compared with 2017 – what have been the main drivers of this?
James Kesner: It's fair to say the M&A scene does feel buoyant at the moment, given M&A has been thrust very much into the spotlight by S4 Capital's initial acquisition. There's a lot of conjecture around what Sir Martin Sorrell will do post MediaMonks, and how WPP and the other holding companies will react. We also saw Accenture (finally) make the leap into programmatic ad buying in May, so it feels there will be no slowdown in the near-term from buyers.
The fact is, it would be strategically shortsighted for any business in the sector to slow down too much. Marcoms is incredibly fast moving; business models, and the industry itself, are changing as a result of the arrival of new technologies such as Blockchain. We're seeing ever greater transparency in media and a blurring of the lines between tech and advertising businesses.
Which sectors have been the most active? Are we seeing much change in this area?
Full-service digital remains the most active sector, as it has been every quarter for the last couple of years. Proprietary data and data skills continue to be in high demand, with other areas, such as digital transformation, AI, and AR all gaining further traction.
However, what has been interesting is the resurgence of media and, notably, out-of-home. It's perhaps too early to say if there's a direct correlation here between the re-emergence of traditional formats and the advent of GDPR, but it could potentially have a part to play.
It's also worth bearing in mind there are still many opportunities for buyers in OOH, whereas other segments have already gone through protracted consolidation. Also, the increased digitisation of out-of-home advertising makes this a much more attractive space to a broader set of acquirers.
JCDecaux has recently launched a programmatic platform, so it wasn't surprising to see them make a significant investment in the shape of APN Outdoor. However, we have also seen private equity enter the space with PE-backed oOH!media completing a significant deal in the shape of Adshel and also Ocean Outdoor buying Forrest Media.
How does Europe compare with other regions? Is there an increase in cross-border deals?
North America remains the most active market in terms of deal volumes, with the Asia Pacific region taking third position behind Western Europe.
There has been a growing interest in Western European targets in H1, with 36 deals in the first quarter, growing to 52 in Q2. We can't discount Brexit as a potential factor and there's likely to be some hedging of bets on Europe – it's probably telling that Sorrell's first acquisition is based out of Holland.
However, it is equally telling that M&A investment in the UK does remain steady quarter-on-quarter and remains ahead of M&A in any individual country in Western Europe. France is growing the fastest, with 18 deals completed in H1 – as compared to 43 in the UK – but this growth is largely driven by internal market consolidation.
The comparative growth on the continent is more likely down to the fact that many of the UK's scaled assets have been acquired in recent years and are being replaced by new-breed agencies that are now appearing on people's horizons.
This country remains the biggest target for overseas investment, with 15 cross-border deals, followed by The Nordics (as a whole) with nine, and Germany with seven. We may see the latter slip down the list for international expansion and there has been a slow-down year-on-year in this region. The reason for this is, much like the UK, Germany is already a highly developed market and, as such, there will be fewer assets available.
What is driving the increased activity from private equity firms?
The number of PE-backed deals has almost doubled year-on-year with a total of 89 PE-backed deals in H1 2018, as compared to 46 in the same period in 2017. Private-equity-backed investment now accounts for nearly a quarter of all global deals completed.
PE traditionally has been risk-averse in this space, but there's a growing confidence in the marcoms sector: we witnessed a number of meaningful exits for PE last year, such as the sale of ITG by Bridgepoint, BGF's exit from Zone, and Nordian Capital's sale of Oxyma.
The sector shows good growth, it offers good margins, global clients, and access to the C-Suite – it's fair to say investment from private equity looks to only be going in one direction at this point.
With trends around market consolidation and the battle for the service layer, do you expect to see greater movement from consultancies and media holding companies, as they look to diversify their offerings?
The consultancies may have had a quiet quarter, but with Accenture leading the way and other candidates, such as Capgemini, also buying in H1, we expect the pace of M&A to remain high here.
Equally, with the influx of new entrants from a geographic and technical perspective coming in, not least S4 Capital, the media holding companies will almost certainly be looking to diversify out to protect their market position.
Do you predict the M&A buoyancy to continue into H2 2018?
We're seeing a highly active market both for buyers and for sellers at present. New buyers – and notably new challenger brands – are moving into Western Europe and the UK. These new entrants are putting pressure on private equity and on the strategics alike. There's also no indication that Brexit will adversely impact deal volumes.
If June is anything to go by, there's certainly little sign that the market should abate in H2. Growth could well be driven by the left field and this translates into an exciting period from an M&A perspective.
Ad TechIndustry InfrastructureM&AMartech