Lazada Taps Data to Help Retailers Improve Shopping Experience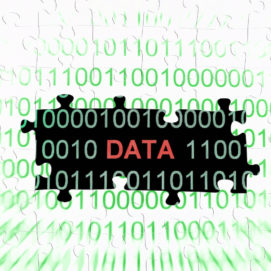 Lazada is banking on data to help retailers offer better a shopping experience on its e-commerce platforms and, hence, drive sales of their products.
In this aspect, the Southeast Asian online marketplace already has been tapping the industry knowhow and technologies of its majority shareholder, Alibaba.
Such sharing has included the Chinese e-commerce giant's search algorithm and deep-learning technologies, Jing Yin, Lazada's co-president of commercial, said in an interview. The executive himself had spent five years based out of Alibaba's Hangzhou headquarters, where he was president of Tmall's consumer electronics and home, before moving to Singapore some six months ago.
This access to Alibaba's engineering resources, some of whom sat with the Lazada team, played a key role in driving Lazada's recent efforts to deliver a more personalised and "vivid" customer experience, Jing said. He added that Lazada, too, had built up its own portfolio of robust technologies.
Stressing that Lazada had to be more than just a business that facilitated transactions, he said the retail platform needed to extract more data and provide more customer insights that would enable its brand partners to deliver a better shopping experience.
This focus drove several updates and fine-tuning of its mobile app over the past few months, he said, pointing to the integration of "more engaging tools", as well as user experience.
Such efforts have included Super Brand Day, which was introduced a couple of months ago as a way to showcase its brand partners on both offline and online channels, Jing said. Seven more Super Brand Days, including one with smartphone maker Xiaomi, have been scheduled to take place soon across the six Southeast Asian markets in which Lazada operates.
New LazMall aims to assure brand authenticity
Jing was speaking to RetailTechNews on the sidelines of the launch of LazMall, which was touted as a curated selection of products from more than 1,000 brands and authorised brand distributors, including Samsung, L'Oreal, P&G, and Estée Lauder.
The key objective here is to provide consumers with the assurance that products in this curated list are "100% authentic" and original branded goods. If found to be otherwise, Lazada has pledged to return shoppers twice their money back for the purchase.
In addition, LazMall guarantees a 15-day return policy, during which shoppers can change their minds and return the item at no cost. Customers who order products under LazMall also will receive their purchases within 24 hours.
According to Jing, there are "tens of thousands" of products listed under the new curated section, where brands showcase their goods on an invite-only basis. These brands pay a commission for transactions made on the marketplace, while merchants listed on the general site do not have to pay a commission.
He was unable to say what percentage of Lazada's total product listings were part of LazMall.
The e-commerce site said it has 155,000 sellers and 3,000 brands offering 300 million SKUs on its marketplace, including categories such as beauty, consumer electronics, and household goods. It has 560 million consumers across the region including Singapore, Indonesia, Malaysia, Vietnam, Thailand, and the Philippines.
Asked what prompted the need for a separate curated section, Jing noted that Lazada previously lacked a platform where consumers felt they could buy branded products without any doubt that they were genuine and where they were assured of a certain level of service.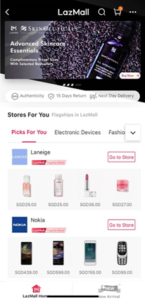 LazMall would offer that value proposition, he noted. He added, however, that there should not be any counterfeit products on its platforms and all its brand partners are expected to adhere to this assurance.
Jing said Lazada also had invested significantly in tools, as well as imported Alibaba's technology, tapping artificial intelligence and imaging recognition, to help identify and prevent the sale of counterfeit products on its marketplace.
Furthermore, LazMall brands would have to observe other rules, such as maintaining a certain seller rating and owning their intellectual property rights, he said, adding that this curated list of merchants would likely remain as an invite-only category to maintain the quality of service.
Jing said: "LazMall is the new way to shop and we are pulling out all the stops to help brands expand their reach and meet their customers' evolving needs and preferences. We live in a time-starved world, where there are many distractions screaming for our attention. What makes or breaks an e-commerce operation is its ability to continually engage its consumers so that they repeatedly return to purchase."
He noted, though, that other merchants on its general marketplace still would have access to the same volume of data insights and tools to help them market their products. These datasets also were available in real-time, compared to other industry or third-party reports that typically were released once a quarter, he said.
The data insights currently are offered free to Lazada merchants, he said, adding that the company has no plans to monetise the data.
This content was originally published in RetailTechNews.
TagsAIAlibabaCustomer ExperienceDataE-CommerceMobilePersonalisation