In-housing, PMPs & Growth of CEE: IAB Europe Assesses the Industry
by Hugh Williams on 12th Sep 2018 in News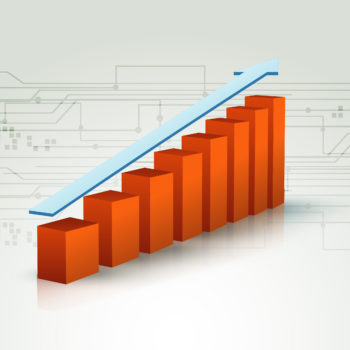 This Wednesday (12 September, 2018), at DMEXCO, IAB Europe launched two research reports: 'European Attitudes to Programmatic Advertising Report' and 'European Programmatic Market Sizing Report'. With both showing unique insight into the programmatic advertising industry, this piece takes an exclusive look at some of their findings.
Now in its fourth year, the 'Attitudes to Programmatic Advertising' report shows how opinions, adoption, and strategies are evolving. The report's key findings show that:
- Programmatic in-housing continues to increase and is now the favoured model for advertisers
- Whilst programmatic trading is becoming the norm for most stakeholders, issues such as ad fraud remain key barriers to increasing investment
- Private marketplaces are the dominant trading mechanism used for programmatic
- Investments in programmatic are set to continue to increase
Agencies are leading the way
For advertisers, 29% invest more than 61% of their advertising budget in digital, this is up from 17% in 2017. However, advertisers lag behind other industry stakeholders, as 50% of agencies invest more than 61% in digital and 44% of publishers.
Advertisers spending over 81% of their budget on digital doubled since 2017 (9% to 18%). Both agency groups and publishers also saw an increase in the amount of advertising budgets going to digital; 25% and 11%, respectively, now allocate more than 81% to digital. This increase in budgets being allocated to digital indicates that there is potential for further growth in programmatic trading.
The number of agencies trading the majority (61-80%) of their video, display, and mobile budgets via programmatic buying has almost doubled since 2017 (video: 21% to 39%; mobile: 18% to 39%; display: 19-39%). For publishers, the majority (61-80%) of their mobile and video inventory sold programmatically also doubled since 2017; whilst display saw a lower increase (video: 8% to 20%; mobile: 28% to 39%; display: 10%-16%).
In-housing is prevalent
This year is the first year that we have seen in-house strategy become the favoured advertiser model (38% vs 23% in 2017) for programmatic trading. This is a trend stretching to publishers and agencies as well, with 50% of publisher having an in-house model, and 62% of agencies using an in-house trading desk.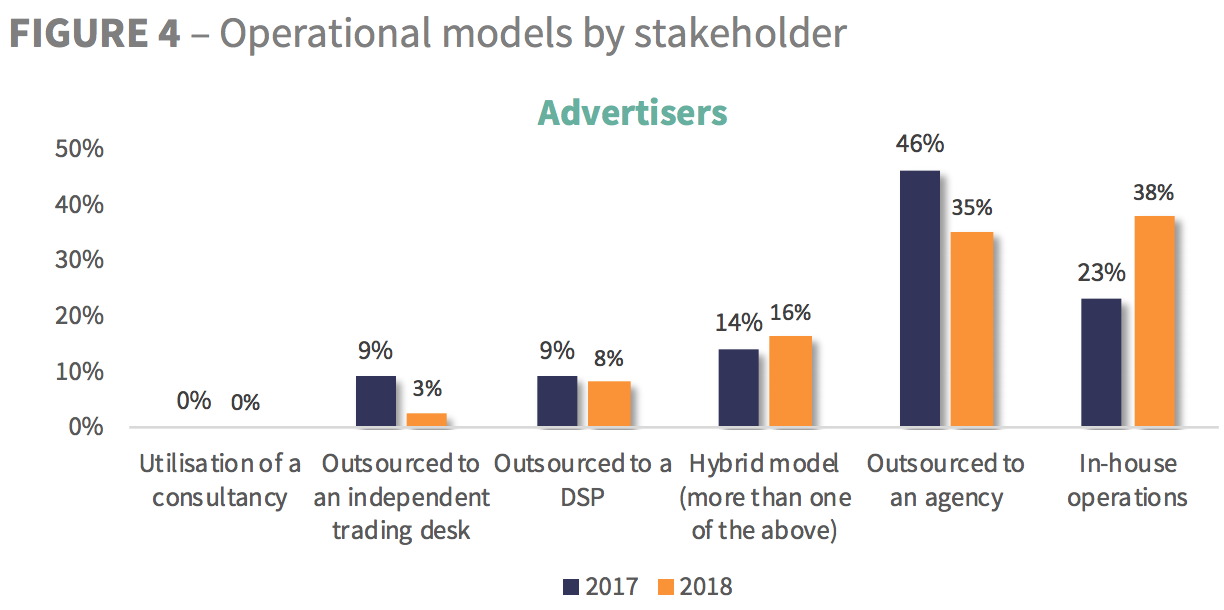 Why is in-housing so popular?
Even if respondents weren't currently in-housing, it is on their to-do list for the next year. Almost two-thirds of agencies and publishers (62% and 63%, respectively) that don't currently have an in-house model are considering bringing programmatic in-house in the next 12 months.
Publishers are driven by the need for efficiencies as well as the ability to gain a greater share of budgets through better monetisation and using data more effectively to drive up the value of inventory. Agencies are driven by control, reducing costs to help with profitability and access to use data and insight to enable better campaign targeting and more effective campaigns.
For advertisers, control is also key. Control on where their ads run remains a priority and a key driver for bringing programmatic in-house. A backlash against the lack of transparency and hidden fees could be reflected in the desire to reduce agency costs and have better control of overall costs.
However, it's not so easy to just create an in-house programmatic team overnight. The report shows that the biggest challenge facing those who have, and those looking to, in-house programmatic activity is resource.
A significant number of advertisers (56%), agencies (71%), and publishers (48%) that don't currently have an in-house strategy have all cited challenges around recruiting people with the right skill sets as the key barrier to not bringing programmatic in-house, so far. More than half of agencies (58%) and advertisers (58%) are also finding difficulties in training people, adding to the pressure on recruitment.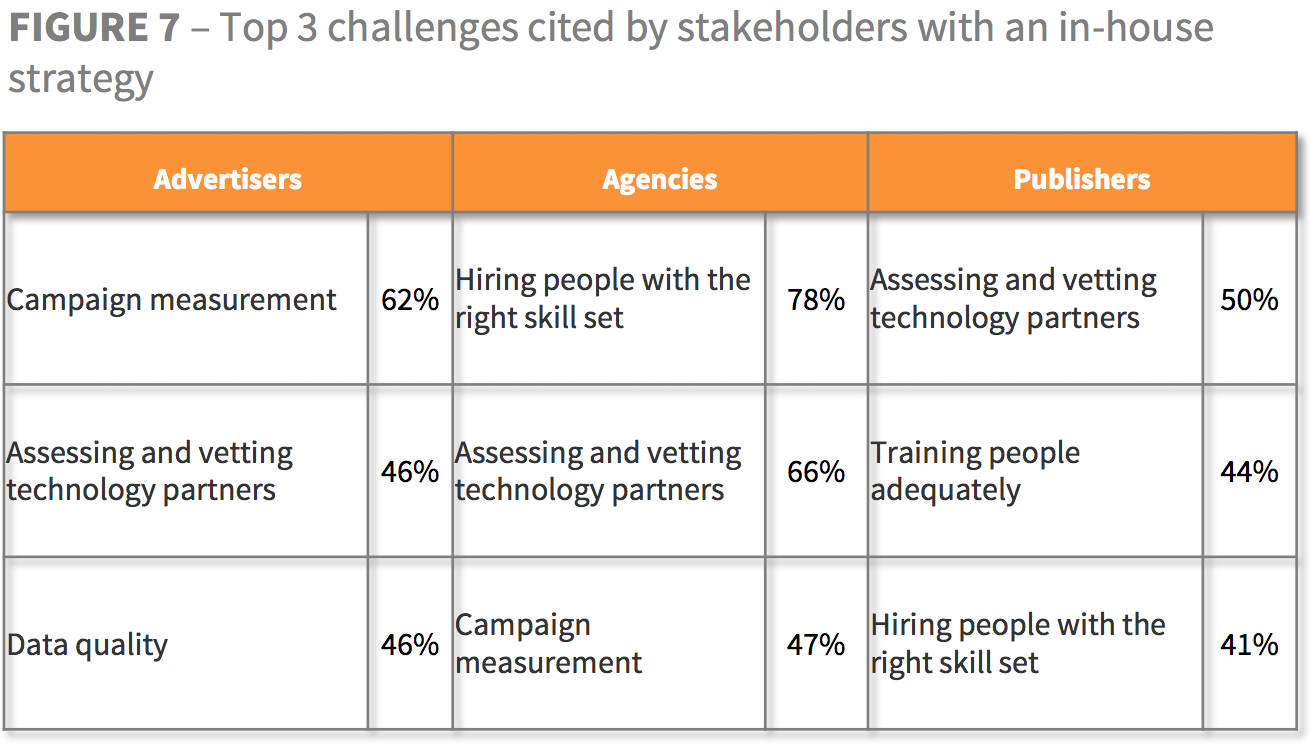 The European Market Sizing Report
The total programmatic display advertising market in Europe experienced another year of double-digit growth, jumping 27.1% to €11.98tn (£11.68tn) in 2017, according to the IAB's 'European Programmatic Market Sizing Report', produced in collaboration with IHS Markit.
Mobile continues to be the most favoured programmatic format, as more than 80% of mobile was traded programmatically. Video is playing catch up, with 74.1% of video traded programmatically. However, video is the driver of growth in the region, with 64.6% growth (followed by programmatic mobile, at 53.2%).
Western Europe accounts for the majority of programmatic spend (€10.8bn [£9.61bn]), while Central and Eastern Europe (CEE) represents €1.2bn (£1.07bn). Despite the fact that CEE remains small in size, it continues to make large gains, and grew by 65% compared to Western Europe, which grew by 24%.
The prominence of PMPs
In terms of transaction mechanisms, private marketplaces are being used by the majority of stakeholders. Automated guaranteed is also making progress, utilised by agencies looking to secure more inventory at locked-in pricing, while being less of a focus for advertisers and publishers. As quality inventory increases in demand and becomes harder to identify in a world of auctions, headers, and exchanges, a need to safely procure inventory, and guarantee its delivery, is emerging. Indeed, programmatic direct dominates, with just over half (53.3%) of programmatic spend transacted in this way.