Publisher Platform Adomik Launches UK office; DoubleVerify Acquires Digital Video Technology Company Zentrick
by Romany Reagan on 22nd Feb 2019 in News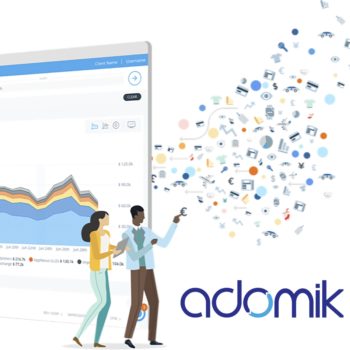 In this weekly segment, ExchangeWire sums up key industry updates on ad tech from around the European region – and in this edition: Publisher Platform Adomik Launches UK Office; DoubleVerify Acquires Digital Video Technology Company Zentrick; Lotame Sees 460% Growth in Second-Party Data Adoption Globally in 2018; and the Digital, Culture, House of Commons Media & Sport Committee Final Report on Disinformation & Fake News.
Publisher Platform Adomik Launches UK Office
Adomik, a Paris-based platform that simplifies monetisation for publishers, launched its UK operations and office in 2018 Q4, and recruited Ollie Chadwick as UK country manager. The company also announced on Monday (18 February) the release of exclusive European and UK-specific programmatic data for 2018.
Adomik's platform is built with and for publishers to address their main monetisation challenges. With Adomik, publishers have all their advertising data in one place and can compare their business performance to the market. The Data Engine, the heart of the Adomik platform, powers the five Adomik products and Professional Services. It has been designed to automatically collect, process, store, and unify all of publishers' monetisation data, and generate analyses and recommendations to increase revenues across all channels.
Adomik is already working with dozens of the UK's major publishers, including The Guardian, The Telegraph, News UK, VICE and Auto Trader UK.  With MarketWatch/SELL, Adomik collects and analyses data from publishers to later provide increased visibility into the market demand and landscape as it evolves. These analytics are available to publishers via the MarketWatch/SELL dashboard, where they can assess their business performance, compare it to the market, and find new prospects with market intelligence.
Proprietary data on state of industry
Applying this internal pool of data, Adomik revealed Monday exclusive insights into what the programmatic market looked like in 2018, to illustrate a marketplace that is under pressure with only some publishers emerging unscathed. In 2018, UK publishers' growth was between 5% and 15%, and for some publishers even lower. However, GAFA are capturing the growth, making it difficult for publishers to grow. The positive news is that among selected European publishers who developed a header bidding strategy, CPM grew by 37%, showing that publishers are evolving in the right direction with unifying their programmatic auction.
In the programmatic market, one of the main drivers of growth is what is called programmatic guaranteed – defined by IAB as an automatic one seller/one buyer transaction with fixed pricing and reserved inventory. For selected international publishers that have started a dedicated strategy around programmatic guaranteed, the PG share of revenue has reached 22%, and the CPM was ten times higher than the open auction CPM. Another driver of growth is the increasing adoption of server-side header bidding solution, which now accounts for up to 25% of programmatic revenue for UK publishers and is expected grow further.
Google remains dominant, even if Google Adwords fell 2% from last year, which sits at 18% market share now. In fact, that market share was absorbed by Display and Video 360 – which reached 11.3% of the market.
Nicolas Schueller, founder and CEO at Adomik, comments: "We are delighted to expand in the UK in response to sustained demand from our publisher partners in the market. One of Adomik's key success factors has always been remaining close to our partners and providing tailored solutions and outstanding customers support. We look forward to consolidating our presence in the market and further addressing the specific needs of our partners through a dedicated team. The timing for the launch could not be better, since we just rolled out Adomik's brand new platform, which aims at solving publishers' current monetisation issues, and giving them the means to understand, operate, decide and sell better, all from a single platform."
DoubleVerify Acquires Digital Video Technology Company Zentrick
DoubleVerify, a leading independent provider of marketing measurement software and analytics, announced on Wednesday (20 February) that it has acquired Zentrick, a digital video technology company that provides middleware solutions to drive the seamless execution and performance of online video advertising for the world's largest brands, platforms, and publishers. The Zentrick engineering teams will continue to operate from offices in Ghent, Belgium. The transaction was completed as an all-cash, all-stock offer on 15 February, 2019.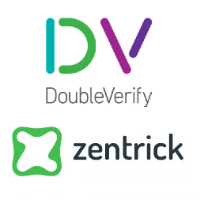 Video advertising spend soared to USD$28bn (£21.4bn) in 2018; however the ecosystem necessary to support the growth in video ad delivery has become highly fragmented. Today, over 30% of video ads that are sold are unable to be delivered by publishers due to various forms of technical 'breakage' in the ad delivery chain – an issue that's particularly acute in the key areas of mobile app and connected TV. Breakage results from incompatibility of multiple playback standards and latency delays in the video ad load.
Zentrick streamlines video ad delivery and improves Performance
Zentrick middleware reduces video breakage by more than 50%, by shortening load times and eliminating multiple forms of latency that can prevent a video ad from delivering. Greater ad delivery maximises performance for advertisers and revenue yield for publishers. Zentrick software further enables publishers to detect and resolve issues behind breakage as they occur.
Zentrick middleware benefits the entire video advertising ecosystem
For media platforms and publishers, Zentrick middleware eliminates the technical overhead and latency associated with supporting multiple third-party data integrations (e.g., measurement, attribution, and audience providers). Third-party service providers benefit from seamless platform activation and equal access to the video playback data necessary to power their services.
Wayne Gattinella, CEO, DoubleVerify, comments: "DV's mission is to power the new standard of marketing performance, giving advertisers clarity and confidence in their digital investment. Eliminating ad breakage has a direct effect on the performance of online advertising that will resonate throughout the ecosystem."
Pieter Mees, co-founder, Zentrick, adds: "The entire Zentrick team is thrilled to join forces with DoubleVerify – a rapidly expanding, global organisation with a best-in-class verification offering. Integrating Zentrick's digital video technology and expertise with DV's industry-wide platform will accelerate our efforts to simplify and streamline ad performance."
Lotame Sees 460% Growth in Second-Party Data Adoption Globally in 2018
Lotame, a real-time data solutions company that empowers clients to turn data into actionable audience insights and positive ROI, announced on Tuesday (18 February) that they saw 460% growth in second-party data adoption globally in 2018.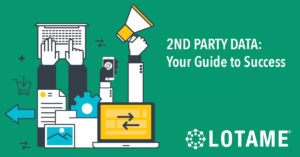 Second-party data is data sold by its owner in a private 1:1 transaction. With this type of data available, buyers understand exactly where the data is coming from and how reliable it ultimately is. Marketers need assurance as to the quality and precision of the data they buy.
Lotame Syndicate, the company's private second-party data marketplace, has seen a 460% growth in the number of participants since 2017 and an overall increase in global revenue of 273%. This revenue growth is largely thanks to the North America market, where revenue grew a whopping 20,044% over the past two years.
North America has seen users increase by 1,200% since 2017. In the APAC region users increased by 300%, and in the EMEA region, users doubled.
On the heels of this growth, Lotame launched the Syndicate online marketplace. While Lotame Syndicate has been available for a few years, this new visual marketplace provides buyers with a transparent way to research and vet some of the sellers of second-party data on Lotame Syndicate that have opted-in to showcase their data. Some of the participating global sellers include 180byTwo, AD3+ (Neuron), Advance Local, Connected Interactive, DataXpand, Gulf News, Hexagon, Lonely Planet, MMPWW, Phunware, VerticalScope, Vibrant Media, Viglinks, and Zoopla.
Jason Downie, chief strategy officer, Lotame, comments: "Second-party data offers the transparency that marketers demand today in a post-GDPR world. And we're seeing publishers take advantage of that. Challenged to compete against the duopoly, publishers are monetising their first-party data by reselling it on a 1:1 basis. The benefits of second-party data are clearly resonating with marketers and we expect this number to only increase this year."
Launched in 2016, Lotame Syndicate provides a safe and secure peer-to-peer environment for data owners and buyers to directly discover and size target audiences, free from the inefficient and costly process typically associated with third-party data providers and aggregators. Syndicate offers unique capabilities in the industry such as Syndicate:Direct, which allows DSP buyers who aren't Lotame platform customers to buy second-party data directly from Lotame partners who are.  
House of Commons Digital, Culture, Media & Sport Committee Final Report on Disinformation & Fake News.
The Digital, Culture, Media & Sport Committee published on Monday (18 February) their final report on disinformation and fake news. The report follows government action to introduce new laws by the end of the year, to protect users online. Media companies are tackling the issue head on by hiring more content moderators and using next-generation technologies to flag up toxic content.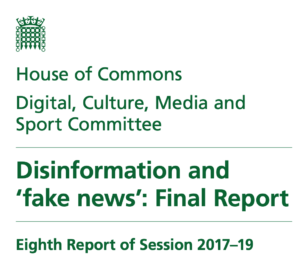 Regulatory pressures, coupled with the overwhelming rise of social sharing, mean businesses are battling challenges on multiple fronts. Purging the internet of fake news and malicious content has now become a global mandate for all business leaders around the world who are facing rising scrutiny over their content-moderation practices.
The sheer volume of user-generated content being published online continues to grow at an astonishing rate, posing a unique challenge not just for tech giants but all businesses. The challenge lies in businesses having to wade through vast amounts of content to identify and remove content that most users would find objectionable.
Bhupender Singh, CEO, Teleperformance Digital Integrated Business Services, comments: "A brand's reputation is on the line every day, with users from all over the world contributing and sharing content at the click of a button, anytime, anywhere. With the rise in social sharing, and the government proposed plans, judging the appropriateness of content has become a mandate for all businesses, 24/7.
"The stakes are high as the government is imposing high sanctions, such as fines and shutting down sites, which fail to flag up and take down inappropriate content. Top of mind for business leaders is being able to find ways to reduce the backlog, increase accuracy, and resolve efficiency problems associated with stopping the wide spread of misinformation.
"While experts are sceptical about the use of artificial intelligence to monitor content, it is important to recognise that the best results will be delivered by humans and technology working together. Humans have the emotional intelligence to bring the real-world context to detect malicious or fake content, whilst automation grants the speed and accuracy of managing a high volume of content."