Reinventing The Agency Model In The Big Data Era
by Ronan Shields on 12th Aug 2014 in News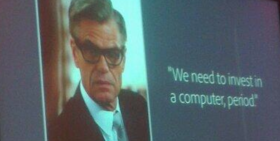 In the second instalment of a two-part look at how the growing importance of 'big data' and the subsequent emergence of programmatic media-buying, ExchangeWire examines the potential threats it poses to traditional media businesses, and just how they must adapt to survive in the contemporary era.
'Client-direct' and 'disintermediation' are just two of the phrases that threaten the traditional agency model, as we witness further shifts in how media strategies are both devised, as well as how media is bought and sold
Previously ad tech was seen as the domain of cheap media buying (essentially creating something out of nothing) using real-time bidding (RTB) technology, but as this publication often espouses, this is a rather two-dimensional view on how programmatic advertising technology can be used, as start-ups and ad tech vendors seek to prove their worth in the 'upper echelons' of brands' media plans.
As stated in the previous instalment, not all brands are eager to bring their media-buying in-house – at least this is the opinion stated by media agency sources consulted by ExchangeWire – with many comparing it to the prospect to brands taking search in-house, something that was a real prospect a number of years ago, but essentially didn't come to pass as it proved just too difficult.
But what is undeniable is that established and new ad tech providers plus numerous start-ups (many of whom are either publicly listed, and/or backed by VC's meaning they have to seek high valuations) are continuing to disrupt, and agencies of all varieties are having to employ data, plus a new breed of employee to remain relevant, as new media disciplines are born out of the new technology.
Real-time bidding spawns real-time planning
Simon Haynes, IgnitionOne, managing director, UK, also contests the view that traditional media agency relationships are threatened by ad tech vendors forging more direct relationships with brands.
"I think the real question here is whether or not the agencies are confident enough in their own offering not to feel undermined by vendors. I'd say they have to ask themselves whether or not they're confident enough to be collaborative," he adds.
Nick Ellsom, co-founder of Fast Thinking (a real-time marketing company he launched after years at media agencies including PHD and OMG's Annalect), says his new outfit's service helps introduce a new kind of transparency that helps defend clients against company's whose interests may be more aligned to their own profit, not the performance of a campaign.
"A lot of agencies are now required to offer real-time planning capabilities, as well as bid on media using RTB technologies," he says. "But you get a lot of companies out there that are more motivated to run 'click-bots' in the background of a browser [a topic covered extensively here], and we help add a layer of transparency. This also helps brands [and their media agencies] understand what kinds of messaging do and don't work."
But with the emergence of so many start-up firms entering client rosters, and subsequently occupying space (and budget) on a client's media plan, how is this affecting contemporary media agency practice?
Ellsom says that many times a lot of his briefs are picked up by going client-direct, and then getting added to a media plan. Although this can lead to a situation where it's another technology platform a media agency has to learn how to use, the benefit is a more satisfied client, according to Ellsom.
Data-led social and creative
Simon Mansell, TBG Digital CEO (a full-service agency that offers social strategy services), says this trend towards data-led decision making has led to his agency (and many others) taking a more "management consulting role".
He adds: "For instance, we've been looking at things like social media engagement rates for clients [in the run-up to this year's FIFA World Cup], and then deciding where to allocate budget from there. Brands' [marketing departments] have to justify why they spend and where."
This employment of data has also made its way to agencies' creative departments (arguably the last hurdle for the 'Math Men' to clear in order to gain parity with the long-established 'Mad Men'), as they seek to add credence to the validity of their ideas when pitching them to clients (which is often the bane of the creative's life).
Simon Gill, DigitasLBi, executive creative director, explains how his agency used insights garnered from the social media output of specific 'influencers' to help conceive a campaign targeted towards young, urban-dwellers based on their proclivity for beards.
Such practises are becoming increasingly common, instead of creatives increasingly taking the 'spray and pray' approach, he adds. This new model of marrying data and connectivity will be discussed at length during a panel session at this year's ATS London.
Changing face of the agency bod
Almost all sources consulted by ExchangeWire report that this requires a fundamental shift in the profile/skill set of the employees they recruit, with most reporting that this is reflective of the more scientific approach they're being asked to adopt.
TBG Digital's Mansell adds: "We're looking at a fundamental shift in the skill sets of the agencies. Now we're starting to see business analysts and MBA types come into the market.
"The people that will struggle are the creative types, as they'll need to bring in data to justify what they do, and for a lot of them that's just not in their DNA."
Speaking recently at an ISBA conference on his current recruitment priorities, Mark Creighton, Mindshare, CEO, UK, told attendees that formerly a lot of his graduate recruitments would have come from a humanities background (such as psychology, and history graduates), but now many of his new recruits are coming equipped with more of a mathematical background and have statistical analysis skills.
Similarly, Paul Frampton, Havas Media Group, CEO, says: "We're definitely [seeing an industry-wide] moving to a math model. We [on the traditional media agency side of the business] have hired a lot of people from the ad ops side, as well as risk analysts that can execute data.
"Now it's increasingly about the moving to the solution-awed consulting model, as opposed to the old billing model."
TagsAdvertiserAgencyATSBrandingCannesCreativeDataDigital MarketingMartechTargeting