How Adtech & Martech Firms are Increasingly Colliding
by Ronan Shields on 13th Jan 2015 in News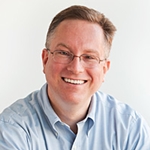 The amount of companies in the martech sector has almost doubled in the last 12 months, with the number of vendors classified as operating in this field approaching 2,000 (according to influential research firm ChiefMartech) as the worlds of adtech and martech increasingly collide. 
The analysis was published earlier today (12 January, see chart below) with Scott Brinker, ChiefMartech.com, editor (pictured), producing the report to promote the the marketing Tech Conference, hosted in San Francisco, taking place over March and April this year, as research firm IDC predicts spend on marketing software will hit $22.6bn in the next 12 months.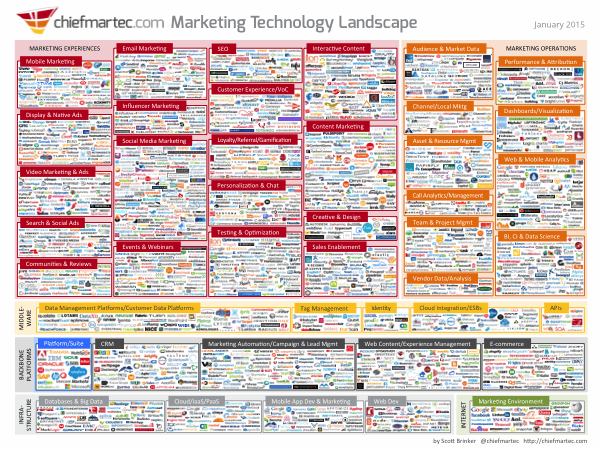 In total, there are 1,876 companies and open source projects represented in 43 categories, meaning the number of firms in the broader martech space now dwarfs the more well-known adtech industry.
This means the number of companies represented has doubled since the 2014 edition (which had 947), with the number of Software-as-a-Service (SaaS)-based marketing software start-ups blossoming at an incredible rate, an example of last year's figures can be seen here.
A higher resolution version of the lumascape can be downloaded from here.
This explosion in marketing technology is driving the rise of 'marketing technologists', a new class of hybrid marketing/IT professionals who are architecting and operating increasingly sophisticated tech-powered capabilities within the marketing department, according to the report.
Commenting on the results, Brinker said the findings show that marketing has now become a predominantly technology-powered discipline, adding that 'technology management' is the biggest hurdle most companies face when attempting to negotiate the increasingly complex world of ad tech.
He adds: "The real challenge is changing how firms think and behave in this hyper-connected, always-on, customer-controlled digital world. The nature of marketing has exploded from an ancillary communications function to the Grand Central Station of customer experience; and the bar for delivering great customer experiences is rising rapidly."  
Key to the successful use of such companies is making sure they are employed within a well-organised internal structure, where such technologies are applied as part of a wider strategic focus.
"So please, don't be disturbed by this landscape per se. We can navigate the technology.
However, you should probably be daunted by the larger transformation of your organisation that this landscape heralds — if you're not, at least a little, you probably don't yet appreciate just how massive of a management challenge that really is," said Brinker.
Writing in ExchangeWire, ahead of his keynote address at ATS London, Brinker outlined his opinion on how the worlds of adtech and martech would collide.
He wrote: "Agencies, software vendors, systems integrators, and management consultants are all increasingly competing for influence with and dollars from the CMO.
"Innovation in marketing technology is outpacing most companies' — and, frankly, most agencies' — ability to absorb it. The future belongs to those who can develop the next generation of organisational and human capital fastest to harness these new capabilities."
Read the rest of Brinker's predictions here.
TagsAdvertiserDataDigital MarketingMartechSaaS