Rubicon Project Recruits Publishing Veteran to Lead Automated Guaranteed Launch
by Ronan Shields on 10th Jun 2015 in News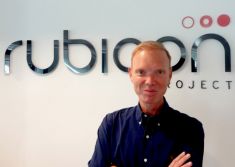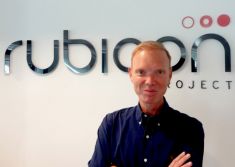 Rubicon Project is furthering its automated guaranteed push, post the purchase of iSocket and Shiny Ads, with the dual announcement of its Guaranteed Orders UK launch, plus the appointment ex-Guardian and CBS Interactive executive Steve Wing to head it up.

Rubicon first launched Guaranteed Orders in the US earlier this year, following the purchase of both Shiny Ads and iSocket for an estimated $30m late last year, and has since secured 20 premium publishers as partners, including: Condé Nast, Daily Mail, eBay, Immediate Media Co, The Economist, The Guardian, Trinity Mirror, and Viacom.
Rubicon Project has now appointed Steve Wing (pictured), VP for mobile and marketplace, to further take-up in the UK, where his remit will invlove overseeing the strategy, planning, product requirements and business development for all its mobile and Guaranteed Orders products outside North America.
Wing said: "Up to this point, automation has focused largely on non-guaranteed, 'real-time' inventory, but Guaranteed Orders offers the functionality to allow buyers and sellers to plan, forecast and trade advertising on a guaranteed delivery basis.
"This puts Rubicon Project at the forefront of the next step in the evolution of programmatic trading, where all inventory across all screens can be bought and sold more efficiently".
Wing joins from CBS Interactive where he was VP, EMEA, and is also an Association of Online Publishers (AOP) board member, previously he was The Guardian's director of mobile, and he will now report to to Oliver Whitten, Rubicon Project, SVP, Europe, in his new role.
Whitten, said the launch of Guaranteed Orders is a significant milestone for the market. He added: "The rapid adoption by these fantastic publishing brands shows just how ready the market is for direct order automation and we foresee a bright future for buyers and sellers to transact direct deals through our [Guaranteed] Orders platform".
Mark Syal, Essence, joint-managing director, and head of media practice, has consulted extensively with Rubicon Project on the launch of Guaranteed Orders, also commented: "Automation enables Essence to spend less time on admin and more time on planning, strategy and servicing the brands we work with. Rubicon Project's Guaranteed Orders platform is a positive step into the future of digital buying."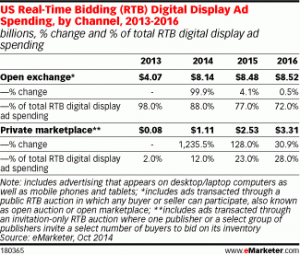 As mentioned, Rubicon Project was able to launch Guaranteed Orders to offer advertisers and publishers an alternative to real-time bidding (RTB) using automated guaranteed (also commonly referred to as programmatic direct).
Figures from eMarketer forecast that spend on programmatic direct will hit $3.87bn this year, with the numbers set to additionally rise to $8.57bn in 2015 (see chart).
Occasionally referred to as 'automated guaranteed', this method of buying media is prevalent in the television market, it lets media owners set prices for guaranteed audience impressions, and buyers to discover and buy those guaranteed audiences.
This method is reported to return CPMs that can be up to 10-times that of RTB prices for media owners, and in return delivers greater access to premium inventory for media buyers.
Automated GuaranteedDigital MarketingEMEAExchangeLocationMedia SpendProgrammaticPublisherSSPTrading