How to Survive (and Surf) the Mobile Data Tsunami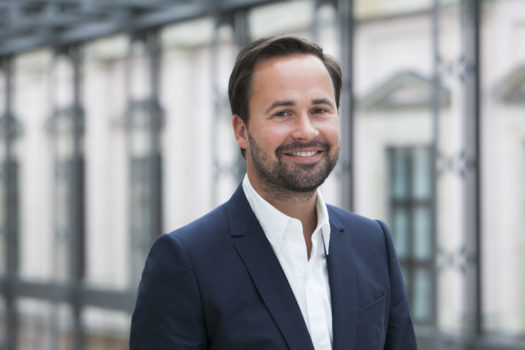 The advance of smartphones has not only caused a sea change in consumer behaviour. It's creating a data tsunami, driven by the flood of 'signals' people are sending via interactions with their devices, their apps and the real world around them. In this piece, Tom Laband, CEO & co-founder adsquare (pictured) discusses how advertisers can handle the growing amount of mobile data.
Mobile has become what the Mobile Marketing Association calls 'The Great Connector', bridging the digital and physical realms to trigger real-world activity and conversions. The impact on shopping — where people instinctively reach to their devices and apps to compare prices, read product reviews, and even find items at aisle level — has been disruptive, and other sectors are also being transformed.
At the same time, trillions of sensors (more microchips than grains of rice on the planet) embedded into everything from smartphones and smart watches, to pills and packaging, are ushering in an age where wearables and ambient connectedness will be part of the 'New Normal'.
Today information isn't 'in' anything. It is increasingly everywhere, which is why location dominates as an accurate indication of context and intent.
But the role of location in advertising is also changing, according to a July 2015 survey from mobile location marketplace, xAd. The survey discovered that the vast majority (80%) of mobile marketers harness location data to deliver consumers relevant advertising and experiences. Moreover, location as a proxy for audience has overtaken real-time location targeting. Rather than tap location data for the delivery of real-time advertising and offers linked to longitude and latitude, marketers (and ad platforms) are using location context as a way to bucket consumers into aggregate audience segments to drive branding campaigns.
In this scenario, mobile has become the transmitter, allowing marketers to 'listen' in and pick up on important 'signals' around people's digital existence that, when layered over accurate location context data, enable the delivery of highly personal and relevant mobile advertising. It's advertising that reams of consumer survey data say consumers genuinely appreciate.
Encouraged by the success of location-derived audience targeting, an approach that has yielded impressive results (and massive amounts of audience data), players beyond the mobile advertising ecosystem are eagerly looking for ways to unlock data assets that organisations have stored offline and across their businesses.
It's all about wringing value out of customer data — collected and collated in CRM databases and offline sources — in order to enhance and enrich mobile programmatic advertising.
Sensing the massive business opportunity, clever companies are cultivating the capabilities to do just this.
It's why Spanish carrier Telefónica launched Axonix in April 2014, a real-time bidding mobile ad exchange to, as they put it, "shake up" the programmatic mobile market and cater to the future needs of mobile consumers.
It's why Acxiom, a traditional enterprise data and analytics company, with a stockpile of household and demographic data, made an acquisition in July 2014 to forge onboarding partnerships with Google, Microsoft, and Salesforce, and 'double down' on its mission to connect the digital marketing ecosystem.
It's also why May 2015 saw Verizon pay USD$4.4bn for AOL, a media company whose fastest growing business just happens to be advertising technology.
Dig deeper, and this flurry of activity isn't just about ways to establish and maintain a competitive edge through ad tech. It's about efforts to address the single biggest problem preventing an explosion in mobile programmatic: the inability to bring together online, offline, and mobile data to effectively target and, ultimately, delight the customer.
Get it right (bridge the mobile, online, and offline realms) and the result is a tidal wave of data that can power more effective mobile programmatic advertising, thus enabling amazing, effective, and 'holistic' audience targeting.
But there is a catch.
More data also means new challenges and choices for advertisers.
First, they must sift through an avalanche of data points from various mobile, online, and offline data providers – players who obviously have different views into the consumer based on where they sit in the journey. As precise targeting requires top-notch data, the selection of providers depends on data quality and integrity. Unfortunately, advertisers are limited to the pool of providers that are integrated with their buying platforms.
Second, after they succeed in distilling the 'signals' from the noise, advertisers must combine the right data points – in an intelligent way – to segment and target audiences at scale. As most DSPs focus primarily on media buying, and not on data modelling, reaching the 'right audience' can waste budgets and opportunities to engage consumers in the appropriate context. Clearly, to conduct truly 'audience-centric campaigns', advertisers require approaches that offer full transparency regarding quality, reach and costs.
Finally, advertisers who want to leverage their own data assets, or simply access key offline data from third parties (for example context, household, and demographic data) would benefit from an onboarding solution that allows them the flexibility to activate the data they need for mobile programmatic in a standardised way.
Advertisers can either catch the wave and take charge of the data to deliver the best experience possible, or be swept away in the impending data tsunami.
The outcome for advertisers depends a lot of on the level of control they have over how they choose, use and combine data (offline, online, mobile) to create and manage audience segments at scale, and in within budget.
Today's consumers are empowered, connected and calling the shots. Winning their attention and loyalty requires the capabilities to deliver them what they want, when and how they want it most. Unleashing and taming the data around who people are and what they do, in compliance with privacy regulations, potentially pave the way for more effective mobile programmatic advertising that increases reach and decreases wastage.
DataDigital MarketingLocationMobileProgrammatic