If You Want to Ride the Programmatic Wave, Keep it Simple
by Lindsay Rowntree on 27th Jul 2017 in News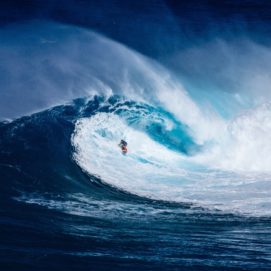 In association with Teads
Teads hosted its inaugural 'Programmatic Wave' event to a packed room in London last week, seeing experts from across the industry coming together to discuss the evolution of programmatic, using surfing as a surprisingly fitting analogy. From creative and data, to brand safety and technology, almost no topic was left uncovered, with one common, yet oft-ignored phrase uttered several times throughout: 'keep it simple'.
ExchangeWire CEO Ciaran O'Kane hosted the 'Data 101' session, discussing the fundamental role of data in the advertising ecosystem with Matt Bennathan, VP UK, Nielsen Marketing Cloud and Tom Kelk, assistant digital marketing manager, Lloyds Banking Group.
Kelk admitted early on that Lloyds doesn't yet employ the uses of a DMP, but it's a technology the banking behemoth is looking into, given the potential opportunities that exist with data for the business. "We have a huge customer base and something like a DMP could be valuable for us", explained Kelk. The major challenge Kelk spoke of was the cautious approach a bank like Lloyds would naturally have to adopt, given the importance of customer protection, but he admitted that it would bring huge opportunities when it comes to personalised creative: "It would allow us to really build on this one-to-one, people-based marketing approach. It would give us the opportunity to match up what we have: our huge first-party data pool, with the third-party data pool. It's an attractive proposition for any brand." But Kelk heeded that, ultimately, it's important to focus on what's good for their customers, not necessarily what's attractive for them as marketers.
The conversation turned to audience targeting and how marketers can best leverage the data at their disposal. "Think of the DMP as connecting the dots", explained Bennathan. "There is a massive fragmentation of media and devices and the way consumers are interacting with them. It's a very complicated space." Bennathan posed that the DMP should be the tech platform of choice when connecting these dots, to extract the most value.
But it seems some clients have two main concerns about what adopting DMP technology would mean for them and their data, according to Bennathan. "Firstly, the level of data stored within a DMP and the security of that. But there's lots of protection that can be put in place around that. You don't need your customers' bank details in a DMP, for example. Secondly, it's the creepy stuff. Are you freaking your customers out and chasing them around the internet?"
Another challenge businesses face when looking into their data-management options is the disconnect that exists between the teams that need to cooperate to make a DMP work, such as marketing, IT, finance, data and analytics, etc. "That's why there's been no big announcement from us, and many others in financial services, as there has to be a big connection between these teams", confirmed Kelk. "All these departments need to be engaged in this process. People are trying to jump into it, but they need to take a bit of a step back and say, what do we need it for and will it serve that purpose?'"
Onboarding is also a challenge many businesses face, no less than in the established, traditional, world of banking. With Bank of Scotland and Lloyds at 300 and 250 years old, respectively, there is no priority to onboard offline data, given the huge amount of data already available to them, explained Kelk. "That's a lot of paper", quipped O'Kane.
It's a question of evaluation, according to Bennathan. Businesses must weigh up whether the financial and resource investment of a DMP ultimately positively impacts the bottom line. "Not everyone has accurately calculated that outcome", explained Bennathan.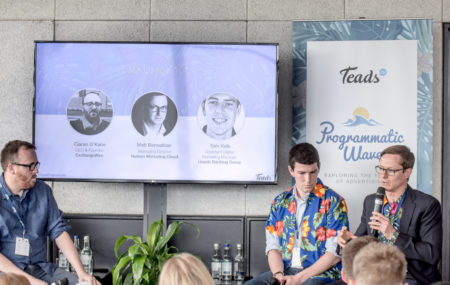 From management, on to measurement, O'Kane brought up the topic of attribution, asking if the prevalence of data has made attribution modelling and measurement more confusing, to which Kelk replied that he doesn't believe measurement structures have kept up with data. "I don't think anyone is considering how we're meant to measure or cross-compare different types of metrics", explained Kelk. To avoid the challenge of trying to compare digital campaign performance with more traditional channels, such as TV, the Lloyds digital marketing team tends to work on a campaign-by-campaign basis, establishing at the beginning of each campaign what they want to achieve and why, without going too granular.
It seems you can't talk data without mentioning the walled gardens of Facebook and Google. When discussing whether all the budget is going into Google and Facebook, or whether other players are getting a piece of the pie, the consensus was that it can be all too easy to put all of your budget into those two companies and forget about the rest, but that is a fundamental mistake. "If you want to advertise on Facebook, talk to Facebook. If you want to advertise on Google, talk to them", Bennathan said. "But not all consumers everywhere are on Facebook and Google at all times and in a receptive mood for a brand advert. If our principal behind this is finding consumers who will engage with our advertising and buy our products, you can do it on Facebook and Google, but there are other places too." Bennathan explained the importance of having the data assets, tech platforms, and analytics to understand where consumers are going to be and when, as well as taking a probabilistic approach to cross-device to achieve the required scale.
The discussion then turned to one of the hottest topics on the data-front in the EU at the moment – the General Data Protection Regulation (GDPR), which O'Kane disparagingly described as the 'looming disaster on the ad tech horizon', and mused that it will probably only make Facebook and Google stronger, which was probably not the EU's intention. Kelk was somewhat more optimistic. While he, understandably, couldn't comment on how Lloyds is preparing for the GDPR as a business, from the perspective of a marketer, he sees it as an opportunity to positively reengage with customers. "It allows you to have a conversation about preferences", explained Kelk. "For too long in marketing it has generally been taken for granted that customers are happy giving data over. It can only be a good thing for marketers to be more transparent with that process."
Bennathan firmly reiterated this point: "Put the consumer first. That's what you have to do. When the cookie legislation changed we, as an industry, did a really poor job of educating consumers as to why cookies are helpful, rather than scary, and will come out of their computers in the middle of the night and steal all their valuables." Bennathan continued that we all have a responsibility in the industry to make sure that consumers are aware of the benefits of having a free internet.
It seems the industry has an inherent ability to overcomplicate matters and, ultimately, we're all in this to connect with a customer – so remember that point and 'keep it simple'.