APAC Marketers Look to Machine Learning; Alibaba to Grab 11.3% of Global Mobile Ads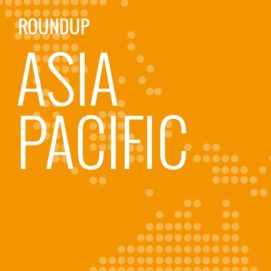 In this weekly segment, ExchangeWire sums up key industry updates on ad tech from around the Asia-Pacific region – and in this edition: APAC marketers look to machine learning to raise own value; Alibaba to grab 11.3% of global mobile ad market; Most APAC travellers will share data for personalised experience; Ogilvy China restructures for Next Chapter; and Queensland bank building integrated marketing platform.
APAC marketers look to machine learning to raise own value
Half of Asia-Pacific creative and marketing professionals say they will embrace new skills in automation and machine learning to increase their value through design thinking.
Another 69% said they were updating their skillsets every six months, or yearly, to keep pace with industry developments, according to Adobe's 2017 Creative Pulse survey, which polled more than 5,000 respondents across the region including Southeast Asia, Australia, India, and China.
The research found that 86% of respondents were concerned, or extremely concerned, about the impact of new technologies such as virtual and augmented reality and artificial intelligence (AI).
Adobe's Southeast Asia managing director V.R. Srivatsan said: "The merging of online and offline experiences is a significant shift in the way organisations are thinking about customer experience. While many organisations have been focused on digital transformation and experiences, people still expect great physical experiences as well.
"Great customer experiences need to transcend the entire customer journey and be consistent at every touchpoint, whether online or offline", Srivatsan said.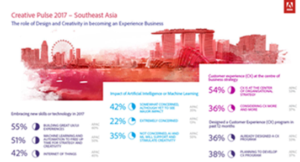 He added that AI and machine learning could automate mundane processes and help creative professionals streamline their daily production, freeing them to focus on new ideas and creativity.
"These new technologies are not going to replace the role of creativity; instead, they can help free up time for creatives to focus on what they do best – being creative and scaling their ideas", he noted.
Some 54% said customer experience was the core of their organisation's strategy, with 36% having recently implemented such initiatives. Another 38% said they planned to develop a customer experience programme, while 24% had no plans to do so in the next 12 months.
Alibaba to grab 11.3% of global mobile ad market
This year, Alibaba is expected to grab 7.8% of the global digital ad market, which is projected to be worth USD$223.74bn (£173.71bn).
This would be an increase from the Chinese e-commerce giant's 6.6% share last year, said market research firm eMarketer. It also would account for 11.3% of the global mobile ad market, projected to be worth USD$141.63bn (£109.96bn). This would be up from its 10.6% market share last year.
Chinese search platform Baidu was expected to grab 4.2% share of the global digital ad market this year, a slight drop from its 4.3% share in 2016.
In China, Alibaba would contribute 31.9% of the digital ad market in 2017, up from 30.1% last year, and retain its 40.4% share of the mobile ad market. According to eMarketer, the Chinese digital ad market was projected to churn USD$50.31bn (£39.06bn), while the mobile ad market would be worth USD$36.22bn (£28.12bn).
Baidu's share in the Chinese mobile ad market would dip to 17.7% this year, compared to 19.6% in 2016.
eMarketer's senior forecasting analyst Shelleen Shum said Alibaba was "well poised" to maintain its leadership position in China's e-commerce and digital ad market. Having launched its Brand Databank product, Shum said this provided marketers the use of Alibaba's rich data to target consumers, as well as increased the monetisation of its various platforms.
"Alibaba's move into brick-and-mortar spaces takes online-to-offline to a whole new level in China by leveraging its strength in the Chinese market to tap into the massive offline retail sector", she added.
Most APAC travellers will share data for personalised experience
Some 64% of Asia-Pacific travellers are willing to share their personal data in exchange for a more tailored travel experience.
However, this willingness varied to a degree depending on the country, according to a survey by travel platform Amadeus, which featured 6,870 respondents across 14 markets in the region, including Singapore, Australia, China, India, Indonesia, and Japan.
While 80% of Indonesians and 78% of Taiwanese were open to sharing their personal data, 69% of Japanese were opposed to doing the same with travel service providers.
Amadeus' Asia-Pacific president Albert Pozo noted that the survey findings reflected the diversity amongst the region's travellers of different nationalities, gender, and generation. "The 'Asia-Pacific traveller' doesn't exist", Pozo said. "The preferences, behaviours, and demands of travellers vary enormously from one country to another. The industry must come to grips with this. The one-size-fits-all approach is a thing of the past."
The survey underscored the need to carefully balance personalisation against privacy and for travel providers to articulate the value they offered in exchange for customer data, Amadeus said.
Its survey further revealed that online booking sites, travel review sites, and word-of-mouth had the biggest impact on travellers' trip planning. This highlighted the need to deliver the right content, through the right channel, at the right time. "In the world of travel, every engagement point matters", Amadeus said. "Beyond personalisation, connecting with travellers in a timely and intuitive manner is equally important."
Ogilvy China restructures for Next Chapter
The media agency has restructured in China as part of its global strategy to transform into a "single Ogilvy brand".
Dubbed 'Next Chapter', the transformation aimed to create a connected company of "modern marketing experts" that could work together more seamlessly.
China was one of the first major markets to roll out the new business structure, in which the full integration plan would be completed by year-end.
The restructuring encompassed several new senior executive appointments, including China president of customer engagement and commerce, Sheilen Rathod, who would move to Shanghai next month. A 17-year digital marketing professional, Rathod specialised in strategy brand development and data-driven digital marketing and was previously OgilvyOne's Hong Kong managing director.
He would be joined by group managing directors Yong Yuan and Ella Chan in Shanghai, who would jointly manage the local office and report to Ogilvy's Shanghai president Debby Cheung.
In addition, the agency would soon open an office in Shenzhen to be headed by managing director, Angela Chou.
Ogilvy China's CEO and Asia-Pacific co-CEO, Chris Reitermann, said: "This new structure in China will allow us to focus in much greater depth on our clients' business while allowing our staff to have greater exposure across a wide range of skills and capabilities.
"We believe that brands need a new and more integrated model with the most modern specialist capabilities, which we are able to deliver through this new structure", Reitermann added.
Queensland bank building integrated marketing platform
Bank of Queensland is building an integrated marketing platform to manage its print and digital campaigns, merchandising, and signage for its branches.
The bank, which had more than 180 branch outlets in Australia, appointed retail marketing services provider Dashing Group to oversee the project. The platform would provide a centralised portal that could be accessed by the bank's branches to support their localised marketing activities.
Dashing would build the customised portal and integrate the new tool with Bank of Queensland's other platforms, including Salmat direct mail services.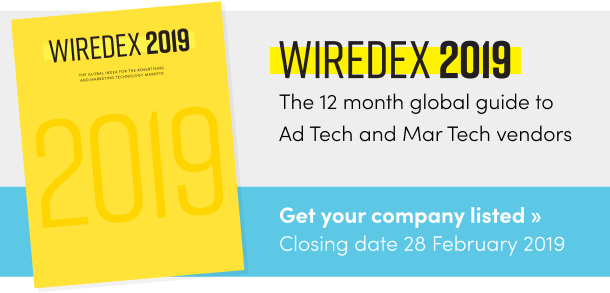 TagsAd TechAdvertiserAgencyAnalyticsAPACArtificial IntelligenceAustraliaChinaIndiaMedia SpendMobileSingaporeSoutheast AsiaTargeting