UK Viewability Figures Rise; Adform Applies Ads.txt Filtering
by Sonja Kroll on 26th Jan 2018 in News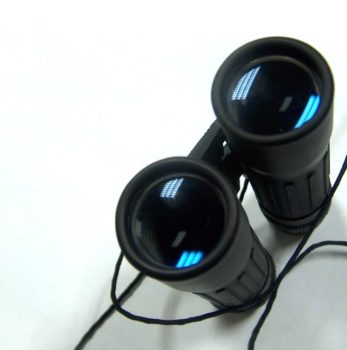 ExchangeWire rounds up some of the biggest stories in the European digital advertising space. In this week's edition: UK ad viewability rates on the rise; Ads.txt filtering on Adform's SSP; SpotX expands presence to Belgium; New members for MMA Germany; Bitposter signs up new partners; and GDPR compliance on OpenX exchange.
Ad Viewability Rates Soaring
UK ad viewability levels have hit their highest level in three and a half years. According to the latest quarterly benchmark report from ad-verification company Meetrics, the proportion of banner ads served at minimum viewability standard increased from 52% to 56% in the final quarter of 2017.
Speaking to ExchangeWire, Philipp von Hilgers, CEO and co-founder, Meetrics, says that viewability has been on publishers' agenda in the last while: "Agencies are becoming more demanding about only buying ad impressions with higher viewability levels; and the publishers are responding in kind by improving the quality of their ad placements."
The increase in viewability levels has been uninterrupted in three months. Hilgers adds: "Despite previous, albeit small, jumps, we've been cautious about being too positive, but yet another rise, the joint biggest we've seen in consecutive quarters, suggests the battle is being won. The jump is particularly impressive, as in most markets viewability drops in the final quarter due to higher activity – driven by Christmas – which leads to lower quality placements resulting in lower viewability, so the UK has done very well to override this trend."
For the first time, the UK is not at the bottom of the list anymore. It has overtaken both Switzerland (48%) and Poland (50%) and is now in front of Germany (55%). The best viewability rates were measured in Austria (67%), followed by Italy (63%), France (62%), and Sweden (61%).
Ads.txt Filtering on Adform
Adform has just announced that, going forward, its filtering process will exclude all unauthorised sellers automatically across the Adform DSP in cases where an ads.txt file is present. The change is effective immediately. Additionally, Adform promises to clean the SSP supply path by excluding requests from sellers not listed in publishers' ads.txt files from the end of January.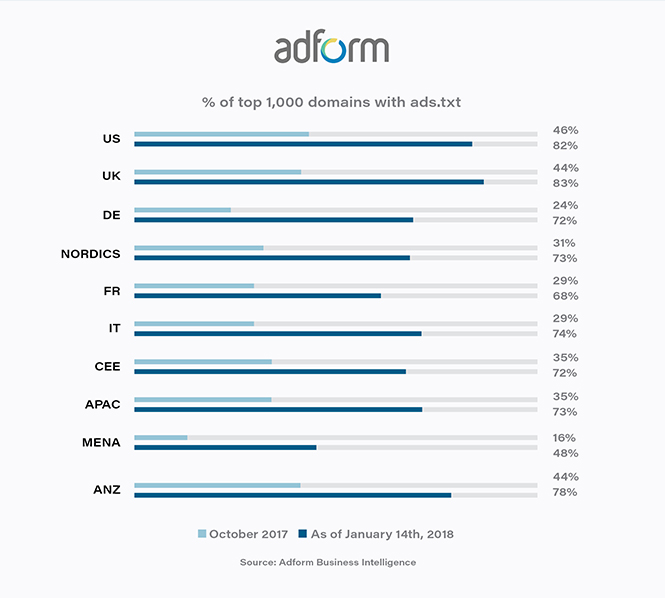 "Ads.txt reflects the highly positive, but drastic, shift we're currently observing in the industry", Jay Stevens, CRO, Adform, tells ExchangeWire. "The speed and scale of adoption highlights how eager both advertisers and publishers are to adopt and embrace new initiatives that deliver added transparency and protections across the supply chain. These initiatives also suggest that we've reached a level of standardisation across the industry that makes identifying and excluding bad actors a significantly more time- and cost-effective process. As a technology provider, we view the opportunity to help further accelerate that process as a significant opportunity for us to help improve the ecosystem."
According to Adform, between October 2017 and January 2018, adoption of ads.txt filtering has significantly picked up across all markets, with three out of every four of the top 1,000 publishers now ads.txt-enabled. The UK is leading the field with an adoption rate 83% among top 1,000 domains, followed by the US market at 82%.
SpotX Expands Operations in Europe
SpotX is investing further in its European presence. The video ad server is planning to build a team in Belgium, helping publishers and broadcasters with programmatic video advertising activities, such as private marketplaces and curated marketplaces, as well as strategies for connected television. The Belgian operations are headed up by Merouane Saadi in his new position as director of platform services.
Elwin Gastelaars, managing director Benelux and Nordics, SpotX, explains the strategy behind the new presence in Belgium: "Almost all European countries, including Belgium, are accelerating in the adoption of programmatic trading and have a growing ad spend. Premium publishers and media owners are not only looking for the best technology, but they also have a strong need for a local partner that thinks with them and provides the technical infrastructure that is necessary to maximise ad revenues."
Merouane will be based in Brussels. The SpotX team is planning to work on the buy side and supply side in the region. Merouane's appointment is the first hire dedicated to the Belgian market.
MMA Germany Expands Further
Established in September 2016, the German branch of the Mobile Marketing Association is continuing its expansion. Founded by Coca-Cola, Google, Facebook, SAP XM, Telefónica Deutschland, Unilever, Smaato, and Adsquare, the MMA now announces new additions to its board including location-based mobile marketing platform Verve, and WallDecaux, outdoor advertising giant and part of the JCDecaux Group.

The German chapter of the MMA is headed up by Mark Wächter (mwc.mobi) and Daniel Rieber (adsquare). The MMA Germany recently collabiorated with Google on mobile speed leaderboards.
New Partnerships for Bitposter
OOH platform Bitposter has secured new partnerships with three OOH media owners. Including new partners Showcase Outdoor, Screach, and Mall Communications; Bitposter now integrates 45 media owners within its General Marketplace.
Collaborating with the new partners will give Bitposter's inventory additional regional breadth, the company says, as well as offer additional digital inventory targeted towards specific demographic groups.
Craig Mytton, chief revenue officer, Bitposter, comments: "These partnerships not only provide an additional shop window for these three OOH media owners, but enable us to offer a significant amount of regional inventory across both digital and traditional print to advertisers within our General Marketplace. We expect that the regional inventory will appeal to those digital agencies and buyers who may not have thought about OOH before, either because they thought it was too expensive or because the perceived barriers to entry were too high. However, now that this inventory is available within Bitposter (the largest OOH marketplace in the UK), buyers can easily and effectively buy OOH media in the local markets they want.
According to Bitposter, the company is delivering coverage across 97% of the UK market via its platform. Traditional print billboards still account for over 50% of all inventory sales.
OpenX is GDPR-Compliant
Four months ahead of the May deadline for establishing compliance with the new European data regulations, OpenX says that its ad exchange is compliant with the GDPR requirements. In conjunction with the announcement, OpenX has also drawn up a GDPR-ready data processing agreement (DPA) drafted in consultation with leading US and EU privacy counsel. The document is intended as a resource for publishers, helping them expedite their compliance process with other technology partners that also process the publisher's EU personal data.
The GDPR is the single most significant regulation in the history of digital advertising, says Doug McPherson, chief administrative officer and general counsel, OpenX. "Representing the single most significant regulation in the history of digital advertising, the GDPR is an opportunity to restore trust, transparency, and ethical practice to our industry. We at OpenX are proud to be compliant with our publisher obligations under the GDPR, a full four months before the deadline", McPherson tells ExchangeWire. "Readiness in the context of the GDPR is crucial, and as it gets down to the wire, we want to support publishers in their compliance journeys. We are offering resources and advice to participants in the industry to educate publishers about the implications of GDPR and steps they can take to ensure compliance with all of their technology partners before the deadline. By offering a GDPR-ready data processing agreement (DPA) and other related resources, leading publishers can look to OpenX as a trusted partner as they navigate this new landscape."
Ad TechAds.txtEMEAGDPRInventoryMobileProgrammaticPublisherSupply SideTransparencyViewability