China's BAT Amongst Five Platforms to Grab Ad Spend Growth; More AU Consumers Tuning into Radio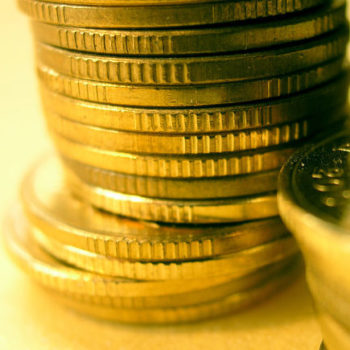 In this weekly segment, ExchangeWire sums up key industry updates on ad tech from around the Asia-Pacific region – and in this edition: China's BAT amongst five platforms to grab ad spend growth; More AU consumers tuning into radio; Japan firm first to complete IAB audit verification programme; Dentsu opens new APAC HQ in Singapore; and Quantcast expands into APAC markets.
China's BAT Amongst 5 Platforms to Grab Ad Spend Growth
China's three biggest internet players (Baidu, Alibaba, and Tencent [BAT])are amongst five major platforms that will grab the bulk of new ad dollars in 2018.
Facebook and Google were the other two platforms expected to capture most of the 4% growth in ad spending this year, according to Zenith's Global Intelligence 2018 report.
It noted that most new ad dollars would come from big markets and cities and towards big digital platforms.
BAT, along with Facebook and Google, increased their share of global internet ad spend to 72% in 2016, up from 67% in 2014. They also grabbed 83% of new online ad dollars over this period.
BAT contributed 54% of online ad spend growth in China; while Google and Facebook accounted for 96% outside China. The two US companies accounted for 76% of internet ad spend outside of China in 2016.
Zenith also projected that between 2016 and 2019 ad spend in ten of the biggest contributing cities would grow by 11% or USD$7.5bn (£5.29bn). Four of these cities were in Asia-Pacific, including Beijing, Shanghai, Jakarta, and Tokyo. Five other cities were in the US, while London rounded out the top 10.
China, Japan, Germany, the US, and the UK would be the five biggest markets in terms of new ad spend, accounting for 57% of overall growth between 2017 and 2020. The US and China alone would contribute 47% of new ad dollars during this period.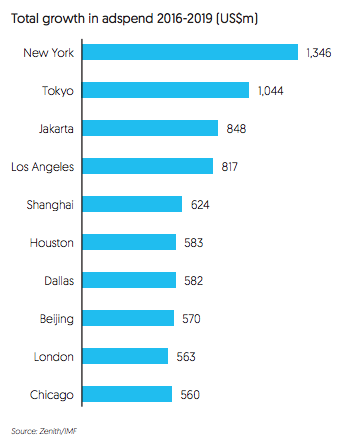 More AU Consumers Tuning into Radio
More consumers in Australia are tuning into live and local commercial radio, with an average cumulative audience hitting nearly 10.5 million listeners each week in metropolitan areas last year.
This was 200,000 higher than the previous year, according to national industry body Commercial Radio Australia (CRA), which cited figures from GfK's radio ratings.
CRA CEO Joan Warner said younger audiences, in particular, were turning up their radio sets. "There's a misconception that young people aren't tuning in, but the data shows it's one of their favourite mediums, with 79% of 18-24-year-olds tuning in every week."
This increase in the reach of commercial radio was up from 76% in 2016 and a four-year high, which CRA said was fuelled by strong onair talent and increased accessibility via radio apps and online.
Warner said: "Radio continues to be one of the best and most reliable ways for advertisers to reach younger audiences. With new lineups across a number of markets, 2018 promises to be an exciting year in radio."
Last year, 81.1% of all radio listeners aged 10 and above tuned into commercial radio, while in-car listening reached 64% of Australians each week.
More than 7.5 million people across metropolitan capital cities listened to commercial radio during breakfast each week and 6.8 million tuned in during drive-time.
More than 3.6 million last year tuned into DAB+ digital radio each week in five metropolitan cities, which was nearly double the number listening to radio via streaming. DAB+ listeners tuned into for four hours and 19 minutes longer than those who streamed.
Some 26.6% of radio listeners in five state capitals tuned in via a DAB+ digital radio device.
Japan Firm First to Complete IAB Audit Verification Programme
Cyber Communications (CCI) is the first organisation to complete the IAB Technology Laboratory's newly launched Measurement Compliance audit for its ad-serving platform, Beyond X.
The Japanese digital marketing company achieved compliance verification across several categories, including impressions and clicks measurement for desktop and mobile web, the organisations said in a joint statement.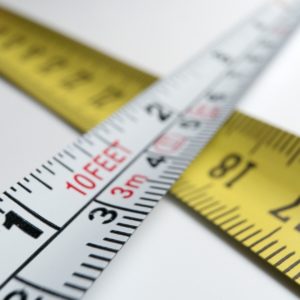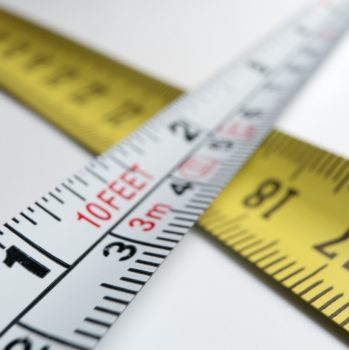 IAB Tech Lab launched the compliance programme to offer a new way to assess implementations of industry measurement standards. The lab last year unveiled several tech compliance initiatives to verify the deployment of OpenRTB, VAST (Digital Video Ad Serving Template), VPAID (Video Player Ad Interface Definition), and MRAID (Mobile Rich Media Ad Interface Definitions) standards.
CCI's director and CTO Kensuke Hirokawa said: "In Japan, as in other markets, issues such as ad fraud, brand safety, and viewability are gaining more and more attention. [...] Delivering more reliable measurement and stronger technology capabilities to the Japanese market is an important mission of CCI. The company is taking vital steps in keeping with its role and responsibility to build a healthier digital advertising market."
Dentsu Opens New APAC HQ in Singapore
Dentsu Aegis Network has launched its new Asia-Pacific headquarters in Singapore, which houses its 10 network brands as well as its innovation labs and research and development (R&D) centre.
These include Isobar NowLab, iProspect VoiceLab, and the Global Data Innovation Centre, the agency group said, adding that this marked the first time all 750 employees in Singapore would be located under one roof.
The new headquarters spans 100,000 square feet and is touted to be the agency's first Asia-Pacific location designed for "agile working", which aims to balance work and personal needs and foster collaboration.
Dentsu Aegis Network Asia-Pacific CEO Nick Waters said: "We are pioneering agile working in our Asia-Pacific business to foster a culture of empowered innovation to meet the demands of the fast-evolving digital economy. This is crucial in enabling us to deliver continually strong work and results for our clients, innovate our products and services, and drive our long-term performance."
Quantcast Expands into APAC Markets
San Francisco-based Quantcast has begun offering its audience data services in seven new Asia-Pacific markets, including Singapore, Indonesia, Hong Kong, and Thailand.
The ad tech vendor said its artificial intelligence (AI)-powered consumer behaviour platform, Q, operated on live insights extracted from more than 100 million mobile and online destinations, via first-party tags.
Quantcast, which also operates in Australia and New Zealand (ANZ), said its ANZ managing director Andrew Double would oversee the company's Asia-Pacific business.
Its founder and CEO Konrad Feldman said: "Marketing is at a tipping point, with AI set to transform every customer experience, every company, and every industry. Marketers in Asia-Pacific are looking for better ways to engage digital audiences that are both efficient and effective."
Quantcast also has an engineering centre in Singapore.
Ad TechAdvertiserAgencyAlibabaAPACArtificial IntelligenceAustraliaChinaFacebookGoogleJapanMeasurementMedia SpendSingapore