Weekly RoundUp - Americas; Adsquare Appoints Key Executives, Adsmovil and Audio.ad Announce a Strategic Alliance for the U.S. Hispanic Market
by Ginna Peña on 26th Sep 2018 in News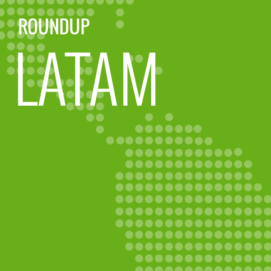 On this week's news roundup; Adsquare Appoints Key Executives, Adsmovil and Audio.ad Announce a Strategic Alliance for the U.S. Hispanic Market.
Adsquare Appoints Key Executives Across US & EMEA 
Adsquare, a leading global real-time data exchange announced today the appointments of Michael Schlueter as VP Platform Partnerships & Strategic Projects, David Fieldhouse as Managing Director UK and Candice McDonald as Sales Manager US. The announcement of the newly established positions represents the company's commitment to support the needs of its clients and partners across the key markets in the US and Europe. The strategic appointments are part of the company's vision to give advertisers access to accurate data at scale, enabling more relevant campaigns based on audiences and their context.
Michael Schlueter has over ten years of experience in the digital economy and a proven track record in areas such as corporate strategy and innovation, data-driven business models, and product management. Prior to joining adsquare, Michael was heading-up Innovation & Data Partnerships globally for GfK and played a key role in their corporate transformation and digitization process.
The UK market is the biggest advertising market in Europe which makes it central for adsquare's future growth strategy. Heading the UK team, David Fieldhouse will help the company acquire new clients and bring new partnership agreements with leading agencies in the UK. David has twenty years' experience working in the UK and US media industry. He was an early pioneer within the mobile industry becoming the first Head of Mobile at MediaCom back in 2008. During this time, David was part of the IAB Mobile Steering Group board.
Entrusted with the role of supporting the US Sales team for the growing number of clients on the east coast is Candice McDonald, who has joined as a Sales Manager in adsquare's New York office. Prior to joining adsquare, Candice was managing strategic accounts at Eyeota. Originally from Australia, she brings extensive agency experience in both the US and Australian markets. Candice will be managing the relationship with key clients from all leading agencies.
"Candice, David and Michael bring a variety of skill sets and experiences to adsquare," said Tom Laband, Co-founder and CEO of adsquare. "Their expertise and enthusiasm will help us as we continue to move into new markets and grow existing ones providing clients with the best tools and solutions for programmatic advertising." – he added.
Adsmovil and Audio.ad Announce a Strategic Alliance for the U.S. Hispanic Market
Adsmovil, a leading mobile advertising company for Hispanics in the United States, sealed a commercial representation agreement for the U.S. Hispanic market with Audio.ad, a company specializing in digital audio advertising solutions for brands and content producers. Through this strategic alliance, Adsmovil will provide advertisers a network of major online radio stations, streaming music platforms and podcasts.
The purpose of this alliance between Adsmovil and Audio.ad is to cover a channel that becomes increasingly relevant in the market, considering a listener consumes on average more than 30 minutes of digital audio content per day. Conversely, 97% of Hispanics listen to radio every week and 83% of the population does so through their mobile devices, while 24 million listen to music via streaming.
"We're very excited to partner with Audio.ad to incorporate digital audio solutions that allows us to reinforce the messages we advertise; not only visually with video, rich media, native, and banners but through a mass streaming service. We know the importance to continue expanding our product offering for the U.S. Hispanic market."; says Andrew Polsky Chief Revenue Officer of Adsmovil.
"This strategic agreement with Adsmovil allows us to expand our digital audio advertising solutions in the U.S. Hispanic market. We are convinced that Adsmovil is the ideal partner because of its experience and because it is a leader in mobile advertising," says Carlos Córdoba, Managing Director of Audio.ad.
The Audio.ad solutions to be marketed by Adsmovil allow us to directly reach Hispanics in the United States, and segment the by age, male or female, country of origin, location and musical genre of their preference, in addition to being able to measure and optimize advertising investment in an effective and efficient manner.