Digital Identity, Blockchain & OTT: A Preview of ATS London
by Mathew Broughton on 31st Jul 2019 in News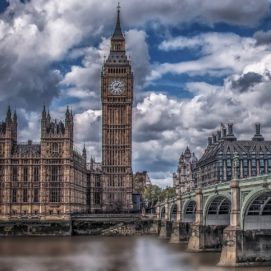 As we approach the 10th anniversary of ATS London, ExchangeWire hosted a preview of what will be discussed and debated on the day. Paul Gubbins (pictured below), global programmatic strategy lead at Unruly, covers the hot topics at the preview, and teases what is set to come at ATS itself.
I have been to eight out of the ten ATS events in London and I think it's safe to say, each year it gets bigger and the debate more informative and heated. Topics such as take rates, bid caching, bid shading, 3ve, Methbot, BaaS, Bonsai, death of waterfalls, the rise of header bidding, the rise and fall of ATDs, in-housing, legal battles between publishers and SSPs, ANA reports, viewability metrics, and AI versus bullshit, are all emotive subjects for those deep in the weeds of the ad tech trenches. This is the one event a year that really sets the tone and mood for the following 12 months in the madtech sector.
In this preview, Index Exchange, Xandr, Reuters and Infinitive participated in a debate that covered a wide range of topics such as:
Digital Identity
Should digital identity be a commodity for the many, or a USP for the few? The panel got into the weeds of why there appears to be so many vendors trying to crack the digital identity conundrum and shed some more light on why this is such an important topic for all. At the browser level, Apple's ITP, Chrome, and Firefox, are all making it harder to manage things like reach, frequency, and attribution. Legislators on both sides of the pond are turning up the heat via GDPR and CCPA, plus the walled gardens are increasingly making ID portability harder than ever. This is all happening with ICO watching from the wings.
We are going to hear a lot more at ATS this year about the 'authenticated web' and who should take control of identity in a post-cookie world. Most ID solutions today still rely upon a cookie; how do they all work without this form of persistent identification in the future?
Blockchain
Twenty-four months ago everybody was advocating for a programmatic future with blockchain at its heart. Fast forward 12 months and a lot of the hype has passed or been dismissed as vapourware. That said, blockchain just wont go away, and with the recent JICWEBS-backed pilot including McDonalds, Nestlé, and Virgin, many are asking once again if we need a blockchain solution to help rid programmatic of some of its man-made ills. Many on the panel said no (I often think asking ad tech vendors about blockchain is like asking turkeys if they are pro-Thanksgiving) and made really compelling reasons as to why it is not needed. Many said if you have the right contracts and agreements in place, and you understand how to ingest logs and interpret, you do not need to pay yet another third party to tell you something you should already know. It was a fair point.
As our sector continues to be clouded by opacity, I think blockchain vendors will start to get more traction as they offer brands a great big spotlight. It will be interesting to hear the mood of the delegates at ATS London on the infamous Twitter wall when blockchain is discussed this year: will it remain an industry joke, an outsider like AI, or will it finally be taken seriously?
The convergence of the ad net and ad tech
Historically, there was a line in the sand between ad tech and ad-net players. But in 2019 that line is beginning to fade. DSPs have teams that move beyond the SSP to speak to publishers; SSPs have teams that move beyond DSPs to speak to agencies; and the must-have in the ad tech sector right now is not one's ML credentials, but a good sales person with a black book of contacts along with the ability to close a PMP or IO-based booking.
We could not be further from the automated world everybody in media sales feared five years ago. Most, if not all, ad tech vendors are today locked in a fight to secure the strongest sales teams, as direct agency relationships in 2019 are not just critical to the survival of ad nets, but SSPs and DSPs also. Expect to hear more about this at ATS this year and how owning activation relationships is the new battle ground for many.
OTT
Of course OTT was discussed and will be on everybody's mind this year at ATS. Many see CTV budgets as their saviour and a good growth story to spin to the street or their VCs. That said, many are realising it is not as easy as just saying we do 'OTT' and watching the budgets roll in. There is a real scarcity of supply, standards are yet to be determined, fraud is undoubtedly rife, and it is still a nascent area despite the hype. I compare OTT to mobile 10 years ago: there will be some early moves. M&A that shapes this sector, and those that double down on product today, will see the rewards in several years to come, as the fire hose of linear budgets start to flow into the LUMAscape.
The panel discussed where budget ownership will sit in the holding co – will it be with traditional linear TV teams, that may not fully understand data driven advertising, or could it sit with digital teams that may not fully understand the nuances of TV buying? Another point debated was what the future of TV expenditure looks like. It has thus far been predominantly to support upper funnel branding. Because CTV inventory is addressable, some asked if TV spend in the future will increasingly be DR based? If it is, this could put traditional broadcasters under even more pressure as they compete with OTT-first apps over share of ad budgets and are forced to navigate rate compression as buyers factor in ROI and DR metrics for the first time to their TV buys.
Other areas the panel discussed and debated at length included DTC, telcos, in-housing and the future of premium publishers. It is safe to say this years ATS is going to be a really interesting epicentre of opinion and debate regarding the future of our industry. There are no precedents for the alliances, legislation, M&A, and consumer trends, emerging in the digital advertising sector at the moment and that is what makes working in ad tech so exciting. Buckle up folks, ATS followed by Dmexco, its going to be a fun September!