Ogury Lanza Header Ad, un Nuevo Formato Mobile de alto Impacto y no Intrusivo
by Mathew Broughton on 4th Nov 2021 in News
Ogury, líder tecnológico mundial en mobile advertising anclado en la protección de la privacidad, anuncia el lanzamiento de Header Ad, un formato mobile de máxima calidad que garantiza una visibilidad full-creative, al mismo tiempo que respeta la experiencia del usuario. El nuevo formato publicitario mobile-native de Ogury se integra discretamente en la cabecera de los mobile sites, lo que permite a los anunciantes atraer a los usuarios sin interrumpir su consumo de contenido.
Header Ad aparece instantáneamente en la parte superior de la pantalla del móvil y se contrae a medida que el usuario interactúa con el contenido de la página. Cuando el usuario se desplaza hacia abajo, Header Ad se reduce a 100 píxeles y desaparece al final del anuncio. El usuario también tiene la posibilidad de ampliar el anuncio en modo de pantalla completa, o simplemente cerrarlo con el aspa de cierre. Como en todos los formatos de Ogury, los usuarios tienen el poder de elegir y controlar su experiencia con los anuncios.
Como de costumbre en el portfolio de anuncios de Ogury, Header Ad es efímero y no intrusivo, ya que desaparece al final del vídeo o tras unos segundos de visualización. En la práctica, el nuevo formato se integra elegantemente en la cabecera de la página, atrayendo al usuario a la vez que respeta su experiencia. Este formato discreto se ha creado para mejorar la experiencia del usuario mientras que aumenta los rendimientos de los publishers.
Este formato único puede llegar a alcanzar CPMs hasta 3 veces más altos que las posiciones tradicionales en la parte superior de la pantalla. Header Ad está disponible solo para demandas premium, de grandes marcas con acuerdos exclusivos con Ogury.
M Publicité, la rama publicitaria de Le Monde Group (reuniendo las principales publicaciones de noticias en Francia, como Le Monde, L'Obs, Télérama, Courrier International y HuffPost), es uno de los primeros beneficiarios del formato. "Cómo premium publisher comprometido con la innovación, siempre buscamos nuevas formas de mejorar la experiencia de nuestros lectores", dijo Daniel Soares, Ad Operations Director de M Publicité. "Nos sentimos honrados de haber co-creado este formato con Ogury".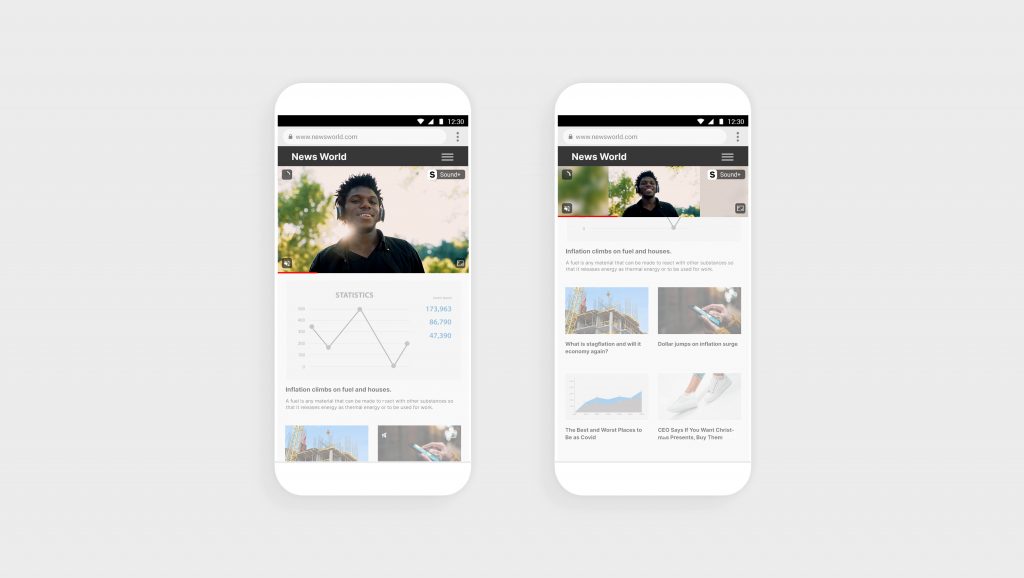 Para las marcas, lo más importante es comprender el impacto real de sus anuncios. Header Ad ofrece una visibilidad full-creative, al igual que los demás formatos originales de Ogury, como Thumbnail Ad y Ad Chooser, lanzados en 2020. El formato Header Ad es siempre visible con el 100 por ciento de sus píxeles y está disponible en display y vídeo. Como formato completamente visible, Header Ad ofrece View Through Rate y Video Completion Rate basados en métricas de visibilidad fiables, algo revolucionario cuando lo comparamos con los anuncios de formato in-content.
El formato mobile-native ha sido certificado por la Coalition for Better Ads, responsable por desarrollar normas para la adaptación del sector de la publicidad a las preferencias de los consumidores. El formato está disponible a través de header bidding o direct tag integration.
"Como todos los formatos publicitarios que creamos y desarrollamos en Ogury, Header Ad es discreto, efímero, 100% visible y, lo más importante, de gran impacto. Está en nuestro ADN como empresa, y creemos que los formatos full-creative deberían convertirse en el estándar principal del mercado", dijo Fabio Zoboli, Head of publishing development - Southern Europe en Ogury. "Con este formato, acompañado de la posibilidad de finalmente alcanzar los objetivos de visibilidad de vídeo que demandan las marcas, los publishers podrán acceder a los mejores CPMs en mobile."
Ogury
Ogury, the Personified Advertising company, has created a breakthrough advertising engine that delivers comprehensive audience interest, brand performance, privacy protection and sustainability within one technology stack, built and optimized f...
Powered by PressBox