Outbrain Expands Partnership with Microsoft to Improve Business Outcomes for Media Owners & Advertisers
by ExchangeWire PressBox on 23rd Mar 2022 in News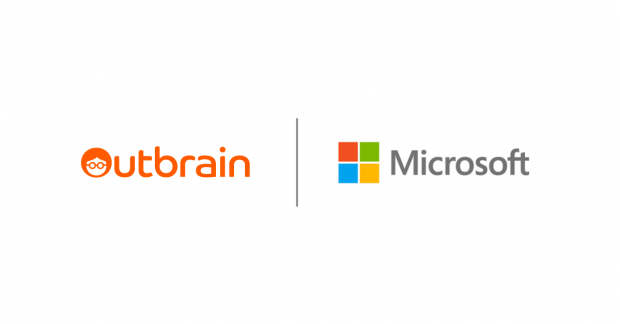 Outbrain Inc., a leading web recommendation platform announced today the expansion of its global partnership with Microsoft utilising Microsoft Azure and encompassing business, technology, and services.
Outbrain has been a long-standing Microsoft partner, through technology and advertising integrations that span MSN, Microsoft 365, Xbox, gaming, and Microsoft Bing. The expansion of the partnership will entail a multi-year Azure engagement to further enable the fast-paced innovation of Outbrain's media platform.
Outbrain's platform serves one billion consumers worldwide with over ten billion recommendations and ads daily, generating more than one point five million engagements per hour, spanning over 7,000 media partners. Through a new multi-year strategic partnership, Outbrain aims to leverage Azure to further its global expansion, accelerate development cycles, and improve connectivity between advertisers and publishers, particularly with Outbrain's programmatic bidders. This partnership will support Outbrain's continuous innovation enhancing Outbrain's already extensive data with a rich set of tools and services, and ultimately helping Outbrain to provide its customers with the enhanced ability to improve their business outcomes.
"We're excited to further expand our strategic partnership with Microsoft," said David Kostman, co-CEO of Outbrain. "We share the mission of supporting independent journalism and the open web. Over the course of the last decade, we have worked together to serve publishers and advertisers with high-quality solutions across the globe. Extending our partnership with Microsoft to include Microsoft Azure technology as part of our hybrid cloud platform will drive innovation and deepen the relationship between our companies."
"Outbrain is recognised across the industry as a scalable and highly resilient platform for both publishers and advertisers," said Tara Brady, corporate vice president of strategic partnerships at Microsoft. "We are pleased to expand our established partnership and look forward to partnering with Outbrain's technology teams as they leverage Microsoft Azure's most advanced technologies to serve their customers."
Rob Wilk, vice president, of Microsoft Advertising, added "Outbrain has been an important and growing part of our ecosystem since 2012. The company's focus on delivering innovative advertising products and programmatic solutions has helped expand our business in several areas over the last few years. We've been impressed by Outbrain's platform, scale, and technology and are pleased to see Outbrain embrace Microsoft Azure and look forward to how it will improve performance for advertisers in Microsoft's growing advertising ecosystem and on the open web."
Outbrain
Outbrain (Nasdaq: OB) is a leading recommendation platform for the open web. Our technology enables 10 billion daily recommendations to consumers across more than 7,000 online properties and connects advertisers to these audiences to grow their busin...
Powered by PressBox