RTB House Listed as One of FT1000's Fastest-Growing Companies in Europe for the Fifth Year Running
by ExchangeWire PressBox on 29th Mar 2022 in News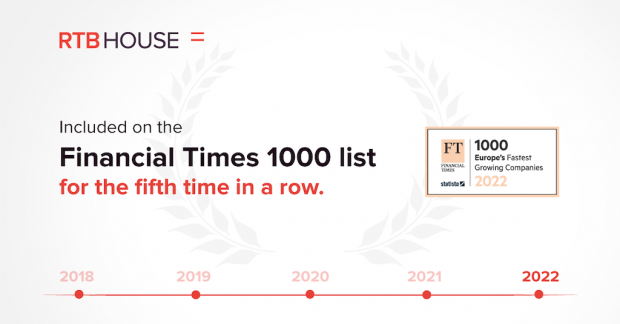 The first ad tech company to be powered entirely by autonomous Deep Learning algorithms, RTB House's technology uses neural networks to deliver self-driving personalised advertising to thrive in the cookieless future.
The continued development of RTB House's cutting-edge technology has resulted in the company making the Financial Times' 1000 fastest-growing companies in Europe for the fifth consecutive year – a testament to the role RTB House's Deep Learning technology is playing in achieving a privacy-first landscape. Fewer than 1% of companies placed in the FT's rankings have achieved this impressive run of consecutive listings.
The company placed 101st in the tech sector and achieved an overall ranking of 453 of this prestigious list after achieving a revenue growth of 355% between 2017 and 2020. The rating is co-created by the Financial Times and Statista, who conducted months of diligent research and directly contacted tens of thousands of companies.
Daniel Surmacz, COO at RTB House, said, "Making this list for the fifth year running is an incredible achievement. User privacy has always been at the core of our ethos and our technology-driven approach to advertising, using Deep Learning, has positioned RTB House as a leader in the post-cookie world." 
Surmacz continued, "With the consumption of digital content – such as video – growing rapidly, the need for effective strategies using technology will continue to become more important.  Instead of disrupting the user-experience, Deep Learning can ensure user privacy is maintained while improving the effectiveness of digital advertising campaigns."
The Deep Learning algorithms, which are universally deployed by RTB House throughout its campaigns, provide unique solutions to the ad tech industry. When third party cookies are finally removed from Google, Deep Learning will become the most important technology for the industry, helping maintain the open internet and the privacy of its users.

RTB House
RTB House is a global company that provides state-of-the-art marketing technologies for top brands and agencies worldwide. Its proprietary ad buying engine is the first in the world to be powered entirely by Deep Learning algorithms, enabling adverti...
Powered by PressBox
Ad TechAdvertisingCookielessPrivacy